October 11-17, 2006
home | metro silicon valley index | movies | current reviews | film review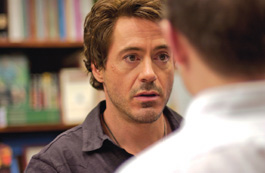 Trapped in the past: Robert Downey Jr. revisits his tumultuous youth on the mean streets of Queens in 'A Guide to Recognizing Your Saints.'
Turf War
Robert Downey Jr. tries to go home again in 'A Guide to Recognizing Your Saints'
By Richard von Busack
HOW ROBERT DOWNEY JR. and director/writer Dito Montiel extracted a movie from such a drifty book is one of the mysteries of A Guide to Recognizing Your Saints. Downey plays Montiel, reading his works on a darkened stage before a rapt audience in L.A. The writer gets knocked off his perch by a call from back home. His quarrelsome, petty father (Chazz Palminteri) is ill and refuses to go to the hospital; Dito is urged to return to his old neighborhood in Queens. In flashbacks, we see his life as a young man (Shia LaBeouf plays him) in 1986, when he was caught in an ever-escalating turf war that left him under threat of death and his hot-tempered friend Antonio (Channing Tatum, the prize in this package) holding the bag.
Unlike in Step Up, Tatum doesn't look like a casting agent's idea of a bad boy. Tatum's Antonio has a big square face that only really lights up when he's got an assignment to punish someone. Still, he's all too-human wreckage, as in a scene where he shows up stoned at a funeral, promising a revenge he's too messed up to deliver. Tatum presents us with the most impressive sensitive musclehead since the young Matt Dillon. Who knows how far he'll go? Another surprise is Dianne Wiest. She plays an abstracted, housecoated mom, but she pulls out one surprising touching about-face. She goes out for a walk with her newly returned son: "I thought of this every day. And now it's here." Photographer Eric Gautier hoods her eyes, as Gordon Willis did for Brando in The Godfather; the moment is interesting because we can't tell if there's a hint of reproach in her maternal happiness.
Eric Gautier's photography transcends the two obvious ways of looking at the story of bad boys, as either fashion photography or Italian neorealism. It's humid in this city. Everyone goes around shirtless, and the city looks as if it has been beaten up, with splotches marking the spots where thrown bottles hit and garbage and sofas raining off the roofs. The mushy, indistinct sound complements a story in which no one really listens to each another.
The atmosphere is credible; so is the acting. But the story is the weak spot. Who can believe that a woman like Rosario Dawson would be waiting for more than a decade for her man to return, or that she'd be talking like a therapist when he finally did come back? Ostensibly based on a memoir, there's a lot of fiction here. Monteil's real-life career ran a little more smoothly: he became a musician, leaving a hardcore band called Major Conflict to join Gutterboy, an outfit that David Geffen paid a million dollars to sign. (One Trouser Press wit calls Gutterboy an "undershirt chic" band.) His book includes not just memoirs of the rough life but also a Versace ad he starred in and a picture of him hanging with Liza Minnelli. Even if you didn't know that, the fake spots show. A montage of inner-city children is stuck together with Cat Stevens' sticky "Trouble." They face the camera and sum up their lives in a sentence: "My name is Dani, and this shit sucks." It's one thing for life to be a tragedy where everyone has their reasons; it's another where they stand in front of the camera and explain them.

A Guide to Recognizing Your Saints (R; 98 min.), directed and written by Dito Montiel, photographed by Eric Gautier and starring Robert Downey Jr., Dianne Wiest and Shia LaBeouf, opens Oct. 13.
Send a letter to the editor about this story.