October 11-17, 2006
home | metro silicon valley index | the arts | books | review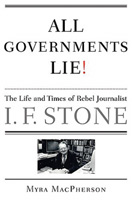 All Governments Lie! The Life and Times of Rebel Journalist I.F. Stone
(By Myra MacPherson; Scribner; 564 pages; $25 cloth)

Journalists used to get their start at the age kids these days start delivering papers. Born in Philadelphia in 1907, left-wing reporter I.F. Stone came from this era, and in this overstuffed biography, Myra MacPherson tells his story. From his early days reporting at the Philadelphia Record to the many years he spent as a correspondent at The Nation, Stone was a fabulous gumshoe who knew to always distrust politicians and governments. Impatient with mainstream publications and having survived the demise of two startups, he began publishing his I.F. Stone's Weekly in the 1950s, during the worst of the Red Scare. Stone eventually grew his publication to an impressive 70,000 circulation and used it like a bully pulpit, only facts, not rhetoric, were his strongest weapons. "His fans often said that they would read The New York Times on an issue, then read Stone, and recognize that Stone was providing more insights," writes MacPherson. This book elegantly reminds us we could use him today, too.
Review by John Freeman
Send a letter to the editor about this story.