October 11-17, 2006
home | metro silicon valley index | movies | current reviews | film review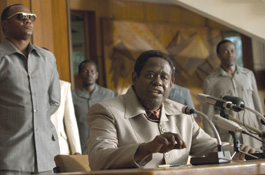 DNA Films Limited and Channel Four Television Corporation
Veni, Idi, Vici: Forest Whitaker cuts a menacing figure as Idi Amin in 'The Last King of Scotland.'
Tartan Terror
As Idi Amin, Forest Whitaker finally gets a part big enough for his talents
By Richard von Busack
IDI AMIN was a tyrant of such flamboyance that you would have to go back to Alfred Jarry's Pere Ubu to equal him. The leader of Uganda in the 1970s made himself a legend for barbarity and megalomania. He disappeared an unknown number of victims. His self-granted titles included the King of Scotland. Director Kevin Macdonald's The Last King of Scotland uses Amin (Forest Whitaker) as a supporting character, contrasting him against a Scottish innocent, who feels that he's made the best friend of his life. Nicholas (James McAvoy) lives off of Amin like a remora lives off a shark's smile. It's no surprise to anyone when he ends up chomped. Nicholas is a Scots doctor looking for adventure; he spins the globe to pick Uganda. Presently, he is riding a bus on his way to work at a clinic alongside an idealistic, upper-class doctor (Gillian Armstrong, too down-to-earth for the part) at a public clinic. A few scenes later, the government falls, and a new regime comes in, led by a charismatic, clowning army officer.
Nicholas falls for Amin completely and, through circumstances, becomes the great man's doctor, friend and free-lance adviser. He participates not only in the dictator's decisions but also in his hard-partying personal life. During a most orgiastic evening—with old-time lap-dissolves of fire dancing, topless wenches and endless drinks—Nicholas falls into the arms of Amin's fourth wife. Despite the warnings of friends ("They call you his white monkey"), Nicholas is unable to foretell trouble to come.
This is basically Heart of Darkness redone, with Amin as Kurtz. The moral might be Kurtz's conclusion: exterminate the brutes. The last shot is every white filmmaker's favorite view of Africa: from a plane window, with the inspirational music like a hot thermal under the plane's wings—let's get the hell out of here! To counter that blunt formula of the Dark Continent chewing up an deluded honky, Macdonald puts forth a noble African character who can't even explain why he's sacrificing himself. Supposedly, he does so to help take word of Amin's evil to the outside world. Yet, the Entebbe Airport crisis, which also takes place at this film's climax, might have convinced the world Amin wasn't as sweet as he looked.
The movie does offer one fantastic performance. Whitaker's one hooded eye gives him an asymmetrical face and helps him play both sides of the dictator—amusing hearty buddy and raving maniac. He doesn't try to make every moment an exploding bomb; he is just as dangerous lolling in a peaceful, drunken half-stupor. It's a clothes-horse part, too, since Amin dressed in silk dashikis, snappy cowboy outfits and gorgeous oversize tunics, upon which the medals clanked like chain mail. You can almost put yourself into the place of a man who couldn't foresee what Idi Amin would become. The problem with Whitaker in the past was that there were no parts big enough for him; The Last King of Scotland almost justifies itself by giving him one.

The Last King of Scotland (R; 121 min.), directed by Kevin MacDonald, written by Peter Morgan and Jeremy Brock, based on the novel by Giles Foden, photographed by Anthony Dod Mantle and starring Forest Whitaker and James McAvoy, opens Oct. 13.
Send a letter to the editor about this story.