10.14.09
home | metro silicon valley index | movies | current reviews | tv review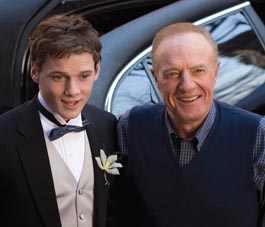 Photo courtesy of Vivendi Entertainment
DATING ADVICE: Anton Yelchin and James Caan star in Brett Ratner's episode of 'New York, I Love You.'
New York Stories
'New York, I Love You': There are 8 million stories in the Naked City—unfortunately, they used these
By Richard von Busack
IS THE FUNNIEST thing about New York the fact that so many people there pretend to be who they aren't? Even if this were the case, New York, I Love You would wear out its welcome fast. The lamentable follow-up to Paris je t'aime is connected by unenlightening tie-in sequences, confusing the question of who directed what. The credits note Emmanuel Benbihy as creating the concept and Tristan Carné as creating the premise—and that kind of crediting should warn you right away that no one seems in charge of this movie. Ten directors are listed, in addition to a separate director, Randall Balsmeyer, for the connecting sequences. Hate to say it, but by far, the director who uses the short-story format best is the much-maligned Brett Ratner. His segment is coarse; it is lewd. Its components: a talkative pharmacist (James Caan) who is both loving father and procurer, getting his daughter (Blake Lively) a date at the prom and not being too concerned about what times she comes back. Lively certainly lives up to her name in this brisk, cheerful joke with an unpredictable ending; the girl has a commendable enthusiasm for screwball humor. Second prize goes to Allen Hughes of the Hughes brothers, working from a script co-written by Xan Cassavetes. Drea de Matteo plays a lady commuting to a second date, carrying second thoughts with her. Hughes keeps de Matteo's exotic, sensual face in close-up and alternates it with the oily yet rough surfaces of a subway car.In order of worthwhileness: No complaints here about Shunji Iwai's sequence starring Orlando Bloom, regarding a romance conducted by phone. Natalie Portman's sequence is a stodgy bit of multiculti contrast between pious Jain husband and pious Jewish lady: a short inconsequentiality directed by Mira Nair. Those who admire Fatih Akin's films will be astounded how minor his episode turns out to be: an unrequited romance between a Chinatown tea-store clerk and a moribund, Raymond Burr–size artist. Joshua Marston delivered the excellent Maria Full of Grace and is tapped to direct the adaptation of the novel Fortress of Solitude; here, though, he rubs together the combined talents of Eli Wallach and Cloris Leachman and ends up with a kvetch-a-thon.
Then it gets worse. Yvan Attal, of the insufferable My Wife Is an Actress, delivers two short episodes about pickups. In one, Robin Anne Wright and Chris Cooper plays a pair who seemingly meet by chance outside a restaurant for a smoke, for a session of those identity-game shenanigans seen everywhere from the opening of the Pitt-Jolie Mr. and Mrs. Smith to improv classes in every corner of this suffering globe. In the second Attal, a lone woman (Maggie Q) gets a load of a wandering writer's highly pornographic line (Ethan Hawke). By far, the deal breaker is a tone poem by Shekhar Kapur about a tasteful heartbreak-hotel room, an aged desk clerk dressed in black (John Hurt, looking weirdly like Einstein) and the ruins of a once great lady (Julie Christie). Its tone of lament and unrelenting beigeness made it look like an outtake of Toronto, I Have Great Respect for You.

NEW YORK, I LOVE YOU (R; 110 min.), directed by Fatih Akin, Yvan Attal, et al., written by Emmanuel Benbihy, Tristan Carné, et al., photographed by Benoît Debie, et al., and starring Blake Lively and others, opens Oct. 16 at Camera 3 in San Jose and Century Cinema 16 in Mountain View. (Get movie updates by following us at twitter.com/metronewspaper.)
Send a letter to the editor about this story.