10.14.09
home | metro silicon valley index | silicon valley restaurants | review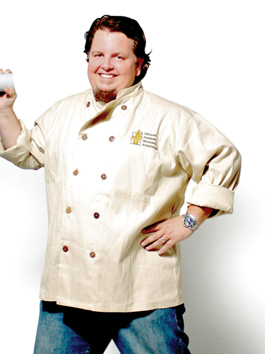 Five Chefs That Matter
By Stett Hollbrook
& Dan Pulcrano<
Five chefs among the inaugural Restaurant Week participants epitomize the quality, diversity and passion that defines the region's dining scene. They come from very different culinary traditions, yet each exemplifies the evolution of the valley's restaurant community and points toward an increasingly delicious future. Besides cooking great food, the thread that ties them together is their creativity and drive to create distinctive dining experiences you won't find elsewhere.
Calafia Cafe's Charlie Ayers
LIKE OTHERS who have struck it big in the valley, Ayers admits that he was "lucky" to be hired as Google's executive chef. Getting rich and famous wasn't really part of his plan. "I had no idea. All I wanted out of working for this Internet company was a life, with weekends off."
When the chance to become the Internet search giant's employee number 53 came up, he had been working as a private chef for "the family from hell." Ayers had spent years in the kitchens of the valley's popular midprice eateries, including Stoddard's Brewhouse in Sunnyvale and Blue Chalk Cafe, Left at Albuquerque and Peninsula Creamery in Palo Alto.
After spending part of the early 1980s following the Grateful Dead, he found a better way to get good seats than camping in the parking lot waiting for the gates to open. Ayers would prepare meals as a volunteer backstage cook at Bay Area shows, then shed his apron and sat on the stage's edge as soon as the first notes pierced the air.
A few years later, the Deadhead was sitting in on Google's executive management meetings. Company admins included him in the emailed notices because his title was Executive Chef. Properly fed employees, it turned out, were a strategic asset in an industry where programmers were notorious for subsisting on chips and sugary carbonated beverages. "I would go to marketing and branding meetings and watch everything they were doing to build this machine that would one day go public ... to get a free education," he says.
Ayers, who's not a vegetarian, served the Google employees dishes like tofu-lentil loaf and yogurt with fruit and granola because he believed it would keep them alert. "The body spends all that energy metabolizing an animal-based protein. It spends less energy metabolizing a plant-based diet," he says. "If I eat eggs and hash browns with bacon or sausage, I want to take a nap afterwards."
Understanding that variety and theater would determine the success of his nutritional mission, "I was always surprising them with something new every day," he says.
"One time, I flew in 300 pounds of fresh Maine lobster. But I forgot to get lobster bibs. So we used these long disposable dishwashers' aprons. They thought they were big lobster bibs. We got a kick out of watching these really intelligent people dressed in dish aprons and going to town with the lobsters.
"The CFO leaned over to [Google co-founder] Larry [Page] and asked, 'Does he know what he's doing?'
"I had gotten a really good deal on the lobsters. They were one-claw lobsters, amputees.
"The next day I served hot dogs. We had tofu dogs as well," Ayers recalls.
The element of surprise was part of the culture, and the menu wouldn't be announced until five minutes till noon.
"People expect burritos and pizza, and I gave them anything but that. They used to send executives down to find out how we could deliver a product on time, all the time, when the well educated guys couldn't," he laughs.
Ayers left when the kitchen became a mass production operation. "We served 5,000 meals a day. I had five sous-chefs, 50 cooks, 75 dishwashers. I rode around from kitchen to kitchen in a golf cart. 'Bring in Charlie,' they'd say. 'The media's here.' I'd wave."
Ayers left in 2005 with 40,000 Google shares that were worth a reported $26 million and the opportunity to pursue his dream. He opened Calafia Cafe and Market in Palo Alto's Town & Country Village shopping center in January 2009.
Now, anyone in Silicon Valley can eat as well as the early Google millionaires did. "You shouldn't have to be wealthy to be healthy," Ayers free-styles. "That's why we have nothing over $20."
And even though a framed panoramic wide-angle shot of the Grateful Dead's 1982 Frost Amphitheater performance dominates the cafe wall on its Stanford side, don't expect to see kitchen staff wearing tie-dyed clothing or macramé plant hangers overhead. Ayers sports a black apron with crisp white pinstripes, and banks of dual flat-panel monitors are suspended from the ceiling. Orders are wirelessly beamed from servers to the cooking stations as they are punched in tableside.
Glancing up at the monitors like a Burger King fry cook, Ayers expedites the tickets. "We're shaving minutes off an experience that can easily turn into an hour-plus. A long ticket time for us is 11 minutes. Average time is eight minutes," Ayers says.
While waiting for an order to arrive, a diner can walk over to the cafe's market side, pick up a box of quinoa pasta or a prepared meal in a sealed to-go pouch and self-scan it at a checkout station. The seamless fusion of organic farming and time-saving technology give Calafia a uniquely Silicon Valley stamp.
The valley's egalitarian culture is reflected as well in the ethic at Calafia, where Javascript jockeys dine alongside legendary CEOs and venture capitalists. Ayers says that "treating high-profile people like regular folks, not fawning over them, and treating regular people like celebrities" is his goal.
When one of the technology community's famous billionaires sneaked in through the service entrance with a party of eight on a busy night, Ayers refused to jump them ahead of patrons who were patiently waiting 45 minutes for a table. His clientele ranges from guests "in shorts and flip-flops to people who look like they're going to a Michael Mina restaurant." When they glance at one another, Ayers says, they worry that they're underdressed or overdressed. "I reassure people that they're fine."
Despite Ayers' obvious embrace of technology, he hasn't jumped on the "molecular cooking" trend and turned his kitchen into a science laboratory. While other culinary envelope-pushers prepare dishes with liquid nitrogen, lasers and hypodermic injections, Ayers prefers woks and wood-burning pizza ovens.
He believes green technologies like solar and wind power will make their way into the food production cycle but that overreliance on electronic solutions has its limits. He keeps a "knuckle-buster" to manually swipe credit cards when the power goes out.
While some celebrity chefs use teleconferencing links to quality-control dishes on the opposite coast, Ayers likes to taste his food before he puts it on the plate and make personal visits to the farms and ranches that produce the food he serves. He strives to buy from growers and ranchers within a 150-mile radius of Calafia, preferring vegetables grown in East Palo Alto over ones flown in from Chile.
"Transparency in the trail where the food comes from" is one of Ayers' goals. He encourages customers to ask questions. "I am very inquisitive, and I talk to my vendors a great deal. I always take an opportunity to meet them to better educate myself so I know the people who provide everything. Are they a family business? What's their history? Do they treat their employees well?"
Dispensing with fancy trappings and high prices while maintaining high standards in sourcing ingredients and "approachable" cuisine defines a business strategy that Ayers hopes will allow him to locate cafes in other Bay Area cities.
Like a Google search bar that emphasizes speed and simplicity over fashion, Ayers articulates a stripped-down mission. He's not trying to invent the fanciest dishes or compete with Iron Chef egos—just operate "a very casual everyday place that serves good food," Ayers says.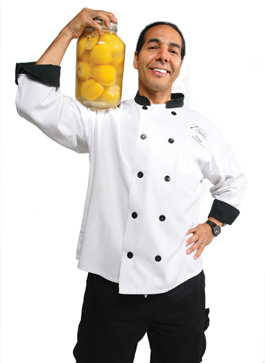 Zitune's Chafik Larobi
While he has lived in the United States since 1988, the greatest influence on Moroccan-born chef Chafik Larobi continues to be the tastes and smells of his mother's kitchen as a child.
"Coming home from school I'd go into the kitchen and lift up the lids to try to get a taste, and she'd chase me out," says Larobi, a fast-talking man who brims with enthusiasm for the food of his homeland.
Years later, working in top restaurants in Paris, Boston and San Francisco, he was exposed to an altogether different tradition, of French-based fine dining.
But rather than pull him in opposite directions, Larobi, 43, has fused these twin culinary influences into a exciting, highly personal cuisine that is firmly rooted in Morocco but takes small and sometimes big steps into new territory as he draws on Western ingredients and techniques to create something new.
Moroccan food is still relatively unknown in the United States. Given America's infatuation with Mediterranean food from Italy, France and increasingly Spain, that's something of an oddity. Moroccan food shares the warm, generous flavors of the Mediterranean but adds additional layers of complex spices.
It's exotic and yet easily accessible for newcomers. To the extent that Americans are familiar with Moroccan food, it's generally confined to couscous and tagines with some belly dancing on the side. Larobi says couscous is an important part of Moroccan food but represents only a small slice of a cuisine that draws on influences from France, Africa, Spain, Portugal and the Arab world. And the belly dancing is an American gimmick.
"I take my mother's cooking and try to make it better while still being true to the Moroccan flavors," he says. "I'm trying to take Moroccan food to the next level.
One of my favorites dishes at Zitune is the hearty yet refined m'rouzia tagine, a slow-cooked, flavor-filled lamb shank served under the peaked dome of a tagine and seasoned with ras el hanout, a traditional Moroccan spice blend. It's been a fixture on the menu since the restaurant opened almost three years ago and for good reason.
The duck confit pastilla illustrates the Westernized Moroccan food Larobi is aiming for. Wonderfully rich preserved duck and foie gras are layered between papery Moroccan pastry with caramelized onions and almonds. Chicken or partridge are the traditional ingredients but Larobi makes the duck and goose liver an inventive and delicious upgrade.
"No one would come up with a dish like this in Morocco," he says. But in Silicon Valley, anything is possible.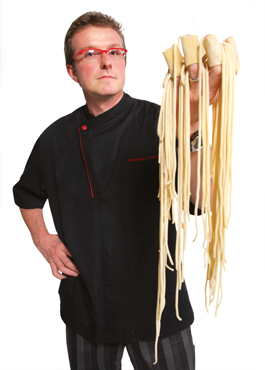 Quattro's Alessandro Cartumini
It's fall, and chef Alessandro Cartumini is desperately trying to get his hands on some porcini mushrooms, but the lack of rain is making finding the wild fungi difficult.
"Right now I'm going crazy for porcinis," he says. "I can smell them but they're not here."
As the son of a pastry chef who was born in northern Italy and studied under a Sardinian chef, Cartumini's Italian bona fides are well established. But as a chef working in the agricultural bounty of the Bay Area, his style of cooking is shaped by the seasons and local products.
"There is so much great product here," he says. "I'd be stupid if I didn't use them. The ingredients speak for themselves."
While he has long favored olive oil from Italy, he has begun using olive oil from a producer in Sacramento. "Italian olive oil practically runs in my veins, but I've found a local version that is quite good."
While most Silicon Valley Italian restaurants specialize in the spaghetti and meatball school of Italian-American cuisine, Cartumini, 36, delves deeper into regional Italian food while incorporating celebrated local ingredients.
In addition to his use of local products, Cartumini's 100-pound, $10,000 pasta machine sets him apart. "Fresh pasta is my forte," he says. The pasta extruder allows him make fresh pasta shapes, some of which he can only find in dried form in Italy.
With the first downpour of fall, you can bet locally foraged porcinis will turn up on Cartumini's menu soon.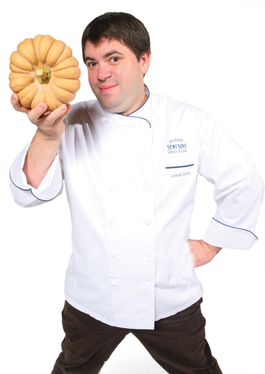 Sent Sovi's Josiah Slone
Slone's thoughtful, analytical mind initially drew him to a career in electrical engineering, but it was the fusion of art and science that led him out of the lab and into the kitchen.
Slone, 32, began his cooking career at Renee's in Santa Monica, and then at age 21 he landed the position as head chef at Bloomfield Great House in Jamaica and later Jake's Treasure Beach. Back in California in 2000, he worked at Palo Alto's Peninsula Fountain Grill before he and his wife, Khin Khin Slone, bought Sent Sovi from celebrated chef David Kinch in 2003.
As the chef and owner of the intimate, 35-seat California-French restaurant, Slone succeeds or fails by his own hand. That makes the stakes higher for him—and for diners.
"What makes us different is the food is personal to me," he says. "I cook food that I want to eat."
Like most fine dining chefs working in Silicon Valley, Stone is inspired by local ingredients. "The ideas behind our cuisine fundamentally start with the products."
But his ideas for new dishes come from a deeper, more visceral place—music, books, visual images or even smells. "I could be walking down the street and it just triggers something in my mind," he says. "I don't feel any pressure to follow trends. I work for myself."
His culinary creations are at once adventurous and familiar. He serves an upmarket rendition of the classic "Hangtown Fry" with a Hobbs bacon confit cooked for 18 hours paired with fried oysters, quail egg and American sturgeon caviar. For Silicon Valley Restaurant Week, Slone has created three special entree choices: lobster, mushroom and roasted shallot risotto; porcini-rubbed chicken with pearl couscous, roasted Brussels sprouts and golden raisin-harissa jus and butter-poached prawns in saffron broth with root vegetables.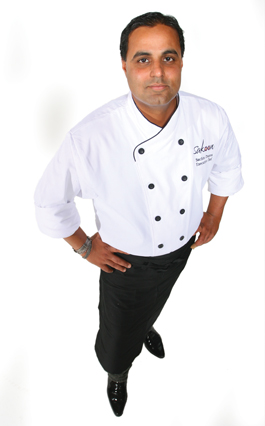 Sakoon's Sachin Chopra
At Mountain View's 4-month-old old Sakoon, chef Sachin Chopra's incorporation of nontraditional ingredients into regional Indian food might seem avant-garde or even outrageous to some, but his culinary experimentation is perfectly in line with the grand sweep of Indian cuisine over the past five centuries.
The Indian food we know today—curries, kebabs, biryani, vindaloo—seems firmly established, yet it is the result of centuries of conquest, emigration and trade with the outside world. "Traditional" Indian food has been shaped by change, innovation and adaptation. It's anything but a static cuisine, and Chopra, 34, seems to have absorbed his history lessons well.
Chopra takes up the tradition of cross-fertilization and experimentation to create an exciting menu of regional Indian food that also expresses a cross-cultural modernity. Eating Chopra's food is like pushing the fast-forward button on South-meets-West gastronomic evolution. His menu is inspired by local ingredients, something that's de rigueur for Western-style restaurants but a rarity at Indian restaurants.
Sakoon's exotic décor complete with fiber-optic lights, glowing floor panels and loungelike interior sets it apart from every other Indian restaurant in Silicon Valley, but it's the food that really distinguishes Sakoon. Chopra serves a rack of lamb perfumed with lavender and thyme, two spices not traditionally used in Indian cuisine. His sautéed caviar-topped sea scallops with smoked paprika and a mango-chickpea salsa are flat-out stunning. There's a well-chosen wine list to match.
In spite of all the innovation, the menu is rooted in traditional Indian food and includes several well-executed standards like the dal—savory stewed lentils. "If we didn't have dal, we would be shunned," he laughs.
Chopra has cooked in some of the country's premier restaurants where he honed his expertise with Western and Indian cuisine. He grew up in New Delhi and went on to graduate from the Culinary Institute of America in New York. He first worked as a line cook at New York City's famed Daniel restaurant. From there, he went on to become sous-chef at the Grand Hyatt Hotel in New York City. After a stint as a private chef, Chopra was hired as executive chef at New York City's Tiffin, a restaurant that specialized in fusion Indian cuisine. He went on to open his own restaurant, Tapasserie, a small-plates restaurant that combined the flavors of India, Spain and the United States. A year later the busy chef became executive chef-partner at Spice Grill, also in New York.
Chopra has been cooking in Silicon Valley since 2003. He was recruited as executive sous-chef at San Jose's beloved Amber India. From there he went to Mantra in Palo Alto where he was executive chef.
At Sakoon, he is establishing a reputation as one of the Bay Area's pre-eminent practitioners of modern Indian cooking. "This is my brand," he says. "Indian food is such a vibrant cuisine and we're taking it to another level. I can let my creativity run wild. It's like we have magic dust with all those spices."
Send a letter to the editor about this story.