10.14.09
home | metro silicon valley index | the arts | stage | review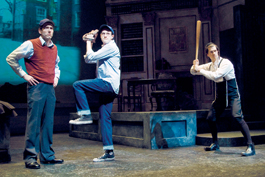 Photograph by Mark Kitaoka
BATTER UP: Reuven (Michael Navarra, left) recalls a street game between himself as a boy (Jonathan Bock, center) and Danny (Thomas Gorrebeeck).
Choices of The Chosen
TheatreWorks presents a strong stage version of Chaim Potok's coming-of-age novel 'The Chosen'
By Ben Marks
REUVEN MALTER and Danny Saunders are Jewish teenagers who live five blocks from each other but might as well be from different worlds. Certainly that is the way things seem to each boy in the new TheatreWorks production of The Chosen, now running at the Mountain View Center for the Performing Arts. Reuven (Jonathan Bock) comes from an orthodox household, where Judaism is the foundation for activism and engagement in the world. Danny (Thomas Gorrebeeck) is the eldest son of a legendary Hasidic rabbi, who is so suspicious of outsiders that he must approve his son's friends, including Reuven.
Reuven wears civvies and a dorky sweater-vest. Danny wears a woolen rekel, the long black coat of Hasidic men, with payot dangling like dreadlocks in front of each ear. OK, so they are different, but after school, both boys spend hours studying the Talmud and arguing with their fathers about conflicting scholarly interpretations of arcane aspects of Jewish law. Just as important, they both love a good game of baseball.
These, it turns out, are powerful bonds. Similarly, their differences draw them together. Danny is slated to follow in his father's footsteps by leading his congregation when the great man retires. Reuven's dad wants him to be a college professor. Naturally, each boy is curious about the other's preordained future. Without even understanding it at first, each yearns for aspects of the path the other has but does not want.
The play begins in Hebrew, spoken by Reuven as a young man (Michael Navarra). Behind him, Hebrew letters are illuminated on a wall—when translated, they read "Both these and those are the words of the living God." Navarra also speaks to us about silence and how "For a word to be spoken, there must be silence before and after." The Talmud, he tells us, rewards words with a coin but silence with two.
Navarra wins us immediately with his enthusiastic explanations of Jewish mysticism, so we are happy to tag along when he puts on his narrator's cap and announces that the year is 1944, and the place is Brooklyn, N.Y. Navarra proceeds to shadow the action throughout most of the play. In one especially good scene, he is both the play's narrator and Reuven's voluble baseball coach. As Navarra looks on, Bock's Reuven goes into the windup, Gorrebeeck's Danny returns a devilish grin, there's the pitch and Danny smacks a line drive straight at Reuven's head.
Reuven and Danny possess inquisitive minds and fine moral backbones, both of which are on display when Danny visits Reuven in the hospital. Danny has come to apologize for almost blinding Reuven and to confess his confusion over wanting to actually kill Reuven when he hit that line drive. Gorrebeeck and Bock work well together, as they surmount their distrust of each other long enough to find common ground. Writers Aaron Posner and Chaim Potok, who penned the 1967 novel of the same name, really got the banter right—the parallel self-discoveries of Reuven and Danny are a lot of fun to watch.
Each boy has a father at home, each of whom, of course, could not be more different. Rolf Saxon's David Malter is the play's moral compass, cautioning his son about, for example, the perils of judging others based on outward appearances. Saxon does a fine job with the almost saintly David Malter, although I think he called a bit too much attention to his early coughs.
The other father is Reb Saunders, played by Corey Fischer of Traveling Jewish Theatre. Fischer makes Saunders an imposing figure but not an intimidating one. I was never as scared of Fischer's Reb Saunders as Reuven says he was. I wish I had been because it would have provided a counterpoint to the kindly old rabbi, of whom we see a lot.
THE CHOSEN, a TheatreWorks production, plays Tuesday–Wednesday at 7:30pm, Thursday–Friday at 8pm, Saturday at 2 and 8pm (8pm only Oct. 31) and Sunday at 2 and 7pm (2pm only on Nov. 1) through Nov. 1 at the Mountain View Center for the Performing Arts, 500 Castro St., Mountain View. Tickets are $26–$62. (650.463.1960)
Send a letter to the editor about this story.