10.14.09
home | metro silicon valley index | columns | style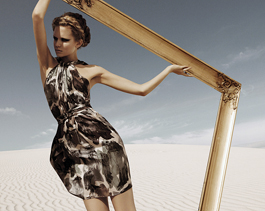 MODERN MILKMAID: Braids wrapped around the head are the chosen hairstyle for Sisley's '09 collections.
Braid New World
By Jessica Fromm
ESSENTIALLY two plaits of hair haloing the head, the milkmaid braid is a sweet, romantic new "undo" for this fall. This trendy alternative to the boring ponytail keeps tresses out of one's face with an extra dash of femininity and style.
Milkmaid braids really started blowing up on the celebrity scene this summer, seen wrapped around the craniums of longhaired beauties like Leighton Meester, Rachel Bilson and Nicole Richie. Oscar de la Renta even outfitted every single model on his spring 2009 runway with milkmaid braids that were interwoven with colorful strips of fabric to match the models' attire.
Fortunately, his hairdo is relatively easy to create without the help of a celebrity stylist. A little bit of practice in front of the mirror and anyone can master the milkmaid braid. Women need several things before they begin styling: long hair (at least shoulder length), a wide-tooth comb, bobby pins and elastic hair bands. Having bangs is also a plus for a softer take on this 'do, but pulling one's locks straight back also works fine.
Step One: After working a small amount of smoothing product through to control frizz, take the comb and separate the hair into two even sections. If you are feeling creative, try a zigzag part for a playful spin. Once the two sections have been established, you have the option of securing them at the head into low pigtails with the elastic hair bands. Though not a requirement, for a really thick mane, putting it in a band will help it stay in place.
Step Two: Grab one of the hair sections and start to braid it. Keep the braids tight for a neat, fresh look, or braid loose and wispy for a tousled, more natural approach. Either way, it helps to hold the hair upward while braiding, as it makes the plait lie better on the head.
Step Three: Braid the other hair section, trying to make it as identical as possible to the first. You should now have two separate braids.
Step Four: Pull both braids up over the top of the head across the part, toward the opposite ear, like a headband.
Step Five: Secure each braid in place with bobby pins, being careful to tuck each braid's end underneath the opposite braid, so there are no chunks of hair sticking out. Finish this unique updo off with a generous amount of hairspray to keep it in place throughout the day.
Send a letter to the editor about this story.