10.15.08
home | metro silicon valley index | silicon valley restaurants | review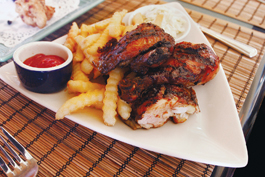 Photograph by Felipe Buitrago
RIGHT ON 'CUE: Tamarind barbecue
Going Coconuts
Chef Robert Simpson does it again with Palo Alto's new Jamaican outpost
By Stett Holbrook
CHEF Robert Simpson is Silicon Valley's culinary ambassador for Jamaica and the Caribbean at large. When he opened Back A Yard in Menlo Park three years ago, it quickly became one of the Bay Area's premier outposts of Jamaican cooking. No one cared much about the restaurant's spare appearance, scarce seating or dodgy location. The delicious food trumped all that. Plus, there was something cool about being able to pull off Highway 101 and in a matter of minutes be gnawing on some fantastic jerk chicken.
Now, Simpson has gone upmarket with a second restaurant in downtown Palo Alto. Coconuts Caribbean Restaurant and Bar opened six weeks ago. The menu is similar to Back A Yard, minus the fried chicken. But where the Menlo Park restaurant is mainly a take-out place that doesn't offer beer or wine, Coconuts is an upscale, sit-down place complete with full bar and outdoor patio. The colorful, Caribbean- and ocean-inspired art and soft breeze blowing through the open windows make the dining room a cool place to be.
Even though Coconuts caters to a different clientele, Simpson deserves credit for staying true to his mission: real Jamaican food. True, there are salads, tofu dishes and even a bruschetta dish that you'd be hard pressed to find in Jamaica, but most of the food isn't watered down for the masses. Take the braised oxtail ($15.25), a hearty, Sunday-supper-style dish that epitomizes Simpson's soulful, belly-filling style of cooking. I remember enjoying the dish at Back A Yard, and I think it's even better now. The saucy, wonderfully tender meat is slow cooked and easy falls off the knobby bones. The rich, coffee-black gravy commingles with the coconut-flavored rice and beans and sweet fried plantains to create a dish that will stick to your ribs—and stick in your mind long after you've left.
The curried goat ($14.50) is another rootsy dish that's integral to Jamaica. Goatherds wander the island's hillsides and goat is an important part of the country's cuisine. It's especially popular at parties. Some diners might balk at the word goat on the menu, but it's no more challenging than lamb. I say it's even better. The leg meat is cooked for 2 1/2 hours to produce supremely tender bites of meat. The jagged bones add to the flavor of West Indian curry, an aromatic, lively blend of allspice, green onions, Scotch bonnet peppers, turmeric, coriander and orange peel. It's great.
Along with reggae music and Red Stripe beer, jerk is one of Jamaica's great exports to the world. Jerk is a sauce and a marinade—a currylike mixture that combines allspice, cloves and thyme spiked with varying levels of heat from Scotch bonnet chiles, close cousin to the fiery habañero. Poured over chicken, fish and pork it's a one-of-a-kind flavor. It can be quite spicy, but Simpson says he wants the other flavors of the jerk to come through, so he tones down the chile pepper heat. The results are delicious. The irie jerk wings ($6.95) are grilled and slathered with the pungent, mouthwatering jerk sauce. Any chance of bottling this stuff, Chef Robert?
Some of the menu wanders out of Jamaica and into other Caribbean islands like Puerto Rico and the Dominican Republic. While it was a bit dry, the Dominican-style grilled pork chop had great flavor thanks to its sofrito-based sauce, a peppery blend that combines chile peppers, onions and tomatoes. For something lighter, the herb-dusted, roasted grouper is good ($15.75). It's made with a milder version of the sofrito. I liked the sautéed okra served along with it.
Soups change regularly and on one of my visits I scored an excellent bowl ($3.95 small, $6.45 large) of roasted pumpkin and shrimp soup. The briny sweetness of the shellfish was a perfect match for the coconut-milk-enlivened kabocha squash (also known as Japanese pumpkin).
While there wasn't much cod in evidence in the codfish fritters ($6.25), the crispy-on-the-outside, soft-and-spongy-on-the-inside texture of the fish balls and good flavor made them an excellent starter.
From the lunch menu, the tamarind-glazed grilled chicken sandwich is a winner ($7.95). Plump and juicy, the sour-sweet tamarind played off the grilled, smoky flavors of the grill well. While there was more cake than crab in the crab cake sandwich (9.25), the cornbread-based patties were still quite good. But paired with a big fluffy hamburger bun, it amounts to too much bread. I'd say just order the crab cakes without the bun.
Coconuts offers $2 pints of Red Stripe during happy hour from 5 to 8pm, as well as house-made ginger beer ($2.45). Desserts are good. I remember the dense sweet potato pudding ($6.95) from Back A Yard. It has a caramelized crust and a restrained sweetness. Also recommended is the fantastically creamy coconut crème brûlée ($7.50). The desserts are a bit pricey, but the big portions make them good for sharing.
Coconuts is good for sharing for sharing, too. It's worth telling your friends about.
---
Coconuts Caribbean Restaurant and Bar
Address: 642 Ramona St., Palo Alto.
Phone: 650.329.9533.
Hours: 11.30am–2pm Mon, 11:30am– 2pm and 5–10pm Tue–Thu and 11:30am–10:30pm Fri–Sat.
Cuisine: Jamaican and Caribbean.
Price Range: Dinner entrees $11.50–$18.50.
Web: coconutspaloalto.com.
Send a letter to the editor about this story.