10.15.08
home | metro silicon valley index | movies | current reviews | dvd review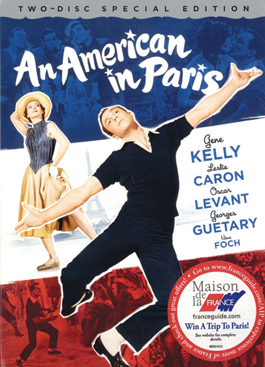 An American in Paris
Two discs; Warner Home Video; $20.98
Reviewed by Jeffrey M. Anderson
Compared to Singin' in the Rain, Gene Kelly's other masterpiece, An American in Paris (1951) routinely gets shafted; it even fell off the American Film Institute's 2007 List of the 100 Greatest American films, where it had placed, at No. 68, in 1998. It's true that Debbie Reynolds is arguably much more spirited and talented than the adorably awkward Leslie Caron. Donald O'Connor is much, much funnier than the glum composer (Oscar Levant) or the crooning Frenchman (Georges Guétary). And the story about the changeover of silent to sound films is unquestionably cleverer than a simple plot about a love triangle in Paris. The songs are slightly more comparable, however, since An American in Paris features an impeccable crop of vintage Gershwin tunes. Then there's the direction by Vincente Minnelli and the film's astonishing climactic ballet, which is a work of delirious filmmaking, jumping and dissolving from space to space, swirling around an area, dancers entering and leaving the frame in surprising ways. Donen was and is no slouch, but Minnelli was unquestionably a musical master (see Meet Me in St. Louis and The Band Wagon for just two examples). Accompanied by the great cinematographer John Alton, Minnelli made An American in Paris into pure, daydreaming romance. It's more about longing than receiving, and perhaps its bittersweet tone has driven more viewers over to Singin' in the Rain. But even if it's not as immediately satisfying, Paris is deeper, more complex and more mysterious, and it promises a longer and more rewarding relationship. Warner's 1999 DVD was impressive enough with its bold, digital presentation of the film's dazzling colors, but the 2008 DVD is immeasurably better. The colors are still bold, but they're much, much sharper. Disc one comes with a multipersonality commentary track, a cartoon, a short and a trailer. Disc two comes with a new documentary, an "American Masters" profile on Gene Kelly, and outtakes.
Click Here to Talk About Movies at Metro's New Blog
Send a letter to the editor about this story.