10.15.08
home | metro silicon valley index | movies | current reviews | dvd review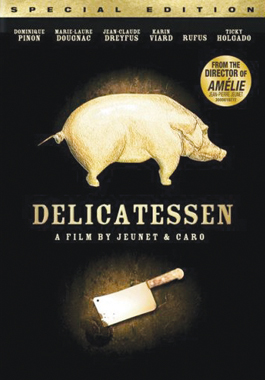 Delicatessen
One disc; Lionsgate; $19.98
Reviewed by Richard von Busack
A small chunk of 1950s France is seemingly stuck in a hell dimension: a one-building slum languishing through the total war between carnivores and vegetarians. A Mussolini-faced butcher called Clapet (Jean-Claude Dreyfus) sells a kind of pig meat to his oppressed customers, who are too hungry to care where that meat comes from. An ex–circus performer (Dominique Pinon) arrives, the surviving half of a monkey act that met with a misfortune; the unlikely hero ends up being the only one who can outwit Clapet and his cleaver. The ogre's pretty daughter (Marie-Laure Dougnac), a near-sighted Miss Magoo, teams up with Pinon to make for the most diminutive couple since Alan Ladd and Veronica Lake. Some influences can be discerned in this 1991 midnight movie by the team of Marc Caro and Jean-Pierre Jeunet. The maws of ducts and sliding shots of conduits seem out of David Lynch, and a swamped basement full of snails and frogs looks like the finale of Greenaway's A Zed & Two Noughts. There's also something of Tati in the swift, pantomimed anti-jokes and in a symphony of squeaky bedsprings. Bittersweet nostalgia gilds this carnivorous comedy. And the director's short-lensed emphasis on the gentleness of faces shows the intent is more circusy than ghoulish. It wouldn't look as good as it does without supporting work by Silvie Laguna as the moony would-be suicide or with Karin Viard as a bosomy, carnivorous tramp with one of the most nasal working-class Paris accents yet heard. This masterpiece of intricate dark fantasy looks all the better when contrasted with Jeunet's later saccharine hit Amélie. The extras include a commentary track by Jeunet; the director claims his inspiration was living in a flat above a pork butcher's shop, where the sound of sharpening knives jarred him awake every morning. Fine-Cooked Meats by Diane Bertrand is a no-narration short film observing the work on Delicatessen's sets, including Pinon's takes and retakes of his bubble magic. And Jeunet's personal files of tapes include a lively improv by Laguna.
Click Here to Talk About Movies at Metro's New Blog
Send a letter to the editor about this story.