10.15.08
home | metro silicon valley index | movies | current reviews | film review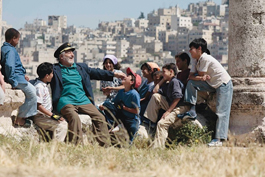 Photograph by Amin Matalqa
DREAMER: In 'Captain Abu Raed,' a widower assumes a new identity when he finds a pilot's hat.
Eastern Promises
The annual Arab Film Festival returns with eight features highlighting the diversity of the Middle East
By Richard von Busack
ENTERTAINING while fighting ignorance, the 12th Annual Arab Film Festival takes a plethora of movies from the Arabic world on the road; it hits venues as scattered as the Writers Guild of America Theater in L.A. and our own Camera 12 in San Jose. Sixteen feature films are on this caravan, along with dozens of documentaries and short films. All come from the part of the world most likely to be underestimated and misunderstood by Americans. Camera 12 will screen eight of these features this weekend. (The whole festival plays Oct. 16–28 in various Bay Area cities.)
One unpreviewed film is the local premiere (Oct. 18, 2pm) of the 2006 Saudi Arabian film The Shadow of Silence by Abdullah Al Muheisen. The insignificant Internet documentation on Al Muheisen's dystopic fantasy suggests that the film is about the internment of intellectuals in a desert concentration camp.
Where, exactly, would this film play in its home country? That is the question; the dismal Wahabis have banned movie theaters in the Kingdom. Still, Al Muheisen personally appeared at this year's 3-year-old Jeddah Film Festival. Though I couldn't find an interview or a more detailed schedule for this year's event, 2007's schedule was replete with animated and documentary shorts made by emerging Saudi Arabian filmmakers. The field was also crowded with Japanese government documentaries with enticing titles such as Japan Welcomes Foreign Students (Jeddah needs your submissions, filmmakers!).
One of the movies you won't be seeing at Jeddah next year is the too-hot-to-handle Moroccan feature Samira's Garden (Oct. 19, 9pm) by Latif Lahlou, a torrid drama of an arranged marriage gone bad. After the falling apart of an everything-but-sex affair with the man she loves, Samira (the liquid-eyed singer Sanaa Mouziane) agrees to be married off to a gentleman farmer in the countryside.
He refuses to consummate the marriage for reasons of his own. It turns out that he's brought her to the house to tend his Alzheimer's-stricken father. That doesn't stop the farmer from boasting of his sexual prowess to the local yokels and even claiming that his new bride is pregnant.
But there's another young man around the place: Samira's muscular nephew by marriage, Farouk, who wanders around in a sleeveless shirt, taking care of the household and butchering the chickens (off-camera, thank God). The lady finds herself drawn to the young man despite certain consequences.
North Africa continues to be the powerhouse of Arab film, with work from Egypt, Tunisia and Morocco, Hollywood's favorite stunt double for suffering Iraq. However, the fine Jordanian picture Captain Abu Raed by Amin Matalqa (Oct. 18, 4pm) deserves note. Jordan would like to promote itself as a tourist destination while reminding Americans that it's on our side (that latter fact is the point of the otherwise pointless Body of Lies).
The nation's official entry in the '09 Oscars could be a serious contender. Amman's old city and ancient ruins make an appealing backdrop for this underplayed, naturalistic tragedy. In a stone-walled flat with a million-dollar view, an elderly widower (Nadim Sawalha) lives with his many books; by day, he's a janitor at the airport. One day, he finds a discarded airline pilot's hat in the trash.
As he wears it around the neighborhood, the local street urchins mistake Abu for an actual pilot and refuse to believe that that's not his gig. At work, the old man befriends a lady whose family is pressuring her to be married; his selfless attempts to help a local boy bring him in conflict with the kid's father, a brute with a drinking problem.
Playing Oct. 19, 4pm, is the black-and-white semimusical by Ahmed El Maanouni, Burned Hearts (yeowch! The French title Les Coeurs brűlés sounds a bit more swank). It's all over the map like Texas. And while no one deserves an award for making Fez picturesque, this ancient Moroccan artisans capital has probably never looked better in a movie. Happily, El Maanouni doesn't just settle for picturesqueness. I was recently in Oaxaca, a place analogous to Fez—a centuries-old city that has retained its crafts and craftsmen out of general poverty. While rapt by the beauty of the local work, I had to remind myself that the artisanship was paid for by the deferred dreams of children born to be apprentices or inheritors of small-family workspaces.
Burned Hearts'/ main character, Amin, returning to Fez after a stint in Paris going to school, has come to his uncle's deathbed. The old man was a narrow-minded wrought-iron blacksmith who tried everything he knew to keep the fatherless Amin working at the forge. The director explores the city with impromptu musical numbers and dances. Riddled with subplots and flashbacks, Burned Hearts nearly crumbles, but then it turns a corner and there's another view of this ravishing city.
Other films on the San Jose leg of the Arab Film Festival include the Egyptian comedy The President's Chef, a tragedy from Algeria titled The Yellow House, the Syrian love story Out of Coverage and Bahrain's answer to Car Wash: Four Girls.

THE ARAB FILM FESTIVAL plays Oct. 18–19 at Camera 12 in San Jose. See Aff.org for schedule details. (Full Disclosure: Metro is one of the official sponsors of the festival.)
Click Here to Talk About Movies at Metro's New Blog
Send a letter to the editor about this story.