10.15.08
home | metro silicon valley index | movies | current reviews | film review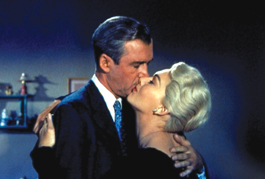 EMBRACEABLE YOU: Jimmy Stewart clings to Kim Novak in 'Vertigo.'
Spin Cycle
Alfred Hitchcock's masterpiece, 'Vertigo,' retains its vital mystery after 50 years
By Michael S. Gant
REWATCHING Vertigo recently, I was struck by how few characters director Alfred Hitchcock needs to create an epic. Only five persons—plus a few memorable cameos—really count, and two of them are the same and one disappears halfway through. And yet, the film, which turned 50 this year (it premiered on May 9, 1958), conjures up an entire world: San Francisco, past and present, as animated by one man's relentless absorption into an object of desire found, then lost, then reinvented. Each time I have seen Vertigo, from the first theatrical rerelease after 10 years of legal limbo to multiple VHS and DVD studies, I have found myself hoovered into Hitchcock's vortex (symbolized by Saul Bass' spinning-galaxy motif in the credits) again. The film is constructed as precisely and as tightly as its protagonist's pursuit of an unattainable phantom. Every shot, every line, every musical cue adds precisely to the whole. The effect can be stifling—the tightness leaves you breathless for two hours. But Vertigo casts a spell over audiences just as surely as Madeleine Elster does over Scottie Ferguson. The film is worth seeing on the big screen, which is why the Stanford Theatre's one-night-only (Oct. 16) revival should be packed. There is also a handsome new DVD release of the film as part of the Universal Legacy series (along with Psycho and Rear Window).
The film resembles a detective story, as a retired policeman, Ferguson (Jimmy Stewart), suffering from acrophobia, is hired by an old friend to follow the man's wife, Madeleine (Kim Novak). The spirit of a tormented ancestor, one Carlotta Valdes, driven mad and robbed of her child by a "rich, powerful man" in Gold Rush days, seems to inhabit the wife. On her peregrinations in and around San Francisco, Madeleine visits a portrait of Carlotta at the Palace of the Legion of Fine Art, stands by her grave at Mission Dolores and takes a room at the crumbling McKittrick Hotel that was once Carlotta's home. Eventually, the watcher falls for the watched. Scottie's need to possess Madeleine leads him into madness, both psychological and moral. After Scottie's vertigo prevents him from saving Madeleine from a fatal fall, the coroner (a brilliant bit of business by Henry Jones) dryly sums up the detective's dilemma: he is technically innocent, but his "weakness" meant that he was "powerless when he was most needed." Scottie must spend the rest of the film regaining that power—at the greatest of costs.Vertigo works most powerfully in the dark of a theater, but the film also rewards the close study that a DVD makes possible. Universal's new DVD repackages the extensive 1996 restoration (complete with color correction and some controversial sound effects re-creations) with some background documentaries about the making and rescuing of the film, which had been allowed to fade disgracefully, as evidenced by some washed-out frame examples. For serious fans, the Stanford screening will be preceded by a session with Jeff Kraft, who co-wrote Footsteps in the Fog: Alfred Hitchock's/
San Francisco. On Friday, 11am–5:30pm, a panel of film historians will discuss Vertigo at a Stanford seminar at the Humanities Center on campus.

VERTIGO shows Oct. 16 at 7:30pm at the Stanford Theatre in Palo Alto. VERTIGO SPECIAL EDITION; two discs; Universal Legacy Series; $26.98.
Click Here to Talk About Movies at Metro's New Blog
Send a letter to the editor about this story.