10.15.08
home | metro silicon valley index | music & nightlife | band review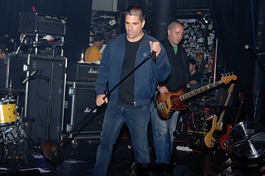 teamgoon.com
HOMECOMING: Joe Sib is keeping count, and yes, there are still 22 Jacks at every show. Weird.
Imperfect Circle
Campbell native Joe Sib returns with his all-star band 22 Jacks
By Garrett Wheeler
WEEK and a half before his show at the Blank Club in San Jose, Joe Sib is sitting in his office in Hollywood, reminiscing about the days of his youth. Growing up in Campbell in the early '80s is something Sib doesn't take for granted; in fact he cherishes the experience, attributing his entire life's direction to his involvement with the South Bay music scene.
"Being a part of everything that was happening in the early days of the San Jose punk scene was really the foundation of everything I'm doing now," says Sib, whose current list of occupations includes fronting a rock band, running a record label and hosting a syndicated weekly radio show. "It was really unique—you had all these great bands, and a real entrepreneurial spirit that went along with it. Even if you weren't in a band, you could still be involved, whether it was taking photos, editing a fanzine, promoting shows, whatever—it was all fueled by enthusiasm ... and cheap beer and clove cigarettes," he adds, laughing.
Though San Jose was certainly not the first, or the only city to manifest a punk scene built on a spirited DIY ethic, it was, for Sib and others, the perfect nesting ground for the new punk movement. He formed his first band, SJ Frontline, at age 16 and embarked on his first tour two years later. The groups Sib worshipped were at his fingertips: Executioner, Living Abortion, the Stiffs, the Faction and Grim Reality were all a part of the local scene. But no band in Sib's eyes could compare to Los Olvidados.
"They were the most important and inspiring band," says Sib. "I remember seeing them play in basements, and later in clubs—Los Olvidados was one of the original San Jose groups to lay the foundation for what was to come."
What was to come, incidentally, was a flourishing landscape of punk rock that would enable Sib to cross paths with some of the genre's brightest stars. "There was a real pride [local bands] had with being from San Jose," says Sib, "We didn't want to be lumped with what was going on in San Francisco or Berkeley or L.A.; we were really adamant about being from San Jose. Eventually, bands from other places started booking shows in town, and that's how I got turned on to everything that was going on."
Eventually, Sib decided to relocate to L.A., where he started the band Wax. After touring relentlessly for six years and recording a handful of albums, Wax, in Sib's own words "began to melt, no pun intended." In 2001, Sib and his partner/band-mate Bill Armstrong decided to concentrate their efforts on their newly established record label, Side One Dummy Records. After signing an up-and-coming group called Flogging Molly, it was apparent that the time had come to sink or swim. "When we signed Flogging Molly," says Sib, "we knew we had something special on our hands, and that to truly turn it into something we were going to have to give everything else a break." Needless to say, the focus paid off. "Flogging Molly really put Side One on the map, and made us a label that people took seriously."
But even with his attention focused on the burgeoning record label, Sib continued to write and play music. After collaborating on a number of songs with musicians from various other bands, Sib and Adolescents guitarist Steve Soto decided to record a few tracks, along with Sandy Hansen (Joyride, Adolescents) on drums, Scott Shiflett (Face to Face) on bass and Jason Cropper (Weezer) on guitar. They called themselves 22 Jacks. "22 Jacks was a way for me to play with guys I admired so much growing up," Sib says. "You know, Steve and Scott, they were guys I wouldn't normally get to play with, and to record music and later tour with them—it was just an honor."
Finding himself overwhelmed by his obligation to Side One Dummy, Sib dissolved 22 Jacks in 2001, only to reform the group six years later. With a fresh lineup that included Soto, Bill Fraenza (Executioner), Jose Medeles and James Achor (Royal Crown Revue), the band fell back in action, thanks largely to a request from Social Distortion, who were scheduled to play a string of shows at the Fillmore in San Francisco.
The Jacks' upcoming gig at the Blank Club on Oct. 17 is a reunion of sorts, with Sib returning to his old stomping ground to breathe a little fire into the San Jose night. After that, well, anything's possible.
22 JACKS performs on Friday (Oct. 17) at 9pm at the Blank Club, 44 S. Almaden Ave., San Jose. Tickets are $8. (408.292.5265)
Send a letter to the editor about this story.