10.15.08
home | metro silicon valley index | music & nightlife | band review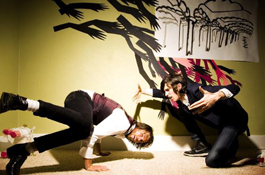 The Matrix Has Them
3Oh!3 take the red pill
By John Gentile
THE machines are taking over, and the boys in 3oh!3 couldn't be happier. "In the future, everything will be integrated," says Nat Motte, one half of the hip hop/electronica/duo 3oh!3. The difficultly named 3oh!3, who take their name from their telephone area code, have just released their second album, Want, on which they spit party rhymes over highly computerized beats. But, while the Terminator franchise may have told us that computers are out to extinguish the human race, Motte, along with his band mate Sean Foreman, seems to follow the Matrix's perspective and believes that the two will work together, even though he seems to feel that mankind will be dominant no matter the technological advances.
"There are definitely some organic sounds you will never get out of the computer," says Motte. "I can see software and beats becoming more and more a part of all types of music, but the organic and technological aren't mutually exclusive."
But is Motte is just putting on a brave face. Although 3oh!3 have opened for both Snoop Dogg and Bone Thugs 'N Harmony, they just finished the latest Warped tour backed by live musicians on stage. On being backed by flesh and blood instead of a computer, Motte says, "People can put the human touch in there. No matter how much randomization you put into a computer, it won't sound as natural as human. Also, for better or worse, there's the element of surprise with humans, too."
Perhaps a hint of fear creeps up Motte's throat as he speaks through a digital cellphone, because he's quick to add, "But computers can keep an absolutely perfect beat. You can obviously get sounds that you can't do otherwise."
This merger of digital and human breath has made 3oh!3 quite an original entity. They're a little bit Beastie Boys, a little bit Daft Punk, a little bit Lil' John, and maybe a byte or two of Bloc Party. But while the influences heard in 3oh!3's new album may seem tactically calculated, Motte is quick to point out that when creating music, the duo is not concerned with what has come before them.
"I don't know how much you think about the music when you're making it," says Motte. "We just instinctively draw from a lot of places...Hopefully, it's something new or clashing. We try to make stuff that's new or cool, instead of something that's just the same old, same old."
While their music may look to the future, their use of technical innovation sometimes steps into yesteryear. Motte says, "There's some shit that's been written in the shower. Also, we recorded the first album in a sauna because it gives a good isolated sound."
Even more interestingly, while 3oh!3 makes accommodations with its technology to achieve the best sound they can, they refuse to make concessions to either the hip-hop audience or the punk audience.
"We don't tailor our set to our audience. Every time we have show we just go out and get insane. We go absolutely ape shit...last show I crowd surfed over to the bar and started taking shots. Physically we are just all over the place. I think I once accidently saw Sean's peep."
3OH!3 performs on Monday (Oct. 20) at 6pm at San Jose Skate, 397 Blossom Hill Rd, San Jose. Tickets are $12 (includes skating). (408.226.1155)
Send a letter to the editor about this story.