10.15.08
home | metro silicon valley index | columns | style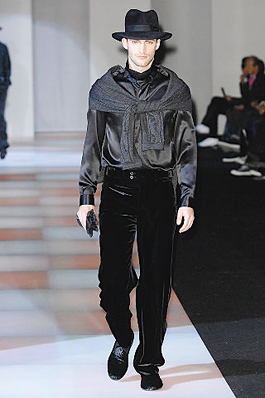 Giorgio Armani
Style
Fall for Men: Traditions, Trends and Trials
By Joseph Rosenfeld
WITH the world in such a state of monetary mystification, political perplexity and societal shake-ups, you can bet your bottom dollar that you'll be yearning for change, whether in your hand or on your body. Change is fashion's raison d'Ítre and this season proves to be as good as any to embody the concept. From the sublime to the silly, it's time to make sense of fall's fashions for men. Traditions, as fashion trends, are always rife with retrospection. Jean Paul Gautier, Junya Watanabe and Lanvin each sent looks down their runways redefining the look of "the gent." Young men, topped off in bowler derby hats and wearing tailored coats, cravats and chunky soled shoes, were caricatures of grown-ups from a by-gone era.
Other designers, like Michael Kors, Valentino and Paul Smith, made the vest one of their best accessories. Whether it's a knit sleeveless cardigan worn with a tweed jacket, the third piece of a superb suit or a contrasting colored and lapeled piece layered to foppish effect, the vest's been treated with an attitude adjustment that should make it popular for lads and lesbians alike.
Viktor & Rolf even took a traditional tone, and reworked the white tuxedo shirt into one that could be worn in a nontraditional manner. And the bow tie is back: Burberry Prorsum went metallic, Neil Barrett did a classic black bow and white shirt with skiwear and Ralph Lauren's guy looked like a sexy paper delivery boy, complete with sneakers.
This fall's fads should influence men to look fearless. Dolce & Gabbana, Versace and Z Zegna showed shaggy and sheared coats in bold designs, and with broad shoulders. The sweater, nearly nonexistent for numerous seasons, has made a huge reappearance in a wide array of styles: from fresh and fluffy flamboyant fisherman looks to classic ski looks for the most fearless of downhill skiers. We could all use a dose of fearless fashion this fall.
Along with fearlessness, boldness continues with this season's punchy plaids. Costume National showed a bold plaid coat over a somber gray outfit. D & G took the hunter's approach with a Scottish plaid jacket with over-the-top plaid pants, while Paul Smith put his best plaid forward, toning down a plaid vest and pant with an earthy, solid, tweed jacket.
Less colorful, but bold nonetheless, the edgy black-on-black look emerges from the shadows this season. Black leather, velvet, silk, wool and cashmere have been mixed masterfully, creatively showing bright and dull, flat and textured, monochromatic effects in looks ranging from Nancy Boy to Gangsta.
And now for trials, this season's edgiest lines for men. Trials are truly experimental, envelope-pushing fashions that shed light on what's happening in the world.
Often they belong on mannequins rather than real people—let's just say the slim styles shown by lines like D Squared have a narrow audience. Collections from Bottega Veneta and Yohji Yamamoto are going baggy, bucking the bonier styles, showing the opposing extreme.
The pattern mixing shown by Etro and Dries van Noten are creative, complex and memorable. Though not likely to be worn by many, plenty would consider sending them up a flag pole or two. Two rabble-rousing designers defied convention: Raf Simons, and particularly Muccia Prada, brought gender-bending clothes to the runway, complete with a bikini bottom peeking out of a pair of pants and a bralette.
Whatever your desire, the designers have successfully updated what modern men's clothes should look like. The choices available this season make it easy to play it safe, take a chance, or throw all caution to the wind.
Send a letter to the editor about this story.