10.17.07
home | metro silicon valley index | music & nightlife | band review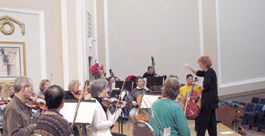 LEADER OF THE PACK: Barbara Day Turner conducts the San José Chamber Orchestra on Sunday.
Classical Moves
By Michael S. Gant
San José Chamber Orchestra For its second concert of the season, the orchestra promises "Everything You Always Wanted to know about Sax ..." Barbara Day Turner conducts Elgar's Serenade for Strings, Jeffrey Cotton's Symphony for Strings and the world premiere of Laura Karpman's Take Four. The last piece is scored for chamber orchestra and four saxes, which is where guest artists the Premiere Sax Quartet come in very handy. Take Four draws inspiration from the greats of the instrument: Coltrane, Bird, Gerry Mulligan and Stan Getz. Karpman is a classical composer with cross-over anxieties; she also scores video games (Everquest), TV miniseries (Taken) and theater works and has had her avant-garde experiments performed at the Cabrillo Festival of Contemporary Music. Sunday (Oct. 21) at 7pm; Le Petit Trianon, 72 N. Fifth St., San Jose; $30–$45; 408.285.4416.
San Jose Wind Symphony A half-century flies by when you're playing beautiful music. The San Jose Wind Symphony, conducted by Edward C. Harris, celebrates its 50th year with a special reprise performance of local pianist and composer Craig Bohmler's (who did The Mystery of Winchester House for San Jose Rep) Concert Variation on a Theme of Schubert, which he originally penned for the symphony's 40th anniversary. The rest of the gala includes Shostakovich's Festive Overture and Ticheli's Shenandoah, led by founding conductor Darrell Johnston, plus I Got Rhythm, Theme & Variations and Sing, Sing, Sing with guest drummer Ed Shaughnessy of The Tonight Show. Saturday (Oct. 20) at 7pm; California Theatre, 345 S. First St, San Jose; $15–$30; 408.927.7597.
Peninsula Symphony The season openers keep coming. For its 58th symphony, the Peninsula Symphony serves up "Triple Play," featuring Mendelssohn's The Hebrides Overture (a.k.a. Fingal's Cave), Beethoven's Concerto in C Major and Franck's Symphony in D Minor. The all-woman Eroica Trio guest-solos on the Beethoven. Mitchell Sardou Klein conducts. Friday (Oct. 19) at 8pm at the San Mateo Performing Arts Center, 600 N. Delaware St., San Mateo; and Saturday (Oct. 20) at 8pm at Flint Center, 21250 Stevens Creek Blvd., Cupertino; $29–$34; 650.941.5290.
Palo Alto Chamber Orchestra The orchestra plays host to Berlin's well-regarded Jacques Thibaud String Trio, bolstered by clarinetist Dmitri Ashkenazy. The season-opening program includes Tchaikovsky's Serenade for Strings and a pair of Mozart Concerti. Saturday (Oct. 20) at 8pm; Dinkelspiel Auditorium, 471 Lagunita Dr., Stanford; $6–$15; 650.856.3848.
Palo Alto Philharmonic Composer-in-residence Lee Actor contributes a world premiere—Celebration Overture—to the first concert of the season for the Palo Alto Philharmonic. His piece will be bracketed with Beethoven's Symphony no. 9, with the Cantabile Chorale and vocalists Jillian Khuner, Bonnie Brooks, Ben Bongers and David Cox. Saturday (Oct. 20) at 8pm at Spangenberg Theatre, 780 Arastradero Road, Palo Alto; $10–$20; www.paphil.org.
[email protected] and Music at the Mission Two concerts salute tango master Astor Piazzolla. These education evenings focus first on the influences that shaped Piazzolla music; the second half puts his compositions in their original quintet arrangements. The performers include Seth Asarnow on bandoneón and John Imholz on guitar. Friday (Oct. 19) at 7:30pm; San Jose Museum of Art, 110 S. Market St., San Jose; $25–$30; also Saturday (Oct. 20) at 7:30pm; Mission San Jose, 43300 Mission Blvd., Fremont; up to $30; www.musicatmsj.org.
Send a letter to the editor about this story.