10.17.07
home | metro silicon valley index | movies | current reviews | film review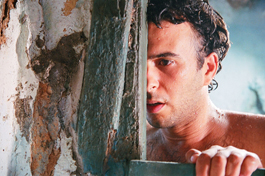 FALLING TO FUNDAMENTALISM: Lofti Abdelli plays a young man whose alienation leads him into a secret fundamentalist cell in 'Making of.'
Arab Scene
The Arab Film Festival brings three days of features and shorts to the South Bay
By Richard von Busack
THIS IS THE SEASON for film festivals; they are lined up like jetliners over SFO. The Arab Film Festival starts this week with screenings in San Francisco and Berkeley and at Camera 12 in San Jose. The festival has scheduled three days of screenings for the valley.
The lineup for Oct. 20 includes a wealth of shorts and features. Noon: Four shorts from Egypt. In These Girls (El-Banate Dol), teenage street girls of Cairo speak out. In Six Girls, female students from Port Said City experience college life. Another World is a fictional film about the life of an autistic girl. Mazarik chronicles the hard life of date farmers in an oasis town.
The 2:30pm screenings include Arabana, in which a child is caught by a stranger; The Deceased, a short comedy about hurt feelings at a Moroccan funeral; A Muslim Childhood, Moumen Smihi's 2006 feature film about a Tangier boy of the 1950s, torn between his father's strictness and the lure of European life.
At 5pm: Day & Night. A Cairene small businessman balances his work and his love life. Leisure Time. This surprise hit in Egypt is a tale of four Cairo University slackers.
At 7:30pm: Flower of Oblivion (Koshkhash). A feature about opium addiction and love in Tunisia before independence in 1957.
At 9:45pm: Making of, in which a poverty-stricken breakdancer is lured into a ring of fundamentalist suicide bombers.
Stay tuned next week for coverage of the weekend screenings, Oct. 26–27.

THE ARAB FILM FESTIVAL plays Oct. 20 and Oct. 26–27 in San Jose at Camera 12. For complete details, see www.aff.org or call 415.564.1100. (Full Disclosure: Metro is one of the sponsors of the festivals.)
Send a letter to the editor about this story.