10.17.07
home | metro silicon valley index | movies | current reviews | film review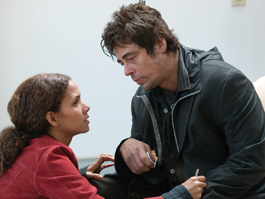 Photograph by Doane Gregory
LOOK INTO MY EYES: Benicio Del Toro hypnotizes Halle Berry with his peepers and his earlobe rubs in 'Things We Lost in the Fire.'
Up in Smoke
'Things We Lost in the Fire' survives a plot meltdown thanks to Benicio Del Toro
By Richard von Busack
MRS. PARKER advised us that there are some works of art that shouldn't be dismissed lightly—they should be tossed aside with great force. And on the face of it Things We Lost in the Fire is one of them. However, Susanne Bier (a Dogme director who made the Danish melodrama Open Hearts), even though saddled with a mawkish Sam Mendes–produced script, somehow seems to keep this on another level. Things We Lost in the Fire (too bad the title wasn't one of those things) evinces an open naiveté that survives the calculation of the plot. And in the lead, Benicio Del Toro transforms himself from reliable character actor to serious leading man.
The plot is so mortifying that I would rather put it off for a second and talk about Del Toro. His Jerry Sunborne (lo, the sun bears him!) is a loper. He exhibits such apelike looseness of his joints that he is barely bipedal. Del Toro is the palest Latino since Cesar Romero slathered himself in white greasepaint to play the Joker; junk-sick, Del Toro is even paler.
Even in moments of cool, however, Sunborne is in the process of imploding. He has the twitch of a man trying to pull his head into his neck, like a tortoise. The forehead is corrugated with worry, and the ripe, liver-colored mouth shows the internal strife, but he tries to mask it all by filtering it through his headphones.
Some of the happiest moments in the film give us Del Toro alone, soaking up some Captain Beefheart. The Captain's "Clear Spot" is a brilliantly apropos musical quote, just as the Velvet Underground needle-drop ("Sweet Jane") in the film is so very cornball.
And now for the plot. You had to ask. Time is out of joint at the beginning. Arrays of before and after scenes coalesce into a backyard funeral reception and dinner. In—shambling—comes the obvious black sheep, Jerry: "I hated you," says the lady of the house, Audrey (Halle Berry). It transpires that her husband, Brian (David Duchovny), a wealthy developer, still kept in touch with Jerry, his childhood friend, though the latter had become a homeless heroin addict. After the husband's sudden and pointless murder, duty required that the needle-fancier be invited to the funeral.
To cope with the loss, and to help out her husband's friend, Audrey invites Jerry into her house to stay on as lodger and handyman. Audrey grieves while fussing over her house and her two flawless children.
Meanwhile the camera coasts over Berry's own surfaces. God knows these are fine surfaces. Still, the small camera technique doesn't get much deeper than the glossy skin or the ritzola, overproduced perfection that is Audrey's life. The scriptwriter, Allan Loeb, hails from of the Chicago Board of Trade and may be a little dim on class struggle in the United States. One element of the plot features a wad of $20 bills left in the front of Audrey's car. The lady is surprised when they turn up missing and blames Uncle Junkie.
After Jerry arrives, the kinked-up time frame straightens into straightforward consecutive scenes. Audrey battles insomnia. She needs her earlobe rubbed so she can sleep. Romantic movies always seek new euphemisms. When Jerry tries to rub more than the earlobe, the lady is shocked out of a year's growth, despite the previous way she watched him in the shower. Hence, third-act separation, and the ball gets well and truly hit into the sand trap. The hero relapses beautifully, and Kelly (a goth-dyed Alison Lohman), his N.A. buddy, ushers him into scenes of sweat-soaked Oscar-bait detox.
Just because a movie is out of touch doesn't make it bad. Yes, Things We Lost in the Fire is grossly out of touch. Even the product placement looks weird: Cold Stone and Alhambra water get their paid-for name drop. Yet the film says: If you go to Cold Stone for ice cream, you will be shot by a stranger; if you get Alhambra water, your wife will fantasize about the delivery guy.
And yet—Del Toro may cause the females in the audience to suddenly crave an earlobe rub. I rebel against all the writers who will call Del Toro the new Robert Mitchum, just because of the sleepy, slightly baffled eyes, into which the camera stares like an oculist. Del Toro is less self-involved, more wary, more childishly gregarious; the body is more limber, as when he bends his head down like a giraffe to talk to a child. He really is a different leading man. Weird is certainly a part of different.
Del Toro is the reason to see this, as is Lohman, who has the best line: "I have a new life, so I have a new love of my life." We are presuming that that love is Jerry, though they just seem to be friends. (In any ordinary romantic movie, there shouldn't be the possibility that the Second Girl would make the hero happier than the First Girl.)
Lohman is an able actress just out of movie jail, where she was banished for Where the Truth Lies. She outclasses Berry. Some people, however, who crave tears and don't care how they get them, will be happy enough watching Berry and Del Toro playing hot potato with a ball of nettles.

THINGS WE LOST IN THE FIRE (R; 119 min.), directed by Susanne Bier, written by Allan Loeb, photographed by Tom Stern and starring Benicio Del Toro and Halle Berry, opens Oct. 19.
Send a letter to the editor about this story.