10.17.07
home | metro silicon valley index | movies | current reviews | film review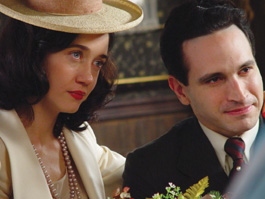 FIREBRAND: Camila Morgado plays communist activist Olga Benário in 'Olga.'
From the Beach To Brazil
This week's Jewish Film Festival features include 'Blues by the Beach' and 'Olga'
By Richard von Busack
THE ANNUAL San Jose Jewish Film Festival continues with a second screening (Oct. 17, 7:30pm) of Brother's Shadow (2006). Local filmmaker Todd S. Yellin's drama about a Brooklyn family's fight over the family business, a custom furniture-making firm, stars Judd Hirsch. (See our review at www.metroactive.com). On Sunday, Oct. 21, at 1pm, the festival shows Blues by the Beach (2004). After turning 50, ex–Studio 54 bouncer-turned-producer Jack Baxter decided to make a film in Israel—"a country the size of New Jersey." His first notion was to make a film about a Palestinian politician, but this turned out to be unworkable. So he did what many journalists do when they can't find a story: he headed to the nearest bar. Mike's Place is a beachfront pub in Tel Aviv that caters to English-speaking tourists; it features svelte French barmaids and an in-house blues-band singing peace anthems.
And then the story blew up for producer Baxter and director Joshua Faudem. Literally. The British Muslim suicide bomber who took out the pub hit what seems like an especially undeserving target. This tragedy is leavened a little by the sketches of barfly life in a hazardous town, where the tavernaut's logic—drink up, because it's later than you think—makes all the more sense. (It would be great to see this billed with Eitan Gorlan's film about the Jerusalem bar scene, The Holy Land.)
Also on Oct. 21, at 3pm (repeated Oct. 24 at 7:30pm) is Aviva My Love (2006), a popular Israeli feature film about a mother who supports her family by working as a cook, but who longs to be a writer. Rounding out Oct. 21, at 5:30pm, the festival shows Olga (2004). Jayme Monjardim's stuffy biopic about the communist martyr Olga Benário (Camila Morgado), a Jewish woman who participated in an attempted overthrow of the Brazilian president Getülio Vargas in the 1930s. She was Moscow's assigned bodyguard to Luis Carlos Prestes (Caco Ciocler) of the famous Prestes Column. At first, Olga is convincingly fierce performing a gunpoint rescue in a Nazi courtroom. But she cracks quicker than Ninotchka did, thanks to a touch of champagne on a ocean-liner deck, during her disguise as a wealthy tourist.
Ciocler may have been chosen to bolster memories of Ninotchka, because he looks like Fredric March, and he works his profile as hard as March did in his day. But he has the same thin, queasy smile for every purpose, whether it's saying farewell to his mother (Fernanda Montenegro) or saying hello to a beautiful woman. Surely, the real Prestes wasn't this ineffectual, and there's nothing revolutionary about the Antioch Rules–friendly paralytic love scenes. Olga's Red resolve melts as she learns her true calling, being a wife and mom. She might as well have taken that path, since the only peasants we see here are capering in wigs, happy because it's carnival time.

THE SAN JOSE JEWISH FILM FESTIVAL runs through Nov. 14 at Camera 12 in San Jose. See www.sjjff for complete details. Tickets are $8.50–$11. (800.838.3006) (Full Discloure: Metro is one of the media sponsors of the festival.)
Send a letter to the editor about this story.