10.17.07
home | metro silicon valley index | movies | current reviews | film review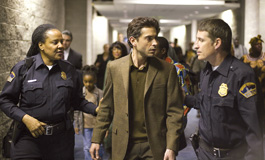 Photograph by Sam Emerson
THE UNFRIENDLY SKIES: An Egyptian engineer (Omar Metwally) is taken by the CIA at the airport in 'Rendition.'
Swept Away
'Rendition': The beatings will continue until global morale improves
By Richard von Busack
THE REAL NOVELTY in Gavin Hood's off-again, on-again Rendition isn't the plot. Rather, it is scriptwriter Kelley Sane's unique curveball at the end. The action starts when various circles of people meet after the CIA zeroes in on an Egyptian chemical engineer, Anwar (Omar Metwally), an Egyptian with a U.S. green card. Suspected of contact with terrorists, Anwar is picked up at O'Hare Airport and vanished to a North African dungeon. His pregnant wife, Isabella (Reese Witherspoon), tracks him down despite government denials, thanks to duty-free-shop credit-card receipts. The CIA may miss a trick; Capital One, never. Isabella contacts Alan, a senator's aide (Peter Sarsgaard), with whom she had some sort of thing in the past. (The thing is still unresolved, if one can judge from Sarsgaard's look of intestinal disruption.) As Alan investigates, he tries to get info out of a rival senator, played by Meryl Streep, here clad in white glossy suits and carrying a light Southern accent. Meanwhile, in "Northern Africa," a secret police chief, Abasi (Yigal Naor of Munich)—grave, mountainous, imposingly bald with turbulent eyebrows—pours junior CIA analyst Douglas (Jake Gyllenhaal) five fingers of bourbon. Then he leads Douglas to the dungeons, where the captured Anwar lies naked and waiting. We also hear about Abasi's own troubles: a vanished daughter who is involved with a radical Islamist student.
Rendition seems to have no center until the end. Then we realize the center is Abasi's heart. Naor gives the best performance. He doesn't have to complete a phony screenwriter's arc. And unlike the leading lady, he doesn't try to out-act Meryl Streep by yelling at her. We all know how loaded a gesture it is when a man offers a cigarette to someone onscreen. Abasi, pushing the bourbon glass to Douglas, immediately humanizes the torturer. It's funny—and I mean this in the unfunniest sense of the word "funny"—but I think if a Muslim asked me an unanswerable question like "Why does America hate Muslims?" I'd say, "We don't hate you. We just don't trust you because you don't drink."
Australian cinematographer Dion Beebe (Miami Vice, Crush) makes Washington a mausoleum by rosy dawn, contrasted with the carmine-colored rocks on the edge of the Sahara. Despite all the space, however, there is little room for these actors to get a grip. Gyllenhaal droops over a hookah with sorrow, when some nastier, sardonic touches might have made this story sting more. As for Witherspoon, she is supposed to look less like a teensy blonde bulldozer when she is outfitted with a pregnancy pouch; her performance is capped by a true yodel for Oscar. Streep does better, getting her hisses for defending torture and doing it with the maddening conviction of a think-tank denizen on MSNBC. Ultimately, the film's subject matter needs exposure. Extraordinary rendition wasn't just a Republican innovation. As noted by Alan, Clinton's people used it, if never in the numbers done today. It is defensible only by pundits, who ought to be subjected to it. The snatching up and walling in of prisoners is why the Bastille was torn down: something both the governed and the governors should remember.

RENDITION (R; 120 min.), directed by Gavin Hood, written by Kelley Sane, photographed by Dion Beebe and starring Reese Witherspoon, opens Oct. 19.
Send a letter to the editor about this story.