10.17.07
home | metro silicon valley index | movies | current reviews | film review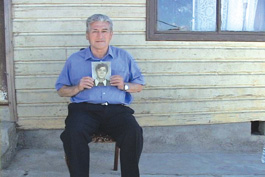 RETURN OF THE EXILE: Marianne Teleki's 'Special Circumstances' chronicles the journey of Chilean exile Hector Salgado.
Witnesses
Documentaries at U.N. Association Film Festival track the travails of the oppressed and forgotten
By Richard von Busack
THE CAMERA AS WITNESS" is this year's theme of the documentary-laden United Nations Film Festival, Oct. 24–28 at Stanford, with preview screenings on Friday, Oct. 19, at the Eastside Theater in East Palo Alto and on Sunday, Oct. 21, at Camera 12 in San Jose.
At the Eastside Theater, at 4:30pm, the festival showcases The Champ, Palo Alto filmmaker Peter Jordan's short about a 17-year-old girl's boxing lessons. Also on the bill is The Lost Children of the Cite Soleil, an exposť of child soldiers in strife-torn Haiti, and Fighting Cholitas, about the world of female wrestlers in El Alto, Bolivia.
At 7:30pm, the Eastside shows Willie Francis Must Die Again. Danny Glover narrates the story of Francis, who survived a bout with the electric chair in Angola, La., only to be resentenced to death in a 5–4 vote by the U.S. Supreme Court.
At Camera 12, on Oct. 21, at 6pm, the festival screens My Dreams Never Lie, a profile of an Afghan refugee who made his way to Paris. At 7:10pm: Special Circumstances, in which Berkeley's Marianne Teleki follows Chile's Hector Salgado as he returns from exile to confront Pinochet's men, who tortured him and killed his friends.
At 8:30pm: The Devil Came on Horseback. Brian Steidle, a U.S. Marine assigned to the African Union as an observer, saw first-hand the genocide in Darfur and brought the news back to America, much to the chagrin of the State Department. Ricki Stern and Ann Sundberg's documentary is "Darfur for Dummies": an overview of the chaos and what is being done to end it.
The official opening ceremony takes place at Stanford's Cubberley Auditorium, with Palo Alto Mayor Yoriko Kishimoto on hand. The films include, at 6:45pm: The Battle of Chernobyl. What a total ash hole! Twenty years later, this still-smoldering, insufficiently contained meltdown is waiting for a solution. Thomas Johnson revisits a problem people would rather forget about; unfortunately, blighted, poisoned Ukrainians don't get that option.
At 8:25pm: Global Focus IV: The New Environmentalists.
At 9:15pm: Tsepong: A Clinic Called Hope. Lesotho has the world's highest percentile of HIV/AIDS infection; Patrick Reed investigates an underfunded clinic trying to stop the disease. Reed previously did an essential Rwanda documentary Shake Hands With the Devil, about Romeo Dallaire.
At 10:10pm: Soldiers of Conscience. Training soldiers to kill takes much persuasion and work; Peter Coyote narrates various accounts of how it's done—and how many soldiers refuse to go along with it.
The festival runs with a full slate of screenings through Oct. 28.

THE UNITED NATIONS ASSOCIATION FILM FESTIVAL screens Oct. 19 at the Eastside Theater, 2101 Pulgas Ave., East Palo Alto, Oct. 21 at Camera 12 in San Jose and Oct. 24–28 at Cubberley and Annenberg auditoriums on the Stanford Campus. For a complete schedule, see www.unaff.org. Tickets are $5/$8. (650.724.5544)
Send a letter to the editor about this story.