10.17.03
home | metro silicon valley index | the arts | books | review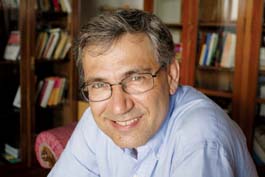 STRADDLING THE BORDER: Orhan Pamuk speaks at Stanford on Monday.
East Meets West
Nobel novelist Orhan Pamuk studies the stress fractures between Turkey and the West
By Michael S. Gant
WHILE WE have been wringing our hands about Iran's activities in Iraq, suddenly Turkey turns out to be a more immediate threat to our dwindling Mesopotamian aspirations. In response to a congressional resolution accusing Turkey of genocide against the Armenians, the Turkish government is threatening retaliations, which could include cutting off supply lines that the U.S. military uses to restock its troops in Iraq. Just this week, Turkey scheduled a vote on taking military measures against Kurdish insurgents in Iraq. Turkey's most famous writer, 2006 Nobel Prize winner Orhan Pamuk, knows how fraught the relationship between Turkey and the West can be. After raising the issue of the Armenian massacre, he was accused of having "publicly denigrated Turkish identity" (the charges were dropped on a technicality). Pamuk, who speaks this Monday (Oct. 22) at Stanford's Memorial Auditorium, often ponders the strange love-hate relationship between Turkey, which struggles to be a secular nation in a Muslim region, and Europe and the Western tradition.
In his new book, Other Colors: Essays and a Story, Pamuk returns again and again to that essential tension between "tradition and modernity" that he calls "the essence of the East-West question. As a Westernized Turk who fell in love with the idea of the Western novel, Pamuk understands how seductive the continent that Turkey's capital, Istanbul, straddles can be: "Europe was the fountain of civilization!" At the same time, Europe "has come to be seen as a source of evil." In the desire to emulate the West, many Turks, Pamuk argues, have blamed their own traditions for the country's shortcomings, especially when they recall the glory of the Ottoman Empire brought low by European imperialism. This in turn has led to a powerful, debilitating sense of shame: "For whenever another people feels deeply humiliated, we can expect to see a proud nationalism rising to the surface."
Some analysts have wondered why Turkey sometimes risks its chances of being accepted into the European Union, but as Pamuk notes, "Because I come from a nation that is knocking on Europe's door, I am only too well aware of how easily these emotions of fragility can, from time to time, take flame and rage unchecked." Turks, Pamuk argues, try "to grab the spirit of Europe," and then feel "guilty about the imitative drive." Still, he sustains a cautious optimism. Turkey offers something unique and precious: "the security and strength that will come from a Muslim country's desire to join Europe, and this peaceable desire's ratification."
Other Colors delivers invaluable insights about Turkey and the West, evocative reminiscences of growing up in Istanbul and significant illuminations about Pamuk's novels and approaches to reading and writing. In "The Pleasures of Reading," Pamuk confesses to the bibliophile's greatest disease: "The pleasure I derived form reading merged with my enjoyment of the book as an object. ... The book gave me as much happiness as reading it." Pamuk has spent most of his life, almost monkishly, in a room writing, as much as 10 hours a day; the results—Snow, My Name Is Red, The Black Book and Istanbul: Memories in the City—more than justify his Nobel. In the essay, "On Reading: Words or Images," he gives us a perfect justification for his life's work: "words (and the works of literature they make) are like water or like ants. Nothing can penetrate into the cracks, holes, and invisible gaps of life as fast or as thoroughly as words can."
ORHAN PAMUK gives a lecture on Monday (Oct. 22), 6–8pm, at Stanford University's Memorial Auditorium. OTHER COLORS: ESSAYS AND A STORY, by Orhan Pamuk; Knopf; 433 pages; $27.95 cloth.
Send a letter to the editor about this story.