10.17.07
home | metro silicon valley index | the arts | stage | review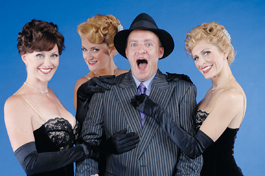 Photograph by David M. Allen Photography
HIGH ROLLERS: Noel Anthony enjoys the attentions of (from left) Melissa Reinard, Brittany Ogle and Melody McArtor in 'Guys and Dolls.'
Detroit Wheels
American Musical Theatre of San Jose rolls the dice with zippy 'Guys and Dolls'
By Marianne Messina
THE TITLE might make eyes roll—Men and Barbies, er Guys and Dolls—but American Musical Theatre of San Jose's production is so quick and energetic, there's no time for gender politics. This show proves anything can be funny, even a bunch of spatted, pin-striped two-bit hoods singing, "It's a cinch that the bum is under the thumb of some little broad." As the New York gambler Nathan Detroit (Rick Hilsabeck) and his riff-raff associates dance this ensemble number, they set a high-energy benchmark sustained through the entire production. Often neglected by choreographers, the men's troupe in Guys and Dolls put as much zip in filler numbers as they do in signature numbers like "Luck Be a Lady" and "Sit Down You're Rocking the Boat." In the latter number, the expressive Roland Rusinek earned approving cheers opening night in the role of Nicely-Nicely (one of Detroit's inner circle).
Frank Loesser's 10-ton rhymes keep the guffaw in romantic pining—"Put Vicks on your chest and get plenty of rest." The same goofiness makes the implausible story effortlessly amusing. Nathan Detroit has been engaged—and avoiding marriage—to sweet Adelaide (Michele Ragusa) for 14 years, and she's angling to "marry the man today." But Nate is busy trying to make his big cash haul by providing a crap shoot for the high rollers who've dropped into town, Chicago mobster Big Jule (Randy Nazarian) and jet-setter better Sky Masterson (Burke Moses). Needing $1,000 up front to rent a gambling hall, Detroit bets Masterson $1,000 that even the great Sky can't get Salvation Army–like missionary Sarah Brown (Sarah Uriarte Berry) to accompany him to Cuba for the evening. Yes, Cuba, simple sambas, sexy salsas.
The singing remains lively whether it's barbershop gang or three-part shouting match, and with two leading couples, duets, often featuring sitcom-fast repartee, abound. As Miss Adelaide, with the full-on Lower East Side accent dotted with squeaks, Ragusa pours out a spellbinding variety of emotional song, going from angry shouting (at her gambling beau) to so choked up she can't finish her sentence in a charming version of "Adelaide's Lament."
Hilsabeck keeps the conniving Nathan more likable than charming. Commanding as Sky Masterson (a role played by Marlon Brando in the 1955 movie), Burke comes from the tall leading man mold, vocally sonorous and physically impressive in his yards of pinstripe. Sky and Sarah's romance suffers a bit from the quick pacing—no intimate, dreamy pauses, here. Brown, a bit of a sleeper, reveals an appealing singing voice in the love duet. Even considering the dance dolls at the Hot Spot where Adelaide and her fellow show girls bare leg in the popular "I Love You a Bushel and a Peck," one of the most voluptuous parts of this production is Tony Walton's inspired set design. Stylized buildings with bulbous shapes sporting nodes give everything a rounded feel, seconded by round, softly lit street lamps and marquee bulbs. In one bright city scene, white plumes of smoke shoot up from manholes, subtly foreshadowing the upcoming subterranean scene. It's a joy to come across this kind of smart, appealing detail in a musical comedy.
GUYS AND DOLLS, an American Musical Theatre production, plays Tuesday–Friday at 8pm, Saturday at 2 and 8pm and Sunday at 1 and 6:30pm through Oct. 21 at the San Jose Center for the Performing Arts, 255 Almaden Blvd., San Jose. Tickets are $14.75–$74. (888.455.SHOW)
Send a letter to the editor about this story.