October 18-24, 2006
home | metro silicon valley index | the arts | books | review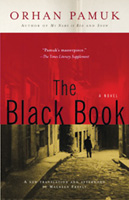 The Black Book
(By Orhan Pamuk; Vintage; 466 pages; $19.95 paper)

Being arrested and tried for insulting your government's idea of national identify (the charges were eventually dismissed) doesn't hurt your standing in Stockholm, but Turkish writer Orhan Pamuk richly deserves his Nobel Prize for Literature. His impressive body of work includes several outstanding novels and one brilliant memoir, Istanbul: Memories and the City. A good place to start for readers who haven't heard of Pamuk before is at the top, with his magnificent 1990 novel The Black Book, just recently reissued in a new translation by Maureen Freely. The story begins as a pulpy mystery, when a lawyer named Galip comes home and discovers that his wife, Rüya, has vanished. So has Rüya's older half-brother Celâl, a renowned newspaper columnist whose peregrinations have come to define the soul of Istanbul for generations of readers (he's Herb Caen squared) and who has dabbled dangerously in politics. What begins as a bit of amateur sleuthing eventually turns into a search for identity, as Galip traverses both the physical city and delves deep into decades of Celâl's columns, uncovering strange tales of the ancient metropolis that uneasily bridges Eastern and Western traditions. Finally, Galip assumes Celâl 's identity, holing up in the writer's abandoned apartment and writing his columns for him. The narrative, which covers three decades of Turkish life, from the early 1950s to the military coup of 1980, alternates between Galip's increasingly fevered investigations and samples of Celâl's columns. These set pieces do for Istanbul what Joyce did for Dublin. Celâl writes about "Beyoglu bandits, poets who lose their memories, magicians, songstresses with double identities and lovers who hearts never mend"; he writes about Bedii Usta, the "patron saint" of Turkey's mannequins; he imagines diving to the bottom of the Bosphorus to find a famous black Cadillac that a gangster, his "mistress at his side" fleeing the police, once drove over a precipice into the deep waters. Pamuk is keenly aware of Istanbul's—and Turkey's—prickly balancing act between Europe and Asia, and his gyre of interlocking tales encompasses everything from the 1940s Hollywood fare that lingered in Turkish theaters to the 13th-century Persian poet Rumi to utterly obscure (and possibly fanciful) texts like Kadri of Edirne's The History of Executioners. In the end, however, even more than issues of national identity, more than the push-pull of modernism vs. tradition, religion vs. secularism, the novel becomes a meditation on writing itself, which is for Pamuk inextricably intertwined with personal identity: "Nothing is as surprising as life. Except for writing. Except for writing."
Review by Michael S. Gant
Send a letter to the editor about this story.