October 18-24, 2006
home | metro silicon valley index | movies | current reviews | film festival preview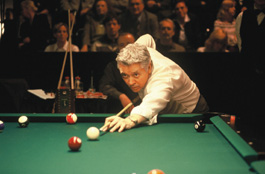 The Hustler: 'Jaeckie' Zucker (Harry Hübchen) must reunite with his rabbi brother in the Wilder-like comedy 'Go for Zucker.'
Long Hair
'Beethoven's Hair' is a lock as centerpiece feature of this year's San Jose Jewish Film Festival
By Richard von Busack
IF WE ARE going to get around to cloning Beethoven, the place to start is in San Jose, where a perfectly acceptable hank of the great man's hair, chock-full of genius DNA, is kept at the Ira Brilliant Beethoven Center at the Martin Luther King Jr. Library. The centerpiece of the 15th annual San Jose Jewish Film Festival, running Oct. 18-Nov. 19, is the gala $125-a-ticket local premiere of Beethoven's Hair, a documentary directed by Larry Weinstein, on Oct. 28, including wine, song and an actual viewing of a snippet of the great composer's famous mane. (The film also shows Sunday, Oct. 29, at 5:30 and 7:45pm at regular prices.) Opening this weekend, the festival's schedule includes Radu Mihaileanu's Live and Become (Oct 18, 7:30pm, and Oct. 22, 3pm), concerning the sometimes-tragic aftermath of Operation Moses, the airlifting of Ethiopian Jews in 1984. The Jews of Iran (Oct. 22, 1pm) concerns a community few knew existed. Jewish roots go back 26 centuries in Persia. But the Iranian-Jewish population has reduced from about 100,000 in 1979 to some 20,000 today, and politics is the reason.
Jews of Iran is co-billed with Oriental, a metaphorical documentary that crosses three different situations, in favor of discussing the divide between Arabs and Jews. The basis is an account of the meeting in 2000 at Camp David, set up by Bill Clinton, between Yasser Arafat and Ehud Barak. Eyewitnesses note how seemingly insignificant incidents like the "After you, Alphonse" dance between the two leaders at a restaurant were loaded with meaning. Western concepts of permanence collide with Eastern concepts of constant change. Academics urge for the end of the now traditional Arab-Israeli narrative in which there is a zero-sum triumph for either Palestinians or Jews. In the Middle East, states the film, there will be "either two winners or two losers." Lastly, to illustrate the above, as if with a parable, director Avi Nesher follows Russian-born Israel-raised belly dancer Eline Perchevsky as she tries to recruit an Arab band for a recital. The group is alienated by Israelis and none too happy about being led by a woman—especially one that, they suspect, could afford to pay them more. Uneasiness and friction complicate the ordinary sparring that goes on in any musical group; all is forgiven, if perhaps not forgotten, by the time of the successful show.
As the faithful in several religions can tell you, God doesn't like it when we go around bare-headed; likely, he's just concerned about us catching cold. Hats of Jerusalem (Oct. 22, 5:45pm), by Nati Adler, shows how what you wear on your head advertises your faith. In a city God keeps a special eye on, Arabs, Greeks, Armenians and Orthodox Jews talk about their lids. Go for Zucker, (Oct. 25, 7:30pm, and Oct. 29, 3pm) is Dani Levy's highly recommended comedy about a German-Jewish hustler. Jakob "Jaeckie" Zucker (Harry Hübchen) lost his cushy job in East Germany when the Berlin Wall came down; having previously slipped God's leash, he finds himself forced to mend fences with his pious, haughty brother, a rabbi. Go for Zucker has a broad Billy Wilder streak in it—like Sunset Boulevard, the film is apparently narrated by a cadaver. All events are at the Camera 12 in San Jose; www.sjjff.org.

The San Jose Jewish Film Festival runs Oct. 18-Nov. 19 at Camera 12 in San Jose. (800.836.3006)
Send a letter to the editor about this story.