10.22.08
home | metro silicon valley index | columns | silicon alleys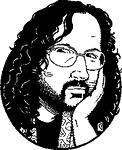 Silicon Alleys
Our Soccer Legacy
By Gary Singh
OPERATED by die-hard fans of the San Jose Earthquakes Major League Soccer franchise, the Soccer Silicon Valley Community Foundation (SSVCF), an official 501c(3) nonprofit group, calls itself the "only all-volunteer fan-based philanthropy in American sports." In what looks to be a serious hoedown this Friday, SSVCF will stage its first annual fundraiser and nosh-up at the Starlight Banquet Hall on Minnesota Avenue, complete with full sponsorship from the Earthquakes franchise itself. Silent auctions will take place. Politicos and luminaries will hold court. Old-timers from the original NASL Quakes in the '70s will be there.
The event also serves as a launching pad for a brand-new endeavor, the Soccer Legacy Project, a collaboration between SSVCF and History San Jose, establishing a "soccer heritage" collection of anything related to San Jose soccer, pro or nonpro, to be permanently archived here in town. The idea, naturally, is that once a brand-new, permanent stadium emerges, the facility will include a museum-style area showcasing artifacts from the history of soccer in our city: memorabilia, jerseys, souvenirs, cards, promotional materials and even those two championship trophies from 2001 and 2003.
Since we're yakking about history here, it's always fun going back to the beginning, 1974, when the original San Jose Earthquakes started their first season in the NASL. Milan Mandaric was the guy who brought the sport to San Jose and Dick Berg was the first general manager. A Sports Illustrated article by Tex Maule from halfway through that first season recapped it this way:
Mandaric hired Berg away from the San Francisco 49ers and Berg accepted the job with one stipulation: that the soccer team be situated in San Jose and be identified with San Jose. San Jose was (and is) a city with an inferiority complex. Located 50 miles south of San Francisco, it is too far away to be a bedroom suburb and too close to have its own identity. In years past, people who lived in San Jose seemed to find it necessary to identify themselves geographically as coming from 'a little bit south of San Francisco.' The success of the Quakes had already changed that. Now, natives say 'San Jose' the way people who live in Green Bay might say 'Green Bay.'
The article then goes on to quote Berg as saying: "The reason I insisted that the club be located in San Jose was that there are too many major league clubs in San Francisco, and the people in San Francisco are blasť. In the San Jose area, there are a million and a half people looking for something like this. I didn't want us to be the last team in San Francisco. I wanted this club to be No. 1 and it is."
In other words, he wanted to build the team as San Jose's own from the very beginning. The league didn't like it because they wanted the team to be located in San Francisco or Oakland, but Berg insisted and eventually prevailed and the original Earthquakes became San Jose's first major-league team. Unfortunately, the league expanded too quickly and many teams blew all their money on foreign players without first laying a proper foundation and planning for the future. At least for a few years, however, locals got a chance to see some of the best players from around the world come to join NASL teams, including George Best, who hung out in San Jose from 1980 to 1981.
Which brings me to a point where I have no means of avoiding a shameless barefaced plug: At the dinner this Friday, copies of Maureen Hunt and Bernie Smith's book, George Best: A Celebration, which includes 10 pages by yours truly, will be for sale, with all proceeds going to SSVCF and the Soccer Heritage Project.
Contact Gary Singh or send a letter to the editor about this story.