10.22.08
home | metro silicon valley index | silicon valley restaurants | review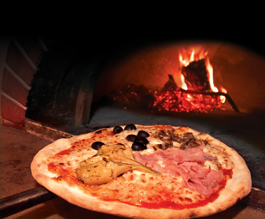 A LITTLE ITALY: Pizza Quattro Stagioni at La Pizzeria in Campbell.
Cheap and Delicious
25 great spots for affordable dining  
By Stett Holbrook
Photographs by Felipe Buitrago
ES, the U.S. economy is in the throes of the worst financial crisis since the Great Depression. The stock market is swinging as wildly as a drunk with a bipolar disorder. The housing market is in the toilet and the unemployment rate is at 6 percent.
But you still have to eat.
For most of us, a three-figure meal for two at the Plumed Horse may have to wait until better days—or at least until someone else is willing to pick up the tab. In the meantime, Silicon Valley has a lot to offer the budget-minded diner. If fact, cheap and delicious are the South Bay's strong suits. By cheap, I mean main dishes that don't top $10 per person.
Below are 25 of my favorite eateries that fit the bill. While the economic crisis calls for fiscal restraint in what we eat, many of these restaurants would top my list for good food in better economic times, too. The list is by no means exhaustive so let me know what restaurants you think should be included next time. I have a feeling economic realities mean I'll be doing this again.
Amber Cafe
To call Amber Cafe Indian fast food doesn't do it justice, because the caliber of the food is high. Most of the menu is drawn from northern India, but there are a few dishes inspired by the street foods of Bombay. Part of what sets Amber Cafe apart is its chaat. While billed as appetizers, these generous dishes would work well as a light lunch. Perfect for a small meal is the formidably named mutter adrak ki aloo tikki. The dish pairs two light potato cakes filled with a gingery green pea mixture. The two cakes are topped with tamarind and mint chutneys and served on a plate of sultry chole, a rich and liberally seasoned garbanzo bean stew. 600 W. El Camino Real, Mountain View. 650.968.1751.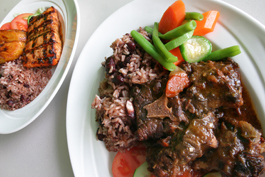 Oxtail and jerk salmon at Back A Yard.
Back A Yard Caribbean American Grill
"Back a yard" is Jamaican slang for "the way thing are done back home." Fortunately for Jamaican expats and Caribbean food lovers alike, there is a place in Silicon Valley where it's done just like that. And appropriately enough, it's called Back A Yard Caribbean American Grill. Jamaican-born chef and owner Robert Simpson brightens up this humble-looking restaurant with his fantastic jerk chicken, braised oxtail, chicken curry and other Caribbean standards. 1189 Willow Road, Menlo Park. 650.323.4244.
Bun Bo Hue An Nam
When it comes to Vietnamese food, pho gets all the attention, but for my money, bun bo hue is superior, especially if you like your beef noodle soup on the spicy side. While the restaurant also serves pho, it's the spicy bowls of bun bo hue that are on everyone's table. In addition to thin slices of beef, the soup comes with fat, spaghettilike noodles, beef tendon (it's better than it sounds), pork sausage and blood cake. The latter is an acquired taste and easily removed if it's not your thing. It's a great bowl of soup. 740 Story Road, San Jose. 408.993.1211.
Canela Espresso and Pastries
This family-run cafe is one of the few places I know of for South American–style empanadas, the savory, turnoverlike pastries filled with meat and vegetables and eaten for a quick bite or a light meal at any time of day or night. Unlike other South American countries, these Peruvian-style empanadas are baked instead of fried, which makes them lighter and healthier. Try the beef empanada filled with sliced beef, onions, black olives and raisins, as well as the chicken and mushroom empanada. 10631 S. Foothill Blvd., Cupertino. 408.255.2833.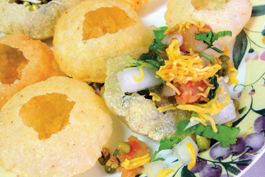 Pani puri at Chaat Paradise.
Chaat Paradise
In spite of its hard-to-find minimall location, Chaat Paradise serves some of Silicon Valley's best chaat, little bite-size snacks that are India's version of tapas. The pani puri is one of the highlights here. Pani is the Hindu word for water and puri are hollow, puffed shells made from wheat flour. The shells are typically filled with chunks of boiled potato and garbanzo beans and topped with a spicy masala sauce and sweet tamarind chutney, then dunked in the "water," a spicy, sour, salty mixture concocted from various herbs and spices. The result is a blast of flavors and textures, a true sensual experience. 165 El Camino Real, Mountain View. 650.965.1111.
Chili Garden
The menu ranges all over China, but the specialty of the house is the Szechuan food. And two of the best Szechuan dishes are the fiery Chonqing chicken and fish fragrant eggplant. The fearsome-looking chicken dish combines bite-size morsels of chicken studded with two thin bones. The chicken is lightly battered and crisp and wonderfully tangy, but it's the fistful of dried red chile peppers and sprinkling of Szechuan pepper that set this dish off. It's actually less spicy than it looks. Fish fragrant eggplant, called braised eggplant on the menu, gets its name not because it tastes like fish but because the spicy, sweet and sour flavors are based on those used in cooking fish. At Chili Garden, the dish is a beautiful mix of garnet-colored, glistening eggplant tossed with jade-green scallions and a healthy sprinkling of chile pepper paste. It's spicy, yes, but also redolent of ginger, pickled vegetables and rich, buttery, braised eggplant. 210 Barber Lane, Milpitas. 408.526.9888.
Dakao
Dakao Restaurant is a discount Vietnamese emporium. You'd have to try really hard to spend more than $10. Banh mi, spring rolls, sticky rice dishes, banana-leaf wrapped snacks and much more are all available for a pittance. 98 E. San Salvador St., San Jose. 408.286.7260.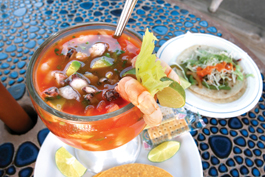 Ceviche at Dia de Pesca.
Dia de Pesca
As you might guess from the name (Dia de Pesca means "gone fishing" in Spanish), the restaurant specializes in seafood—fish tacos, ceviche, shrimp cocktails and soups. I'm a huge fan of tempura-battered, Baja-style fish tacos, so I was a little skeptical of the way the fish tacos are sautéed and made with no batter. But when I peeked inside the kitchen and saw one of the cooks trimming beautiful, deep red slabs of tuna, I knew the tacos were going to be special. In addition to tuna, you can also get tacos made with salmon, halibut, red snapper, shark, tilapia, scallops, crab and shrimp. That's just unheard of around here. I went with a tuna taco, and it was excellent. They're big and meaty, so two would make a perfect meal. Dishes like the seafood cocktails, "chickenitza" taco, caldo de camaron and seafood quesadilla are good catches as well. 55 N. Bascom Ave., San Jose. 408.287.3722.
Dosa Place
Dosa Place specializes in, you guessed it, dosas, those wonderful South Indian crepes made with fermented rice and lentil batter. The crowded benchlike tables are done up in the same Wienerschnitzel red and yellow as the sign outside. This is fast food, but it's of a much higher caliber than your typical corporate burger barn. There are more than two dozen kinds of dosa available as well as uthappams, huge Indian pancakes made with lentils and rice with various vegetables cooked right into the batter. The flagship "Dosa Place special rava masala dosa" is a doormat-size, lacy crepe that's crunchy yet chewy. Inside, it's dusted with chopped almonds and cashews and filled with buttery, spiced potatoes. The trio of spicy and sweet chutneys and piquant sambar completes it. Take that, economic downturn. 2665 El Camino Real, Santa Clara. 408.243.3672.
Dumpling and Noodle
Santa Clara's El Camino Real is a haven for cheap eats, especially Korean food. I love Dumpling and Noodle's straightforward name and its eponymous specialties even more. The small, bustling restaurant is hidden in a minimall off El Camino, but once you find it you'll feel like you're someplace special, especially when you hear the chorus of contented noodle slurping coming from the other customers. The big bowl of chicken noodle soup and fried shrimp dumplings are both standouts. 3212 El Camino Real, Santa Clara. 408.615.7705.
Jalisco Restaurant
North 13th Street is loaded with food bargains, particularly Mexican food bargains. One of my favorites is Jalisco Restaurant, a tiny place with a few tables that specializes in a spicy goat stew originally from the state of Jalisco. It's an acquired taste for some gringo tongues, but there is no better introduction to the soup than here. Dried chiles give it a dark, reddish brown color and each bowl is filled with bony chunks of rich, slow-cooked goat meat. For the full birria experience, you must sprinkle in some chopped cilantro and onion and squeeze a little lemon on top. 693 N. 13th St., San Jose. 408.288.9437.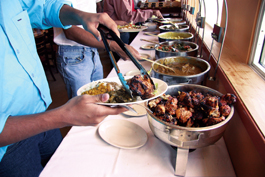 The lunch buffet line at Kabab & Curry's.
Kabab and Curry's
Indian lunch buffets abound, but Kabab and Curry's is a standout. For North Indian and Pakistani food, this is a real deal. There's a mosque down the street and the place gets waves of business before and after evening prayers. At lunch, the restaurant reflects the diversity of Silicon Valley. Muslims and South Asians sit side by side with Dockers-wearing office workers of diverse nationalities united in their affection for good food. 1498 Isabella St., Santa Clara. 408.247.0745.
La Casita Chilanga
La Casita Chilanga is Silicon Valley's premier torteria. There are four locations in the Bay Area (including one torta truck), but my favorite is the original and smaller one on Middlefield Road in Redwood City, which in itself should be a destination for all Mexican food lovers. Mixed in between the auto repair shops and minimarkets are scores of great Mexican restaurants. "Chilanga" is the slang term for residents of Mexico City and the squat little restaurant is a temple of tortas, one of DF's most beloved street foods. Tortas are all they make here, so right away you know you're in the hands of a specialist. While not expensive, tortas here go for more than you'd pay for a super burrito. The Cubana, for example, costs $8.95 and is worth every penny. 2928 Middlefield Road, Redwood City. 650.568.0351.
La Pizzeria
I say La Pizzeria makes the best thin-crust, Neopolitan pizza in Silicon Valley. The pizzas arrive beautifully blistered on the edges and just thick enough to support the toppings. The crust is springy and light, but at times crisper than I like. I tried several different pizzas. My favorite was the Tirolese: tomato sauce, mozzarella, speck (smoked ham), onion and blue cheese. As is common in Italy, the pizzas arrive unsliced. You simply carve your pie into quarters and roll it up and eat it. Unlike the often leaden, cheese- and topping-heavy American pizza, these pies are quite light. 373 E. Campbell Ave., Campbell. 408.370.0826.
Mark's Hot Dogs
The hot dog is the original value meal, and Mark's has been serving great wieners from its signature orange-shaped hut since 1936. The dogs, beef and pork in natural casings from a recipe that founder Mark Yuran developed some 70 years ago, are big, juicy and good and. 45 S. Capitol Ave., San Jose. 408.926.0923.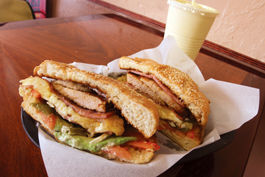 Hawaiian torta at Mexico Bakery.
Mexico Bakery No. 2
While this establishment devotes most of its business to an array of fresh-baked Mexican pastries, for me the tortas are the real star. The restaurant bakes its own sesame-topped telera and bolillo rolls. Tortas are served on telera rolls unless you request a bolillo, and you may want to if you're not really hungry. The regular version is quite large. The bakery has a number of torta options and also lets you mix and match. The $4.50 chorizo-and-ham torta is a two-fisted budget buster loaded sandwich with avocado, pickled green jalapeños and onions. The vinegary bite of the jalapeños helps cut the richness of the sandwich. Wash it all down with a creamy mango licuado (smoothie) for the complete experience. 87 E. Santa Clara St., San Jose. 408.920.2518.
Pho Ga An Nam
Cold and flu season is upon us so I say fortify your system with pho ga now. Pho ga is Vietnam's version of chicken noodle soup. And it's great here. If you're a chicken lover, this is your place. The restaurant serves 47 different chicken dishes—noodle soup, chicken over rice, egg noodle soup and other chicken-centric items. But the restaurant's namesake dish is the one to get. The soup arrives in a pale yellow translucent broth with a cleaver-chopped leg and chunks of thigh showered with fresh chopped cilantro and cooked with thin slices of onion. The standard accompaniment of bean sprouts, basil leaves, lime wedge and jalapeño slices are served on a plate alongside the soup. I feel better already just thinking about it. 740 Story Road, San Jose. 408.993.1211.
Ramen Halu
Being stuck in a soup line wouldn't be bad at all if the soup was Ramen Halu's extraordinary ramen. The restaurant's signature Halu ramen is served with an uncommonly rich, almost gravylike broth made from two stocks—one of pork and the other chicken. Like the broth, the toppings are top-shelf as well. In addition to succulent roast pork shoulder, the soup is topped with velvety Chinese black fungus, pickled bamboo shoots, sliced green onion, a square sheet of nori and emerald-green fresh spinach. The thick noodles are chewy but supple and seem tailor-made for the luxurious broth. Cash only. 375 S. Saratoga Ave., San Jose. 408.246.3933.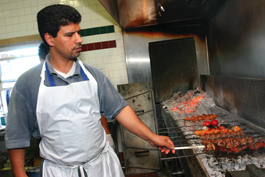 Ibrahim Almamori handles the skewers at Rose International Market.
Rose International Market
Stop by at lunchtime and you'll see what makes this place such a destination. The white plastic tables out front are packed with customers eating the market's signature mesquite-grilled kebabs. Once you find a place to park (no easy task), head inside the store to the checkout stand and place your order. There are menus on the wall and the counter. The cashier will read your order into a microphone. Then you head outside and around the corner of the building to what is literally a hole in the wall where two cooks labor over a busy grill. The koobideh, lamb and chicken kebabs that emerge from that hole are all great. 1060 Castro St., Mountain View. 650.960.1900.
Shirin Restaurant
Shirin's menu of Persian food is fairly standard, but there's a lot to recommend. The flavorful koobideh kebab ($2.99), made of seasoned ground beef, is plump and good. For big flavor, go for the wondrously succulent grilled lamb chops that are even better after a squeeze of lime. Fesenjan, chicken in a walnut-pomegranate sauce, is good, too. 897 E. El Camino Real, Sunnyvale. 408.739.7171.
Tacos Eva
Got a buck? You're in luck. A good taco is Mexican food stripped down to its essentials: a tortilla topped with some delicious bits of meat, salsa and a bit of chopped onion and cilantro. That's it. Tacos Eva, a beautifully painted taco truck, sells the definitive taco for the low, low price of just $1 apiece. The al pastor taco is particularly delicious with dry spice hints of cinnamon or clove. At that price, who can eat just one? 1565 Mabury Road, San Jose (across from flea market parking lot).
Texas Smokehouse BBQ
The area around Capital Expressway is known for its Mexican and Vietnamese food, so Texas Smokehouse BBQ is something of an oddity, and a delicious one at that. The mesquite smoke billowing from the 500-gallon smoker out front tells you Texas Smokehouse BBQ is open for business. And barbecue is definitely its business. Hot links, ribs, chicken legs and tri-tip are all cooked Texas style, meaning it's the meat and mesquite flavor that make the meat what it is, not seasonings. The tri-tip is the star of the show. It's served with an excellent sweet and vinegary barbecue sauce. 1091 S. Capitol Expwy., San Jose. 408.926.2829.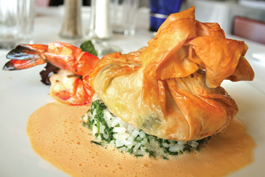 Shrimp and scallops purse at Twist.
Twist Cafe
Twist walks a fine line. The menu is satisfying and familiar, but exudes a refinement seldom found at lunch shops, especially at these great prices. Walk up and place your order at the counter and choose from winners like the rock shrimp cilantro wrap, fat and juicy shrimp with avocado, mixed greens, harissa (a North African chile paste) mayo and tangy salsa in a tomato-flavored flour tortilla. The roasted chicken ravioli, rotisserie chicken and entree salads are also winners that go for less than $10. 247 E. Campbell Ave., Campbell. 408.374.8982.
Udupi Palace
Udupi Palace is the place for dosas and uthappams. Dosas are long, thin crepes made with rice flour. Uthappams are pancakes made with rice and lentil flour griddled up with various vegetables mixed into the batter or served on top like a pizza. Both are classic south Indian dishes served with south Indian standards coconut chutney and sambar, a moderately spicy sour soup made with tamarind broth, lentils and various spices. For a cheap, vegetarian treat you'd be hard pressed to do better. 976 E. El Camino Real, Sunnyvale. 408.830.9600.
Selam
Ethiopian food is always a bargain. Selam is not only cheap, but uncommonly delicious. The vegetarian options are particularly good. Timtmo is a fantastic red lentil dish. The pale red legumes don't look like much, but the mushy mound is enough to make a vegetarian of anyone, at least for one meal. It helps that, as with many Ethiopian dishes, the lentils are cooked with niter kibbeh, clarified butter that has been steeped with spices like cumin, coriander, turmeric and cardamom. The ingredient adds a complex, spicy richness to the lentils that transforms them into something other than a plate of mashed legumes. Coming in right behind the timtmo is the hamli, sumptuous braised collard greens infused with more of that magic butter stuff. Alicha is buttery rich, too, but the cabbage, potato and carrot stew retains enough texture and flavor that it works as a nice contrast to the other dishes. 3120 Williams St., San Jose. 408.984.9600.
Send a letter to the editor about this story.