10.22.08
home | metro silicon valley index | silicon valley restaurants | review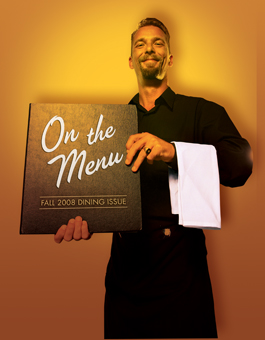 Photograph by Felipe Buitrago
LET HIM WINE AND DINE YOU: William Eggleston says the clientele at Trevese 'know good service, and they actually tip properly.'
The Waiting Game
By Stett Holbrook
WILLIAM EGGLESTON is a waiter. He's not a student waiting tables until he finishes school or a laid-off programmer trying to make ends meet while he figures his next move. He's a professional waiter. He's good at what he does and he's been at it for 17 years. And in Silicon Valley, that makes him something of a rarity.
He started working at Howard Johnson's in upstate New York when he was 15, and except for a few breaks, he's been in the restaurant industry ever since.
"I have done every job there is in a restaurant," says 38-year-old Eggleston, a thin man with a goatee, wire-rimmed glasses and the ramrod-straight posture of a professional server.
"I love the pace and the environment of restaurants. I have a hard time standing still. I've waited my way across the country," he says, reeling off a list of nearly a dozen states. "Once you get the skills, you can go anywhere."
In Silicon Valley, he's worked at a diverse range of restaurants including Cucina Cucina, Olive Garden, Le Mere Michele, California Café, Viaggio and the Cheesecake Factory. For the past two months, he's been at Trevese, an eclectic, chef-owned restaurant in Los Gatos that was just awarded its first Michelin star.
He says he appreciates the clientele at Trevese. "They know good service and they actually tip properly."
What's a proper tip? At least 15 percent for adequate service and higher for better service, he says. Servers at his level should get 20 percent for good service. On a good week, he'll earn as much as $1,100 in tips.
And what's good service? Eggleston defines it as being "always present." That doesn't mean hovering over a table, he says, but rather attending to diners' needs and anticipating them before they have to ask. It's serving wine just before the food arrives. It's food and wine knowledge. It's removing plates and silverware with the deftness and silence of a ninja. And it's gauging the mood of the table.
"It took me a few years to figure out, but I'm pretty good at it now," he says. Waiters with Eggleston's experience and commitment are the exception to the norm in Silicon Valley. Unlike San Francisco or New York, the pool of professional, veteran waiters in Silicon Valley is shallow. That means the quality of service at many high-end restaurants can sometimes be subpar. As a result, skilled waiters are in demand, and if you spend time dining at some of Silicon Valley's best restaurants, you'll see the same faces turn up again and again.
"Finding good servers is like trying to find a left-hand pitcher in the big leagues," says Mark Powell, Trevese's general manager. But there are pros out there, he says—"these guys who have been in the industry for a while and finally say, 'I'm a server and I'm good at it.' And when you're pulling in 70 to 80 grand that's not so bad."
Because there is a small number of talented waiters, he and other restaurant managers tend to hire the same people. Those waiters then recommend other skilled servers.
"Nepotism runs rampant," says Powell.
With the exception of big cities with a well-established fine dining scene, being a waiter in the United States is often seen as a job you do until you find something better to do, rather than a respectable career.
Josiah Slone, chef and co-owner of Sent Sovi in Saratoga, recently made his fist trip to France and was struck by the high caliber of service he encountered.
"Overall, the level of service there is very good," he says. "People take pride in what they're doing. It's definitely a different attitude over there. It's considered more of a profession."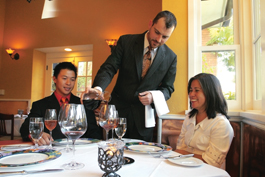 THE FINER POINTS: Nick Vrignaud of Sent Sovi remembers the day he stopped seeing serving as 'just delivering food.'
Jedi Waiters
 It's that different attitude that Esteban Garibay is looking for when he hires servers at Manresa in Los Gatos, Silicon Valley's most critically acclaimed restaurant. Garibay started working with chef David Kinch in 1995 when Kinch owned Sent Sovi. Although he spoke little English, Garibay quickly moved from dishwasher to the front of house to become a busboy. After a few years, he was named assistant manager, and when Kinch sold Sent Sovi and opened Manresa, he brought Garibay with him and named him maitre d'.
In that role, he oversees the dining room and helps train new servers. Finding waiters with broad experience who understand the difference between hospitality and "just being a server" is the biggest challenge, he says.
When he looks at hiring a new waiter he asks: "Are you really doing this for the passion or just doing this for a job?"
For Nick Vrignaud, it's all about the passion. He recently made the transition from waiter to management. He's the manager at Sent Sovi, but his roots are in waiting tables. Because he loves food, he started off wanting to be a chef, but then gravitated toward service, working his way up to better restaurants as he began to appreciate the finer points of the job.
"I started to see there's more to it than just delivering food," he says. "I started to see service as a craft."
While only 33, he's a veteran of Silicon Valley restaurants. He worked at Paolo's in San Jose, Mio Vicino in Santa Clara, California Café and the now defunct Cafe Marcella in Los Gatos. But it was at the Plumed Horse in Saratoga where he earned his graduate degree in fine dining restaurant service.
"I came in thinking I was hot shit, but I learned there was a lot more to it," he says.
For a long time, Vrignaud feared he would be fired because there was so much he didn't know, what he calls "the invisible stuff"—behind-the-scenes skills and knowledge, grace under pressure, learning how to read a customer. While the Plumed Horse recently opened under new owners, back when Vrignaud worked there it was one of the last of Silicon Valley's original, Old World–style fancy restaurants where classic, professional service was the norm.
"I was basically working with the gods of the industry," he says.
Once he observed one of his mentors making a Caesar salad for a table of diners. Tableside service was one of the hallmarks of the Plumed Horse of old. While Vrignaud watched the waiter toss the salad, a fly suddenly appeared above the bowl. The waiter stopped what he was doing and silently snatched the fly out of the air. He walked away with his cupped hands to dispose of the fly and wash up and then resumed his preparation of the salad.
"The table didn't even notice," Vrignaud remembers, still in awe. "I said, 'This guy's a Jedi waiter.'"
Silicon Valley's restaurant scene underwent a fundamental shift during the dotcom boom, says Vrignaud. Suddenly, everyone seemed to be flush with money, and the number of expensive restaurants willing to help them spend it proliferated. But the supply of skilled waiters couldn't meet the demand and, as a result, he believes fine dining service suffered in Silicon Valley.
"I think it's a vanishing attitude where service is seen as a profession," he says.
Ultimately, Vrignaud says good service isn't trainable. Product knowledge and service protocols can be learned, but the intuitive skills to read a diner and the passion for food and wine can't be taught.
"It's all about the right attitude," he says. "You have to give a shit."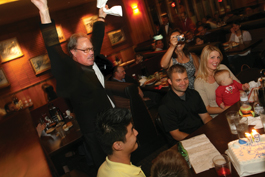 DINNER AND A SHOW: Randy Ritchie is known for birthday raps and classic Original Joe's attitude.
Served by a Celebrity
Waiter Randy Ritchie is in a class by himself. While there are plenty of celebrity chefs, Ritchie is as close as it gets to a celebrity waiter.
Ritchie is a waiter at Original Joe's, Silicon Valley's premier old-school restaurant. OJ's, as it's affectionately known, is a downtown institution with Sinatra-era Vegas swagger that's been serving classics of American and Italian-American food with heaping portions of big-city attitude and glamour for more than 50 years. The huge portions of pasta and steaks are as famous as the dignified, charmingly pugnacious waiters are infamous. 
Ritchie, a tall man with glasses and a plodding gait who long ago cut off the sleeves of the shirts he wears under his black tuxedo jacket for comfort, has been on the job since 1980 when he was hired at 30 years old. That's right. He's been at OJ's for 28 years and he's closing in on 60.
As he tells it, he got the job because a veteran waiter with a love for booze and horse racing came to the restaurant drunk one night and called in sick from the pay phone by the bar. He was fired (temporarily) and Ritchie stepped in to fill the suddenly available slot.
"I was scared to death," he remembers.
As a San Jose State graduate he knew how hectic the restaurant could get at night, and the friendly but gruff attitude the waiters displayed. Since then the restaurant has changed some of its old-school ways. They now take credit cards. Wine is served in wine glasses instead of plastic cups.
"Back then we were always right. It was very old school. It's getting to be now where the customer thinks he's right," he says with mock dismay.
Ritchie didn't start out wanting to be a waiter. He aspired to be an art teacher, but the economics didn't make sense for him.
"It's sad that you can make more money being a waiter than a teacher," he says.
After nearly three decades on the job, Ritchie says feels he knows everybody in town. He runs into people at the grocery store and surprises them by telling them what their regular order is.
"People give you brownie points because they think working at Original Joe's is cool. You don't get tickets. Stuff like that."
Ritchie might be best known for his "birthday rap."
Let him know someone at your table is having a birthday and he'll take down some biographical details and convert them into a few rhyming verses and scrawl them onto the back of a take-out bag. And then, in the middle of the restaurant, he'll holler out a birthday song in a hoarse, somewhat hard to understand ditty for all to hear. Regulars elsewhere in the restaurant know the routine and chime in as backup singers.
"When I started doing it, they called it a song. Now they call it a rap," he says. "It's weird getting old."
When he's done, he'll pulls off his jacket to reveal his sleeveless arms as a kind of visual exclamation mark, and then hands the lucky birthday boy or girl the bag signed with his best wishes.
He might do his rap even if it's not your birthday, and you just came in to interview him for an article. He might take the few details you told him about yourself and turn it into a multiverse chant and belt it out before the crowded restaurant while you sit alone in a booth as red-faced embarrassment washes over you.
Because of his quasi-celebrity status, there's often a wait to sit in his section. He's not the fastest waiter. He'll turn 22 tables a night where others will do 40. Diners come for him as much as for the food.
"A couple on their first date, they don't want me at their table. I talk too much. But a couple that's been married 10 years with kids, they want to sit in my section. Kids like me. I'm more of an entertainer than a waiter."
Ritchie seems to have a genuine affection for his customers and enjoys what he does. It's the variety of people he meets week after week that keeps him going. That and the health-care benefits he gets thanks to the union he and the other waiters belong to.
"I can be proud of the food, too," he says. "It's big portions." He's especially fond of the porterhouse steak. "I want to eat every one I see going out."
Ritchie said he never planned on spending three decades at Original Joe's. Today the restaurant hires college kids instead of "old men" like him, he says.
"I can't see these young guys staying here as long as I have, but then I couldn't see myself staying here back then. Time just flew by."
Send a letter to the editor about this story.