10.22.08
home | metro silicon valley index | silicon valley restaurants | review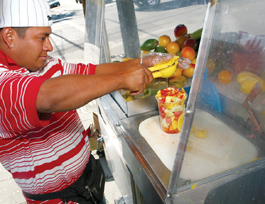 Photograph by Felipe Buitrago
LIVING SQUEEZY: Jose Manuel Servin prepares a fruit cup at the Tropico fruit cart
Viva Willow And Vine
San Jose neighborhood is a little-known spot for great Mexican food
By Stett Holbrook
WHILE they share the same street name and are just a mile and a half apart, the Willow Glen and Willow Street neighborhoods might as well be in different countries. Willow Glen's beautiful homes, tree-lined streets and quaint downtown of shops and restaurants make it a favorite San Jose neighborhood. It's where you wish you could afford to buy a home, and where you take your mother out for brunch in the meantime.
The Willow Street neighborhood, the locus of which is Willow and Vine streets, is on the other side of the tracks. Sacred Heart Church doubles as a soup kitchen for low-income residents and the homeless. While many of the old homes have architectural charm, iron bars cover the windows of many. Some of the lawns haven't been watered since it last rained. It can be dicey at night.
By some measures, it's a bad part of town. But walking along Willow Street's small downtown recently, I found something else: a lively, friendly, distinctive neighborhood that strongly expresses its community. It's like a mini version of San Francisco's Mission District, pre-gentrification. English is a second language and most of the signage is in Spanish. Banda music competes with the constant stream of SJO-bound planes droning overhead. Almost every shop along the three-block strip caters to the area's Latino residents: grocery stores, an insurance agency, a check-cashing joint, a pharmacy and, of course, the restaurants.
While I can't see anyone from outside the neighborhood making a detour down here to go window-shopping, Willow Street's excellent Mexican food is worth a side trip.
My favorite is La Mejor No. 2.
It's billed as a taqueria, but the menu goes well beyond tacos and burritos with more substantial stuff like chile verde, pozole (weekends only), caldo do res, huevos rancheros and enchiladas. The tidy, 12-table restaurant is great for a lazy weekend breakfast/lunch. By all means try the excellent caldo de pollo ($9.50). Chile peppers tint the spicy, cumin-flavored broth a rusty red. It's loaded with chayote and carrots and a few succulent chicken legs and served with thick, house-made corn tortillas. While you're waiting for your order, try some of the radish salsa from the self-serve chips and salsa bar. It's something I've never encountered before and it's quite good.
I'm a big fan of tortas, but was disappointed with the tortas at La Chacha, a taqueria within the grocery store/jeweler at the corner of Willow and Vine. (The best I could tell the name of the market is "Liquor Taqueria"). But across the street is Chalateco, a benevolent local chain of Mexican restaurants that serve a few Salvadoran dishes on the side and happen to make some of the best tortas in Silicon Valley. The Mexico City–style sandwiches are enough for two and go for about $10. The bread is well toasted and loaded with the meat of your choice, avocado, tomato, lettuce, pickled jalapeņos and queso fresco (Mexican white cheese).
During my trips to Willow Street, the fruit cocktail vendor at the corner of Willow and Vine was always there and I finally checked it out. The little Tropico street cart complete with its city permit and fire extinguisher (flammable fruit?) is loaded with all sorts of fresh fruit and does steady business. I asked for one with everything—mango, pineapple, orange, cucumber, jicama, watermelon and cantaloupe all chopped with a heavy cleaver before my eyes. What makes it so good are the Mexican limes the vendor squeezes over everything, that and the healthy sprinkling of salt and chile powder. The hulking cup of fresh produce cost me $5. I don't know if that was a special gringo price, but it amounted to about 2 pounds of fruit and vegetables, so I decided it was worth it.
While you won't find lattes and cappuccinos on this part of Willow Street, you will find atole and champurrado at the two local panaderias, El Rico Pan and El Sonorense. Atole is a thick, hot beverage made with masa flour and seasoned with cinnamon, vanilla and unrefined cane sugar. The result is a porridgelike drink that's as filling as it is warming. It goes great with the Mexican pastries and tamales served at the two bakeries. Champurrado is even better. It's essentially chocolate atole and it's a classic drink for cold nights during Dia de los Muertos and Christmas time. That's part of what makes this neighborhood so cool. You can get an expensive coffee drink anywhere. Willow Street offers something unique.
---
TAQUERIA LA MEJOR NO. 2
Address: 102 Willow St., San Jose
Phone: 408.294.6545