10.22.08
home | metro silicon valley index | movies | current reviews | dvd review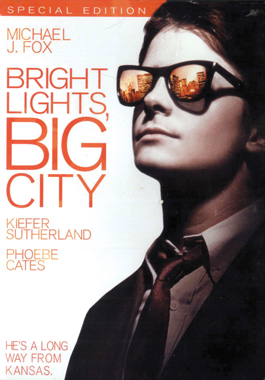 Bright Lights, Big City
One disc; MGM; $14.98
Reviewed by Michael S. Gant
Mick Stingley, one of the pop-cult critics interviewed in a background documentary for Bright Lights, Big City, calls the movie a "cultural artifact for the '80s." That's true, if you remember that most artifacts come encrusted with the caked-on dust of the ages. This 20th-anniversary DVD release of the film, adapted from Jay McInerney's coming-of-age coming-apart tale, feels as dated as another archeological oddity from the '80s: Perfect, also directed by James Bridges. Michael J. Fox plays Jamie Conway, a fact-checker in over his head at an snooty magazine called Gotham (a very thinly disguised New Yorker). Jamie, who has moved from Sarah Palin's "real America" to the Big Apple, dreams of writing a novel but spends his time snorfling "Bolivian marching powder" in trend-pig downtown nightclubs. The action takes place across a very bad week (including cutesy intertitles for each day) as Jamie loses his job, pines pitifully for his faithless wife, Amanda (Phoebe Cates), and wallows in guilt about his cancer-stricken mother (Dianne Wiest). The film—as callow and superficially witty as any Catcher in the Rye rip—suffers from the disastrous casting of Fox in the lead role. The Family Ties star simply can't pull off degeneracy; no matter how much he twitches his nose in a coked-up frenzy, he still looks like a pet bunny rabbit. If ever there was a role suited for Robert Downey Jr., this was it, but he was busy making Less Than Zero, the West Coast version of the cautionary fable. Cates, who has only a couple lines, is nobody's idea of a supermodel (in a scene that foretells a Seinfeld episode, Jamie goes ape when he see a mannequin based on Amanda's features). A special niche in the Ham Hall of Fame has been carved out for Wiest's death-bed scene in which she interrogates Jamie about his teenage sex acts. Even Kiefer Sutherland, as Jamie's more polished pal Tad Allagash, can't counterbalance the squeaky-clean Fox. All that said, for students of the excesses of the near past, the film is irreplaceable. The disc comes with commentary tracks by McInerney, who explains how much his own life resembles Jamie's; and cinematographer Gordon Willis, who was hired at the last minute and still seems a little cranky, 20 years on, about the short shooting schedule; plus a minidoc about the film's cultural impact.
Click Here to Talk About Movies at Metro's New Blog
Send a letter to the editor about this story.