10.22.08
home | metro silicon valley index | movies | current reviews | dvd review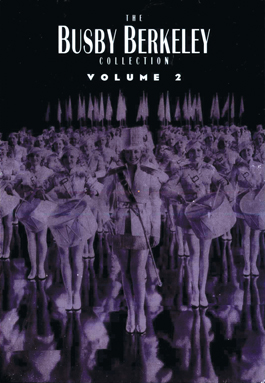 The Busby Berkeley Collection, Vol. 2
Four discs; Warner Home Video; $39.98
Reviewed by Michael S. Gant
Although not as essential as Vol. 1 (with Footlight Parade and Gold Diggers of 1933), the second installment of breezy 1930s musicals with dance numbers choreographed by the amazing Busby Berkeley is still full of bright tunes, sprightly ingénues, groanworthy character actors (Ted Healy, Hugh Herbert, Victor Moore et al.) and some astonishing hoofing. Gold Diggers of 1937 (1936, go figure) and Gold Diggers in Paris (1938) continue the adventures of the cheerful chorines and their dreams of Broadway stardom and/or a diamond ring from a rich gentlemen. On their trip to a backlot Paris, Rudy Vallee (standing in for Dick Powell) and the gang endure a variety of mistaken identities, bad French accents and competition from a real ballet troupe (headed by a very funny Curt Bois, a Berlin cabaret performer). The finale features two dozen wildly tapping chorus girls canted at a vertiginous angle, followed by the whole cast crowding together under a giant sailor's hat in typically surrealistic Berkeley style, but there is way too much of the novelty act the Schnickelfritz Band. Gold Diggers of 1937, directed by San Jose–born Lloyd Bacon, is the standout in the set. Dick Powell, at his best here, plays reluctant insurance salesman Rosmer Peck, who turns to showbiz with the help of Joan Blondell, the snappiest of '30s comedians. The Depression-era sangfroid is surprisingly timely: "In spite of the worry that money brings, just a little filthy lucre buys a lot of things," Powell croons. And the opening features a hilarious corporate pep talk: "There is no depression; don't let your prospect talk about it. All you've got to do is get him so enthused about what life insurance can do for him that he can see himself lying in his grave, glorying in the physical comfort of his family." Keep an eye out for the gangly rubber-legged young tap dancer Lee Dixon, who shines on "Speaking of the Weather." Varsity Show (1937) and Hollywood Hotel (1937), both with Powell and Rosemary Lane, are less amusing, burdened with too much slapstick, not enough dance scenes and one very unpleasant blackface joke. Lola Lane steals Hollywood Hotel as a petulant movie star: "Oh, my thyroids!" she proclaims during an meltdown. Each disc comes with a selection of period shorts and cartoons.
Click Here to Talk About Movies at Metro's New Blog
Send a letter to the editor about this story.