10.22.08
home | metro silicon valley index | movies | current reviews | dvd review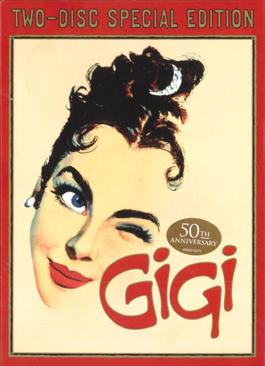 Gigi Special Edition
Two discs; Warner Home Video; $20.98
Reviewed by Jeffrey M. Anderson
I've always argued that musicals based on successful Broadway shows are never as good as musicals filmed especially for the screen. Filmmakers inevitably shoot the stage shows as giant spectacles in order to compete with the Broadway experience, and they come across bloated and lifeless. Vincente Minnelli's Gigi falls into this category. Originally based on a novel by Colette, Gigi takes place in the Paris of 1900. Gigi is a courtesan in training, and Gaston Lachaille (Louis Jourdan) is a bored playboy. And, yes, they eventually fall in love. The great Minnelli was surely one of the masters of the American musical, but Gigi was one of his misfires. It consists of a series of static, dull widescreen shots, probably meant to replicate the stage, with little thought for cinematic translation. What's more, Minnelli undercuts the delightful Leslie Caron by avoiding close-ups; her dazzling, joyous face remains a tiny spot in the midst of the vast frame. What's more, the Lerner and Loewe songs are awfully lackluster, and co-stars Jourdan and Maurice Chevalier—let's face it—are no Astaire or Kelly. The film won nine Oscars, leaving other potential 1958 candidates, like Touch of Evil and Vertigo, in the dust. This 50th-anniversary releases includes the 1949 French version of the same novel, as well as a new, making-of featurette and a commentary track with Caron.
Click Here to Talk About Movies at Metro's New Blog
Send a letter to the editor about this story.