10.22.08
home | metro silicon valley index | movies | current reviews | dvd review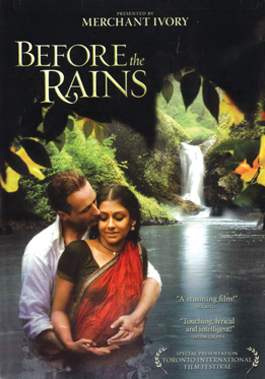 Before the Rains
One disc; Lionsgate; $27.98
Reviewed by Richard von Busack
In India in 1937, Henry (Linus Roache), the sahib of a tea plantation, and his right-hand-man, Neelan (Rahul Bose), work on a new road. Later, two village children observe Henry and the female servant Sajani (Nadita Das) coupling; word gets out, and Sajani's husband beats her. The sahib looks to Neelan to sort the matter out. The village—already restless because of Gandhi's agitation—is soon in full revolt. Director Santosh Sivan's The Terrorist remains his best film, although he has worked on a range of material, including the silly but succulent The Mistress of Spices. This might have been a more compelling film if Sivan had given us more shadings in the characters—if Sajani weren't out of her mind with love for the sahib and had instead to consider being his consort as a way of surviving. And the village's processionals and ceremonies seem about as authentically ethnic as a Waikiki luau. At first, the road-building seems too simple a metaphor: like the old right-wing argument: "You call it imperialism, but I say we gave them roads." Here, the English Raj is represented by the devious crooked road, which has to weave its way up a hill in order not to be washed out. We contrast that with the wisdom of Neelan's father: "No one is ever lost on a straight road." (Ah, if only there were more straight roads in the world.) The disc includes a commentary track with Sivan and Roache.
Click Here to Talk About Movies at Metro's New Blog
Send a letter to the editor about this story.