10.22.08
home | metro silicon valley index | movies | current reviews | film review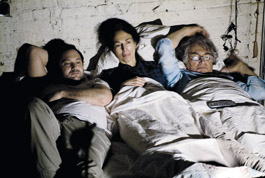 FULL NESTER: Mikey (Matt Boren, left) shacks up with Mom (Flo Jacobs) and Dad (Ken Jacobs) in 'Momma's Man.'
The Return Of the Naive
In 'Momma's Man,' Azazel Jacobs proves you can go home again—if you can put up with Mom
By Richard von Busack
TO PARAPHRASE Dracula: "To go to pieces, to truly go to pieces—that would be glorious." Azazel Jacobs' dry, droll film Momma's Man is about a little birdie that won't leave the nest. The film speaks to that large audience that has been beaten up badly by current events and would prefer to go home and let Mom take care of them.
Jacobs' purpose is threefold: First, to explore the unusual space he grew up in. Second, to commemorate his famous, enigmatic, even otherworldly parents through a fictional film. Third, to celebrate and gently lampoon a dropout.
Jacobs' keen, almost somber, observational skills make Momma's Man more than the usual shoegazer indie. With very few words, Jacobs establishes one kind of story. When we think we understand what's going on, Jacobs flips the film around. We think of the mother as an ailing woman from the very first shot, a close-up of a grown man's hand holding the frail paw of his aged mom. Ultimately, she turns out to be the consoler. The grown man is actually the one who needs help.
Momma's Mancomes into focus on a subway car grinding into the end-of-the-line stop for Howard Beach and the JFK shuttle. Mikey (Matt Boren) is on his way back to his wife and infant child on the West Coast. But the discount airline All-American Sky (i.e., JetBlue) bumps him from the flight. He's forced to spend another night in his old room, at his parents' downtown New York City loft.
The plump, Josh Kornbluth–like Boren tries to call the airline for a new flight but gets put on hold. A giant wave of futility overcomes him. He decides to take Oblomov's path. Digging up old poems, love letters and comic books, he stalls, taking meals served by his mother.
Flo Jacobs, the director's mom, is a strangely angelic figure as Mikey's mother. She has a fixed gaze of such sympathy that it almost looks like deep grief. She is very lean, very hushed, with an aura of loving kindness that certainly doesn't mean that she's a mothering bucket of slop. She's the kind of almost daffy mother that Louise Lasser used to parody. In Frankenhooker, for instance, Lasser played the mom of a suburban New Jersey mad scientist who raved, "I'm antisocial. I'm becoming dangerously amoral. I feel I'm looking into a black pit," to which Lasser's character replied, tenderly, "Y'wanna sandwich?"
It is this saintliness that makes us suspect that Mom is an invalid—that, as well as significant mentions of doctor visits and tests. She repeats herself a bit, at first sweetly, and then alarmingly; she might have a touch of senility. But then she has a normal conversation about a museum for abstract expressionist art going up in Denver. And then, again, in that almost tonelessly consoling voice: "Anything I can get you, coffee, tea ... ?"
The father, the eminent underground filmmaker Ken Jacobs, is just as mysterious a presence as his wife. He's a tinkerer in this loft kingdom, stuffed with 40 years of film reels, toys, musical instruments and objets d'art. He works on his light shows and studies their effect gravely with his wife at his side. He isn't a big smiler or a laugher. At one point, he shows his son a wind-up baby without a head; it skitters across the table, and Ken looks up questioningly. It's perhaps a significant gesture, a way of reminding Mikey of his responsibilities.
Almost 40 minutes go by before Dad gives his loitering son that Old Testament look every Jewish father knows how to give his offspring. He can't understand why Mikey won't head home to wife and child. Instead, Mikey goes to see an old friend, Dante (Piero Arcilesi), who is back after a year and a half either in jail or the military (the details remain just that—unsaid until the explanation in a later scene). Dante is also living at home with his mother and also caught in the past, gloating over a pile of videotapes.
A few shots of dew-dropped bottlebrush plants represent L.A., where Laura (Dana Varon) tends her child. His neighbor (the goofy Richard Edson from Jim Jarmusch's Stranger Than Paradise) offers to help, with the same clueless consolation that the mom in New York offers: "Do you need some of that mash stuff, mashed carrots, I dunno ... "
The only movie I can think of that is similar to Momma's Man is Bart Freundlich's 2001 World Traveler. I've never met anyone who didn't hate World Traveler, even though I was bowled over by Billy Crudup as a husband who heads for the hills, leaving wife and child behind. Momma's Man may be a little more lovable, since it shows us clearer motivation for Mikey's nervous breakdown (or long wallow, take your pick). The rotund Boren's youthful qualities are sweeter than Crudup's tendency to hole up in a role and peek out from it. Bowen is smooth and childish, lolling in his pine-board loft bed that still has glow-in-the-dark stars stickers pasted on the ceiling.
The lack of friction in the first half of Momma's Man makes the movie seem a little too smooth and lovable. But the sense of time passing and of a world starting to end darkens things. No one goes to a place like the Jacobs' loft without realizing that Manhattan's endless appetite for space will swallow it someday. This is the kind of movie you wish you had made about your childhood home.

MOMMA'S MAN  (Unrated; 94 min.), directed and written by Azazel Jacobs, photographed by Tobias Datum and starring Matt Boren, Ken Jacobs and Flo Jacobs, opens Oct. 24.
Click Here to Talk About Movies at Metro's New Blog
Send a letter to the editor about this story.