10.22.08
home | metro silicon valley index | music & nightlife | band review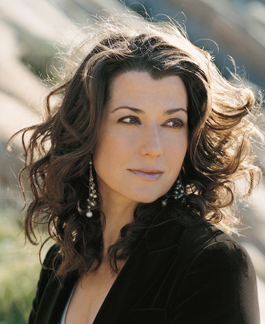 JESUS CHRIST'S SUPERSTAR:
Amy Grant's performance benefits Morgan HIll's Sobrato High School arts program.
Good Feeling
Saintly pop star Amy Grant is addicted to helping
By Jessica Fromm
WITH HER saintly Christian image, Amy Grant is just the sort of person you hope will get caught in a diva flip-out for not having enough ice in her Perrier.
But with her soft Georgia accent, Amy Grant is an honest, no-bullshit Christian with a heartfelt drive to help people. When organizing her current 20th anniversary "Lead Me On" tour, Grant said she had one directive for her booker.
"I said, 'Go find places where people are looking for meaningful music that can support a worthy cause.' Music is a nice rallying point, and it's nice if there's something philanthropic going on," says Grant.
"You know, I'm guilty for going for the feel-good experience. I think people coming together for a great cause always feels better. I get so much, not just satisfaction, but a great sense of purpose from helping people. It's addicting."
Grant shot to mainstream pop fame in the early '90s for light, feel-good tunes about love, with spiritual undertones. She is the biggest selling contemporary Christian artist of all time, a longstanding gospel music superstar and five-time Grammy Award winner.
Though all bouncy curls and tapered jeans in the video for her 1991 crossover pop hit Baby Baby, Grant's performances have been folksier recently.
Last year, she even had a foray into television as host of the NBC reality show Three Wishes, a short-lived tearjerker where she traveled around the country granting wishes to small-town residents.
NorCal
Searching for a Northern California stop for her tour, Amy's found a worthy cause in the ARTTCH Academy, a small arts program at Morgan Hill's Sobrato High School.
Grant will perform a benefit for the program on Oct. 23 at Morgan Hill's ARTTEC Amphitheater.
In desperate need of funding, ARTTEC is the brainchild of a group of five Sobrato High School art teachers who aim to give their students real-world experience in the entertainment industry. A rigorous arts education program, ARTTEC lets teenagers produce real concerts and TV shows at the Ann Sobrato Performing Arts Center. The teachers have been booking festivals and shows at the venue, generating funds to continue the program.
"With the budget system the way it is in California, we had to get creative in what we're doing for our students," said ARTTEC program director and Sobrato teacher Gary Harmon. "There's no money from the state anymore, so we're finding ways to do it ourselves. I think that's what Amy got excited about, that she's going to be helping these students continue their education in the arts."
Grant sees art as an essential part of a rounded education.
"I'm a musician and I make my living from music, so it's easy for me to argue that the arts should not be just icing on the cake, they should be part of the main meal. They're a priority," says Grant. "Studies show that a curriculum that includes the arts actually helps children in math and science. I did have so many great teachers, English teachers, history teachers. Their passion for what they were teaching was contagious," says Grant.
"People have helped me, and amazing doors have been opened up for me. I'm so grateful for that, it makes me conscious about wanting to help somebody else."
Behind the Music
Before the concert, Grant will even be filming a VHI Storytellers-type performance for the new ARTTECH student television show Backline.
Though excited about the acoustic show in which she plans to play new material, collaborating with young people is nothing new for Grant.
She tells a story about how she was recently inspired to work with the youth band at her church, following a performance where she didn't think they were being true to themselves musically.
"I heard the group playing one time, and went up to them afterwards and said, 'Hey, tell me about the songs you picked, they all sound like they were written by middle-aged people.' They all seemed very bored," says Grant.
"So I said, 'Why don't you play stuff you like?' I started with the guitar player. You know, he's a high school kid, so I said, 'Play something like when you're in your room amusing yourself with your guitar. Play something you like to play.' He played this thing, and I was like, 'That's so great. OK, we're going to write a song around that riff.' It's a newly organized youth group, we meet together and play music. It's been so much fun."
But even as the queen of Christian pop, Grant still dismisses her wholesome Christian appearance in the media.
"People are people. I remember I had a conversation years ago with Paul Newman. I was going on and on about what a great guy he was, and he said, 'You know Aims, we're all just a bunch of curmudgeons,' and I thought, you know, he's right."
AMY GRANT performs on Thursday (Oct.23) at 7pm at the ARTTEC Amphitheater located at the Morgan Hill Community Center, 17000 Monterey Road, Morgan Hill. Tickets are $36–$68. (408.998.TIXS)
Send a letter to the editor about this story.