10.22.08
home | metro silicon valley index | the arts | stage | review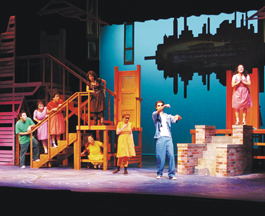 Photograph by Carlos Velazquez
STREET OF DREAMS: Teatro's cast plays multiple parts in 'La Casa en Mango Street.'
Mango Memories
A young girl grows up in Teatro Visión's version of Sandra Cisneros' novella
By Jessica Fromm
GOING INTO a stage production of the beloved coming-of-age novella The House on Mango Street, I wondered how author Sandra Cisneros' spare, poetic vignettes would congeal into a coherent theatrical story line. My worries quickly subsided as Teatro Visión's La Casa en Mango Street, now showing at the Mexican Heritage Plaza Theater, offered a wonderful theatrical experience that brought to stage colorful personalities and stories both joyful and heartbreaking. Originally published in 1984, The House on Mango Street has become a modern classic and required reading at many middle schools and high schools. Originally adapted from book to stage by playwright Amy Ludwig, La Casa en Mango Street tells the story of Esperanza, a 12-year-old girl growing up in a crowded Latino neighborhood in Chicago. This is Teatro Visión's second production of the play—its first run almost a decade ago was so popular that the company decided to bring it back. Opening the company's 25th anniversary season, La Casa en Mango Street gets a new spin by being presented bilingually, with translations by Elena Poniatowska. The actors deliver their lines in Spanish while English subtitles are projected onto a screen above the stage. The play, like the novel, offers a series of brief scenes and short descriptive pieces that fade in and out of people's lives, unique in subject matter and intensity.
Ludwig's stage adaptation gives Esperanza two personifications: an older narrator Esperanza (Minerva García), and a younger Esperanza (a superb Sarita Ocón). Wearing a simple pink pullover dress, young Esperanza enters the action and interacts with other characters, while narrator Esperanza stands by her side watching, commenting, and occasionally participating in the goings-on. Teatro Visión's well-tuned cast acts as one moving entity. Each actor plays multiple characters, switching identities between and midvignette with the addition or subtraction of a hat, shawl or shirt. The set is large, so the actors bound around expressing themselves with animated movement, facial contortions and voice changes. Some of the more humorous passages in The House on Mango Street are perhaps even more enjoyable when acted out in theatrical slapstick. The biggest laugh generators were when some of the more severe female characters, like the ruler-armed nun Sister Superior, were played with great comical gusto by male performers.
Director Wilma Bonet creates a set where large chunks of buildings and scenery are missing. Flights of stairs, window frames, doors and a brick stoop inhabit the stage, painted in lively reds, teals and purples. Large props are absent, with actors creating the cars and bicycles that go up and down Mango Street out of chairs and umbrellas. This esthetic decision reflects both the sparse nature of Cisneros' writing, and the fact that these stories are told in flashback, memory being selective. Complex, moving lighting gives the stage a busy vibrancy that expresses the mood of the overcrowded neighborhood the characters move around in. Though La Casa en Mango Street deals with mature themes like rape and abuse, they are subtle enough that the play can be enjoyed by the whole family. The only snag in this overall brilliant performance was the technical challenges faced by the play's bilingual format. Though the projected subtitles above the stage tried to keep time with the cast's rapid-fire Spanish, in much of the play it was obvious that the written dialogue lagged behind, skipped portions or got completely cut off. Also, because the projection screen was situated so far above the action, non-Spanish-speaking audience members had to choose to look up to read the subtitles or look down to see the stage action. After two hours of looking up and down to keep up with the what's going on, your neck gets tired.
LA CASA EN MANGO STREET plays Thursday–Saturday at 8pm and Sundays at 2pm through Nov. 2 at the Mexican Heritage Plaza Theater, 1700 Alum Rock Ave., San Jose. Tickets are $10–$24. (408.272.9926)
Send a letter to the editor about this story.