10.24.07
home | metro silicon valley index | columns | silicon alleys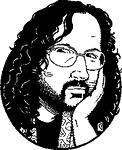 Silicon Alleys
Man or Machine?
By Gary Singh
THIS WEEKEND more than ever, a rare opportunity exists to experience a triple shot of "human" experiences, all within crawling distance of each other in downtown San Jose. And it involves dead bodies, tattoos and robots.
Over at the Tech Museum of Innovation, folks are flocking like pigeons on bread crumbs to the "Body Worlds 2" exhibit, an eye-popping display of real-life human specimens preserved by plastination, a process where bodily fluids and soluble fat are replaced with fluid plastics that harden after vacuum-forged impregnation with reactive resins and polymers. The specimens are then maneuvered into various lifelike poses to show the inner workings of the human body, its physiology and anatomy, as well as the effects of diseases on certain organs. The show runs through January and this is the only time and place that you'll see a cross-section of a cancerous lung in downtown San Jose. You can even peruse a booklet about how to donate your body for future plastination. The book includes a fascinating study of Renaissance-era "anatomical theaters" where public exhibitions of human anatomy were held for the benefit of scholars and laypersons alike. After all, Da Vinci himself performed private anatomical dissections, which formed the basis of his groundbreaking anatomical drawings.
But the bodies currently on display in downtown San Jose won't stop at the Tech. San Jose's own Convention of Tattoo Arts takes place this weekend right next door in the South Hall of the Civic Auditorium complex. The website declares: "We are from San Jose. We are not trying to flood the market with tattoo conventions purely for financial gain. We are part of the local tattoo scene and have no interest in throwing shows in other cities. Tattoo events should be thrown by the local tattoo community." It's not just a gathering of native tattoo artists, though; practitioners from all over the world are flying in.
Takahiro Kitamura, a.k.a. Horitaka, runs S.J.'s State of Grace Tattoo Parlor and organizes the convention. Born in Japan and raised in California, Horitaka is one of the few people in the West to have studied with Horiyoshi III, a legendary Japanese master.
As if that wasn't enough stuff to do on one corner of downtown San Jose over the course of one weekend, a bunch of robots will be coming back to the McEnery Convention Center across the street. For the real-world mobile robot enthusiasts among y'all, the 2007 RoboDevelopment Confernece and Expo this Thursday and Friday presents a wonderful glimpse into the future of commercial mobile robots and intelligent systems products—a bird's-eye gander at one particular convention that hasn't been lost to San Francisco yet.
This is not about industrial robotics, like the robotic arms that screw lugnuts into tire rims while autos roll through the assembly line. No. This conference explores technologies related to the commercial potential of robotics instead. For example, Hanson Robotics will be there with its pioneering humanoid robot, Zeno, a 17-inch tall, 4.5-pound pseudodude who can see, hear, talk and remember who you are. Head honcho David Hanson patented a lifelike spongy polymer skin called Frubber and uses it on this robot. The skin looks, moves and stretches just like human skin as the servo motors move around underneath it. The exploits of Hanson Robotics have not come without controversy, naturally, as their shtick is to create "one-of-a-kind, life-sized character robots through a process known as Identity Emulation, where a real person (living or dead) is recreated in robotic form."
So there you have it. Dead bodies. Live people getting tattooed. Robots emulating people. Rarely is one able to contemplate such a vast array of goings-on at one downtown San Jose corner. I'm just waiting to see if Zeno will get tattooed across the street. Then we'll see if he can actually feel pain or not.
Contact Gary Singh or send a letter to the editor about this story.