10.24.07
home | metro silicon valley index | the arts | visual arts | review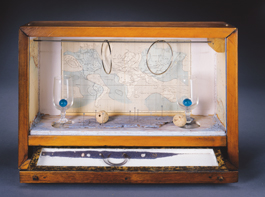 Robert Lehrman Art Trust, Courtesy Aimee and Robert Lerhman, Washington, D.C.; © The Joseph and Robert Cornell Memorial Foundation/Licensed by VAGA, New York; photo: Mark Gulezian/Quicksilver
CABINET OF WONDERS: Joseph Cornell's 'Trade Winds No. 2' (circa 1958) captures a wanderer's spirit in a box.
Inside the Box
A new SFMOMA show explores the memory-obsessed world of Joseph Cornell
view slide show

By Michael S. Gant
ALCHEMIST of assemblage Joseph Cornell (1903–1972) lived most of his life in Flushing, N.Y., on a street impossibly but perfectly named Utopia Parkway. In his basement workshop, Cornell scissored together collages, constructed glass-fronted boxes full of enigmatic objects and gathered, sorted and stored cardboard containers bursting with documents, receipts and ephemera devoted to the fellow artists, ballet divas, movie stars and obscure 19th-century actresses who caught his fancy. In all his art, he acted on his belief that "everything could be used in a lifetime." That ethos makes Cornell the supreme Proustian visual artist—his boxes recapture the past and preserve memories like specimens in a museum display case or diorama.
Cornell's artworks, especially his boxes, are familiar in reproduction, but it is a rare treat to see them in person. The San Francisco Museum of Modern Art's current show, "Joseph Cornell: Navigating the Imagination" gives us the first retrospective in a quarter-century. This exceptional display of nearly 200 pieces offers revelations at every turn.
The show demonstrates how catholic a collector—and how canny an arranger—Cornell was. From pages of 19th-century engravings, he pasted together enigmatic collages that suggest without ever realizing a narrative. A hand lights an odd cross-shaped candle, a child's head floats on a flying saucer with swallow wings and tail; a gilded Montgolfier balloon wallows on ocean waves. He called it Story Without a Name and dedicated it to a signal influence: Surrealist Max Ernst.
In Untitled (Cork or Varia Box), Cornell fashioned a sumptuous display cabinet, lined with marbled paper, for all manner of found chunks and fragments of aged cork, laid like precious gems in small compartments. Cork, often in the form of hanging balls, sometimes raw, sometimes painted white like a celestial orb, appear again and again (Soap Bubble Set, Solar Set).
The material's lightness symbolized a freedom from gravity, an ability to rise effortlessly. In Solar Set, one cork ball is set free to roll about a universe represented by five colored marbles, each held fast in a clear cordial glass, like planets locked in the orbits depicted in the sky charts appliquéd to the back of the box.
Even a simple child's game could be manipulated. For Jouet Surréaliste, Cornell took a small mechanical twirler and painted some new images that changed shape when spun. It recalls the optical-disk experiments of his friend and kindred spirit, Marcel Duchamp—and plays on the fruitful phenomenon of persistence of vision, upon which the cinema rests.
Cornell was forever finding cubbyholes for fitting and categorizing objects. In the magnificent Cabinet of Natural History: Object, a red-velvet-cushioned box holds some two-score cork-stoppered glass vials, each containing a different pseudo-scientific sample, color coded and meticulously identified with punning labels (in French) cut out from old books and treatises. In the box Untitled (Dovecote), 20 small square shelves bear a variety of children's rubber balls, alphabet blocks, a tiny angel playing a tuba, a zodiac sign. In a teasing variation on a theme, he even framed up a grid of empty square shelves. We are left to wonder at the discipline that allowed this compulsive accumulator to resist the urge to pack it with flotsam. Sometimes, he beckons us with sights barely glimpsed. The box Chocolat Menier is half obscured by a white wood slat; only by craning your neck can you catch sight of its mirror interior. Object-livre ... to secret of the Camera Obscura is a box within a box—an unopened enigma wrapped in blue cloth with fraying twine. The whole world hides in the secret compartments of Object: 3 Roses-des Vents. An unfolded sea chart decorates the box lid; beneath a wooden panel inset with a score plus one compass dials lie far-flung treasures: sea shells, beads, constellations, string-wrapped paper shards.
Lindy and Edwin Bergman Collection; © The Joseph and Robert Cornell Memorial Foundation/Licensed by VAGA, New York; photo: Michael Tropea
TO HAVE AND TO HOLD: 'Untitled (Penny Arcade Portrait of Lauren Bacall)'
The show gives some unexpected sides of Cornell. Pantry Ballet (For Jacques Offenbach) displays a troupe of dancing plastic lobsters clad in white-gauze tutus, flanked by tiny utensils—dancing for their (or someone else's) supper. The piece plays fast and loose with Cornell's own fixation on prima ballerinas. His hand-typed fake newsletter about animal husbandry, illustrated with comic vignettes collaged from old ag manuals and almanacs is full of sly whimsy. His prose tribute to Hedy Lamarr reveals an astute critical mind attuned to the magical dislocations of cinema.
A little more troubling are Cornell's obsessions with the opposite sex (although the artist apparently remained sexless in his personal life), ranging from Lewis Carroll–like idealization of nymphets to his fascination with movie stars (Hedy Lamarr, Greta Garbo, Jennifer Jones). Smitten by Lauren Bacall in To Have and Have Not, Cornell gathered everything he could on the actress, first into a dossier and then into one of the greatest star homage ever: Untitled (Penny Arcade Portrait of Lauren Bacall), in which photographs of Bacall, bathed in that deep blue light that Cornell associated with movies, are interspersed with small cutout openings, like frames of film, through which we can just catch sight of a ramp down which a colored ball rolls like a game token.
In some later works, Cornell made an odd turn, using voluptuous pin-up calendar nudes in constructions and collages. They are both classically posed and slightly salacious. They echo Duchamp's final voyeuristic work, Étant donnés, in which a nude woman can be viewed only by stooping to peer through a peephole.
Most surprising, given the cosmopolitan Cornell's habit of wandering the streets of New York, are the nature pieces. Apparently, the artist also harbored an interest in field and wood. Untitled (Great Horned Owl) props a large cut-out owl on a branch in a deep, dark setting of moldering wood. Press a button, and a small light bulb casts a yellow-moon aura on this nighttime scene.
Most notable is Untitled (Nesting Bird): a small songbird sits in a large hollow filled with pegs and slots in which it stores nesting materials of string, moss and straw. It is easy to think of Cornell in his Utopian basement as a gatherer bird, flitting through the city and the countryside, procuring everything that he needed to save a thousand and one memories.
(The show is accompanied by a large, lavish catalogue that provides invaluable insights into Cornell's work.)
JOSEPH CORNELL: NAVIGATING THE IMAGINATION runs through Jan. 6 at the San Francisco Museum of Modern Art, 151 Third St., San Francisco. Closed Wednesdays. (415.357.4000)
JOSEPH CORNELL: NAVIGTING THE IMAGINATION, by Lynda Roscoe Hartigan; Yale University Press; 391 pages; $65 cloth.
Send a letter to the editor about this story.