10.24.07
home | metro silicon valley index | silicon valley restaurants | review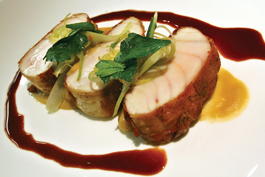 Photograph by Felipe Buitrago
Water Ride: Columbia River sturgeon at the Plumed Horse
ThoroughBred
Plumed Horse returns as Silicon Valley's premier luxury restaurant
By Stett Holbrook
WELCOME to Silicon Valley's gilded age, version 2.0. Google stock has topped $600 a share. An iPod-mad world has driven Apple's value up to nearly $150 billion. YouTube fetched $1.65 billion last year, while venture capitalists are again lavishing money on Internet startups that don't make anything.
That's why the Plumed Horse's reappearance on the dining scene comes at just the right time. After undergoing a $9 million remodel and expansion of its wine list, the Saratoga restaurant has been reborn as Silicon Valley's premier luxury restaurant. Since 1952, the Plumed Horse was one of the South Bay's standard bearers of continental cuisine complete with tuxedoed waiters and Old World dishes like chateaubriand carved tableside. It was a proud animal in its day, but times changed and newer restaurants with trendier menus and a younger clientele passed it by.
But then Silicon Valley executives Aki Fujimura, Gary Price, Tony Zingale and Bob Beachler partnered with the restaurant's former general manager Josh Weeks and former Aqua chef Peter Armellino to buy the restaurant last year. Armellino was chef de cuisine at the two Michelin–starred Aqua Restaurant in San Francisco.
The restaurant looks as different from the old Plumed Horse as can be. Three fiber-optic chandeliers that hang from the arching, acoustically engineered ceiling slowly changed colors and seemed to keep time to the moody sounds of Morcheeba that purred through the speakers. The stunning, glassed-in wine cellar divides the dining room from the bar. Walk up to it and peer down two floors. The restaurant is in the process of doubling to 1,800 selections, making it one of the Bay Area's premier wine lists. (Tip: don't even try to plod through the list; ask one of the sommeliers for help).
Service is superb, as good as I've experienced in the South Bay. I was attended to by a coterie of smooth professionals, each of whom knew the menu as if they'd prepared it themselves. What really comes across is the staff's pride and enthusiasm.
So how does the food taste at a $9 million restaurant? Mostly, like a million bucks. The heart of the menu is Armellino's seven-course tasting menu ($115; $55 extra with wine pairings). Here's the highlight reel: The meal began with impossibly thin slices of bracingly fresh heirloom tomatoes topped with glittering American sturgeon caviar and a creamy soft egg mayonnaise. Served with it is a little pitcher of smoked tomato water. The liquid had a light tomato flavor, but I strained to pick up any smoky notes.
Next up was an indulgent slab of foie gras paired with chilled melon and delicate lemon-grass-coconut-flavored tapioca. This stuff is swoon-worthy. It's like meat-flavored butter.
The highlight was the black pepper and Parmesan soufflé. Rich and delicate on its own, it is served with a little crock of Dungeness crab and sea urchin fondue that you spoon into the soufflé. Seafood is Armellino's forte and that's in ample evidence here.
The only dish that was less than great was the last, a Grand Marnier soufflé with a yuzu marmalade. The dessert was so unrelentingly sweet I felt my tooth enamel dissolving.
The wine selections were spot-on and ranged from California to Australia to France. As good as the tasting menu was, I actually enjoyed ordering a la carte on a second visit more. The menu changes seasonally, but seek out the Camembert fondue starter with duck fat fried fingerling potatoes and summer truffles ($15). Did you get that? Camembert. Duck fat. Fried potatoes. Truffles. That's comfort food for the private jet set.
Armellino knows how to wow, but he exercises restraint when need be. The field greens salad ($11) with radishes and cucumbers was everything you want in a salad, simple, delicate and fresh. However, the abalone and pork belly starter ($25) fell short. At that price, I expected fireworks, but the two little pan-fried abalones and delicious thin slices of pork belly paired with roasted artichoke just didn't add up to a cohesive dish. All was forgiven when I dug into the brioche-crusted halibut ($39). The brioche provided a light crunch to the top of the snowy white, wonderfully moist fish. Coupled with the stewy chopped tomatoes and Dungeness crab fondue served underneath, it was one the most memorable dishes I've had all year.
Desserts were much stronger the second time around. First came a "pre-dessert," a delicious little freebie of silken pear sorbet with Port wine foam and honey mousseline. The Valrhona chocolate divina ($9) slayed me, a chocolate ingot that was ethereal and light and yet rich and deeply chocolatey. The Armagnac prunes served in brown butter crepe ($9) was good but I liked the lemon verbena parfait served with it even better
Unless you're one of Silicon Valley's nouveau riche, the Plumed Horse is likely to be just for special occasions. But find a way to get there and enjoy the spoils of this second gilded age.
---
The Plumed Horse
Address: 14555 Big Basin Way, Saratoga.
Phone: 408.867.4711.
Hours: 5:30–10pm nightly.
Cuisine: Contemporary California-French.
Price Range: $29–$39; tasting menus $85 and $115.
Send a letter to the editor about this story.