10.24.07
home | metro silicon valley index | movies | current reviews | film review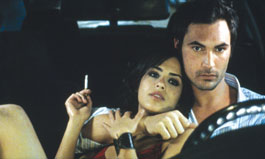 ALL THROUGH THE NIGHT: The travails of 'A Perfect Day' include civil war, a romantic break-up and sleep apnea.
Arabesques
The Arab Film Festival offers everything from experimental reveries to 'Tarzan of the Arabs'
By Richard von Busack
OH, HOW considerate—that Israeli soldier is helping an old Arab man prune his olive tree. Uh, actually, the local stop (at Camera 12) for the Arab Film Festival includes filmmaker and Israeli Defense Force vet Shai Carmeli Pollak's Bil'in My Love (Oct. 27, 2:15pm). He observes the resistance of one Palestinian town, pop. 1,700, that held out for a time against the house-demolishing, tree-killing, and Separation Barrier–building going on throughout the Occupied Territories.
A Perfect Day (Oct. 26, 7pm), billed with the short Rise and Shine, concerns the scar tissue over the dreadful Lebanese civil war that lasted 15 years and disappeared 17,000 people. One of the dead is the father of Malek (Ziad Saad), who is dealing with that loss, in addition to more domestic problems: a romantic break-up, a needy mother and a newly diagnosed case of sleep apnea. (Surprising no one has previously made a movie from the apneac's point of view; they have the shallowest sleep and the deepest dreams.)
Iraq, the Song of the Missing Men (Oct. 26, 9:30pm) is Layth Abdulamir's documentary on the different peoples that make up that nation, from the southern marshes to the northern mountains. By contrast, Hisham Zaman's Winterland is a droll fictional story, apparently made for Norwegian television, of a Kurdish expat who discovers that his picture bride wasn't what he'd pictured.
On Oct. 27, the festival features Mai Masri's Beirut Diaries: Truth, Lies and Video about the four-month-long demonstrations after the death of ex–prime minister Rafik Hariri. Not many members of the Forbes 100 are publicly detonated by 2,200 pounds of dynamite, and the U.N. itself is still trying to figure out who pulled the switch. Carol Mansour's A Summer Not to Forget memorializes all the troubles that hit Lebanon in '06, from war to a monster oil spill. And the aforementioned Bil'in My Love doubles up with It's Not a Gun about a program to bring music to Palestinian schools.
At 5pm: I Am the One Who Brings Flowers to Her Grave (winner of 2007's "Most Cheerless Title" competition) is an experimental black-and-white tone poem about Syria. The land is revisited by two natives after many years of political exile—unpreviewed but said to be either mesmerizing or interminable. By contrast, Cut and Paste (7:30pm) by Hala Khalil epitomizes the most accessible side of Arab film: the Egyptian romcom. Here, a pair of Cairenes try to get as far as possible from the Arab world: their destination, New Zealand. At 9:30pm: VHS—Kahloucha. Now, those surveying Arab film would have to include those unauthorized and unintentionally comic Turkish remakes of Superman, Batman, Star Wars and so forth. But Turkey is our friend, and she has very hurt feelings right now, so it's actually better to focus on a different filmmaker whose ambitions dwarf his pocket book. Tunis' Mouncef Kahloucha—house painter by trade, filmmaker by avocation—is observed in this 100 percent on-the-level documentary creating his latest epic, Tarzan of the Arabs. He stars as well as directs, which means girding his loins to fight off the nearest thing to a dangerous beast he can afford: a taxidermed goat.

THE ARAB FILM FESTIVAL plays Oct. 24 at San Jose State University and Oct. 26–27 at Camera 12 in San Jose. For complete details, see www.aff.org or call 415.564.1100. (Full disclosure: Metro is one of the sponsors of the festival.)
Send a letter to the editor about this story.