10.24.07
home | metro silicon valley index | movies | current reviews | film review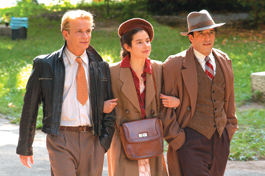 THREE'S A CROWD: Life is hard for a gay man, the straight girl he rescues and his meddlesome brother in Vichy France in 'Love to Hide.'
Hard Labor
San Jose Jewish Film Festival: the blessings of children vs. Nazis in Vichy France.
By Richard von Busack
A DYING MOTHER: "I had nine boys and four girls: an empire." Shosh Shlam's documentary Be Fruitful and Multiply, which shows Sunday (Oct. 28, 1pm) as part of the San Jose Jewish Film Festival, examines a series of different mothers, identified in order of their contribution to the next generation. We begin in New York with Chassidic Miriam, a sort of animated dumpling, the mother of 16 children; she's happy, even rapturous on the subject of fulfilling her destiny ("Being depressed is against the Torah"). We watch when Passover comes, the delivery of a small wholesale market's worth of goods into the basement, with tinfoil and tape to make sure the kitchen is completely kosher. In Jerusalem, Emanch raises her 14 children in more pleasantly disorganized, artsy circumstance; their Purim has the aspects of a costume party with glitter makeup. One of her sons (forgive me for not getting the name, there were a lot of them) is wearing a Bart Simpson T-shirt. And so on down to a Jewish mother of five who is currently on birth control, with the permission of her rabbi.
Yentl, a mother of four (and a lady with 15 siblings) works in Jerusalem as a doula—a kind of pre-midwife and postpartum counselor. Dr. Ronit Kochman, an Israeli gynecologist, has an quiet, intimate conversation with Yentl about the problem of women not being able to even ask for birth control. On occasion, their husbands speak for them, or else they say that their rabbi has allowed it. Toward the end of the film, Miriam and her children talk, scandalized by a woman they met on the street. She was the eldest of none and feels she raised enough kids to be childless by choice. What sort of emotional damage could she be suffering not to want to fill her womb? From this documentary one can draw two conclusions. The first is that people without children can understand people with children more easily than the other way around. The second is that choice is of the essence.
Love to Hide (Oct. 28, 3pm, and Oct. 31, 7:30pm) is a glossy soap opera set in Vichy France. It features a gay paragon (Bruno Todeschini) suffering a fate worse than death after rescuing a Jewish girl (Louise Monot) he once kissed in a brief outbreak of straightness. Unfortunately, he has an evil brother—this can happen even in the largest families—who turns him over to the Gestapo. Plentiful violence bolsters this dreadful movie, subtitled with slightly impenetrable British slang ("grass" means "to squeal," "cottaging" means "shacking up"). The cast seems to have been picked for looking good with their shirts off (although that clause doesn't apply to the overdressed Monot), so it's the villains who grab our attention. An actor rejoicing in the name Olivier Saladin gets to play a grinning copper, as rotten as tainted camembert; as the "Chef de [labor] Camp," Yuli Toshev seems to be having a marvelous time mistreating the prisoners. In threatening them with Dr. Mengele, he appears to know matters that would be above his pay grade. Still, one always loves to watch a man enjoying his work.

THE SAN JOSE JEWISH FILM FESTIVAL runs through Nov. 14 at Camera 12 in San Jose. See www.sjjff.org for complete details. Tickets are $8.50–$11. (800.838.3006) (Full disclosure: Metro is one of the sponsors of the festival.)
Send a letter to the editor about this story.