10.24.07
home | metro silicon valley index | movies | current reviews | film review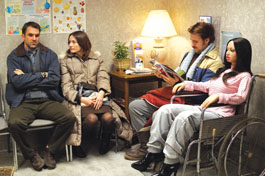 Photograph by George Kraychyk
Lars' Jest: Ryan Gosling, (right) takes Bianca to the doctor, with help from Paul Schneider (left) and Emily Mortimer.
Living Lars
Ryan Gosling over indulges himself in charming indie 'Lars and the Real Girl'
By Richard von Busack
WHAT DO you think of David Denby's comment in The New Yorker that film acting has never been better than now? Lars and the Real Girl, an indie movie of great charm and not a little sappiness, is an example of the benefits and pitfalls of the kind of big acting that Denby cherishes. It stars one of the real hopes of the profession, Ryan Gosling, in the title role. Lars, a bottled-up bachelor, lives in the guesthouse behind his happily married brother, Gus (Paul Schneider) and his pregnant sister-in-law Karin (Emily Mortimer). One evening, he presents to them his new girlfriend, a sex doll called Bianca, whom he adores and intends to marry. Gus, Karin and the rest of this far-north Lutheran Scandinavian Wisconsin town decide to treat Bianca as a human, and the wise-woman doctor of the town, Dagmar (Patricia Clarkson), insists that Lars needs to be indulged in his passion. This is one of those Frank Capra–cum–Northern Exposure small towns where everyone pulls in the same direction.
Working from Six Feet Under vet Nancy Oliver's script, director Craig Gillespie uses a common decency that never makes an extended SNL skit out of the material. Lars and the Real Girl even features one of the few unironic uses of the phrase "What would Jesus do?" in the movies today. The winter light is right for a story of this kind of implicit sadness; especially when Bianca turns out to be too pure a spirit to survive.
Making the inanimate animate is the actor's job. Even if we knew better, we wept for poor Wilson the volleyball sailing off to sea in Cast Away. In truth, even that IKEA TV commercial starring a table lamp as Stella Dallas gets you in the brisket. But if anything, Gosling's performance shows how the power of acting can be used for evil instead of good. Gosling goes for it, with thrift-shop clothes, galoshes and a David Crosby 'stache. I think what keeps me from falling in love, instead of like, with Lars and the Real Girl is that sense of stunt-performance-watching that keeps breaking out, as it often does in this best of all possible acting eras. We've all seen the dreaded "Sometimes when we touch, the feeling gets too much" movie, and Lars and the Real Girl borders on that, especially in a scene where Dagmar tests Lars' nerves; she can't even lay a hand on the young man without him hurting. Here we see the big "acting is better than ever" performance that can, in lesser movies, end up as one long wince.
And it is the old-fashioned character acting that really make Lars and the Real Girl more than a bizarre oddity. This movie would be a dreadful male fantasy—starring a mute inert woman as "real girl"—if it weren't underpinned by three strong caring women. Mortimer's face warms this movie like an artificial sun. Clarkson brings every ounce of poise to this role. I would also mention the toothy, sweetly geeky girl that never gives up on Lars. As Margo, Kelli Garner might get overlooked—she is a slim girl unconscious of the fact that she wears stripes and plaids simultaneously, and who does this marvelous wiggly dance of triumph when she bowls a strike. There's no substitute for the living.

LARS AND THE REAL GIRL (PG-13; 106 min.), directed by Craig Gillespie, written by Nancy Oliver, photographed by Adam Kimmel and starring Ryan Gosling and Patricia Clarkson, opens Oct. 26 at selected theaters.
Send a letter to the editor about this story.