10.24.07
home | metro silicon valley index | movies | current reviews | film review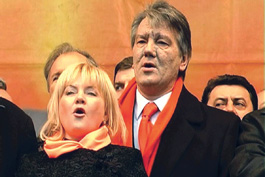 FIGHTING BACK: Despite poison that left him disfigured, Victor Yuschenko fought for fair elections in the Ukraine, a struggle documented in 'The Orange Revolution.'
Documenting
The U.N. Association Film Festival tracks the efforts of people to fight back
By Richard von Busack
ALL THE TROUBLES of the world and some of the hopes are on view in the documentaries at the annual United Nations Association Film Festival at Stanford's Annenberg and Cubberley auditoriums, Oct. 24–28. A few are reprises: the excellent Rom concert film Gypsy Caravan (Oct. 28, 7:35pm) and the Darfur exposé The Devil Came on Horseback (Oct. 26, 7:20pm). Two reproductive-rights films seem worth a look also: Abstaining From Reality (Oct. 25, 7:20pm) is a short about the Bush administration's attempt to sell celibacy to the African HIV-afflicted, instead of giving them condoms. It is followed by Like a Ship in the Night, which concerns some of the 8,000 estimated pregnant women who have to slip off to England for abortions annually. Ireland is the anti-choice movement's paradise, where abortion under certain circumstances draws a life sentence in prison.
Special Circumstances (Oct. 26, 6pm), by Berkeley's Marianne Teleki, sacrifices clarity for feeling, but that's the problem with impressionist documentaries. One really needs to read Nick Miroff's piece, in the May/June 2006 Mother Jones, before seeing it, for a better idea of the sequence of events here. Héctor Salgado of the long-lived band Grupo Raiz was arrested after the overthrow of President Allende, Chile's democratically elected president. He was tortured and eventually exiled. More than 30 years later, Salgado returns to Chile as a U.S. citizen to investigate the case of two of his friends who were shot by the Chilean government in 1973. Teleki is married to Salgado, so there's no problem with access. The countryside of Chile is almost Californian in its beauty (if that's not an imperialist thing to say). And the faces of the interviewed participants illustrate a history so many guilty men are trying to sweep under the rug. "What is truth," say two of these latter-day Pilates. A man expresses grandfatherly concern for Salgado's mental health: "You need to let it go." A detail this Anglo didn't get: Is it true that one of the victims, Fernando Moscoso, is being prayed to as a martyr and intercessor in heaven? That seems to be the case from the brass memorial plaques left at his graves.
Steve York's The Orange Revolution (Oct. 28, 1:40pm) documents the inspirational revolt. In 2004, the Ukrainian elections were about to rubber-stamp the kleptocracy of Leonid Kuchma, with the presumed victory going to Kuchma's ex-convict glove-puppet Victor Yanukovych. Victor Yuschenko, a populist challenger, rises up; he is almost terminated by a suspicious poisoning that leaves him half-dead and disfigured. The election is flawed by massive corruption, and then a mass peaceful demonstration rises in Kiev, forcing a new election. The brilliantly orchestrated organization of thousands in subfreezing weather included tents, food, emergency services and entertainment by the Jolly Eggs (the film's Borat moment). Yuschenko's refusal to capitulate would have been an example to Al Gore, just as the Ukrainian people's organization and stubbornness would be an example to us.

THE UNITED NATIONS ASSOCIATION FILM FESTIVAL screens Oct. 24–28 at Cubberley and Annenberg auditoriums on the Stanford Campus. For a complete schedule, see www.unaff.org. Tickets are $5/$8. (650.724.5544)
Send a letter to the editor about this story.