October 25-31, 2006
home | metro silicon valley index | the arts | books | comic book review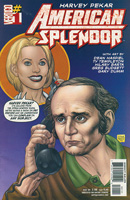 American Splendor
(By Harvey Pekar; Vertigo; $2.99)

Harvey Pekar moves to DC Comics; expect that Batman vs. Pekar match we comics geeks have been waiting for. In this comic, the Sage of Cleveland answers the question "What Happened to Your Parents?" (Alzheimer's, both of them); he observes a double case of futility at the airport in "Delicacy"; and accidentally starts an incident in a read-between-the-lines story of labor trouble in "Northwest Airlines Goes Socialist." In "The Day's Highlights," newer Pekar collaborator artist Dean Haspiel gives an aging grouch a well-deserved graphic makeover, bringing speed, drama and humor to this story of a worrywart matching wits with his teenage daughter, two straying cats and the paymaster at The New York Times.
Review by Richard von Busack
Send a letter to the editor about this story.