October 25-31, 2006
home | metro silicon valley index | the arts | books | review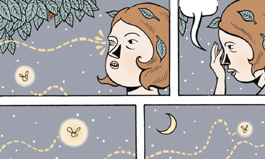 Bound: Some of today's best comics artists are included in a new anthology.
Pekar's Picks
Harvey Pekar and Anne Moore select dark and troubling tales in the superb collection 'Best American Comics 2006'
By Richard von Busack
THERE ARE 30 stories in The Best American Comics 2006, a beautiful gilt-edged volume edited by Harvey Pekar and Anne Elizabeth Moore. Here are five.
(1.) Former UCSC student Jesse Reklaw's "Thirteen Cats of My Childhood" follows the history of a baker's dozen dead or strayed cats through his childhood in the 1970s in the Sacramento area. Following those wandering cat-tracks helps him remember his lost friends and piece together what happened to him—it also addresses the parental rage that helped keep his family nomadic.
(2.) Justin Hall's "La Rubia Loca" is the book's most serious horror story. Much superb reportage fills this anthology, including Kim Dietch's death-row interview "Ready to Die" and Joe Sacco's Iraq war correspondence "Complacency Kills."
Still, Hall's story proves by far the most nerve-shattering. Sarah is a lady flirting with suicide, a 35-year-old lesbian on a Green Tortoise trip to Baja. In a traveler's passionate friendship, she buddies up with Helena. Helena is deeply intuitive and compassionate; she is also a schizophrenic on holiday from her meds. ("She reminded me of my mother, when she would get drunk and happy ... but you knew the happy part wasn't going to last long.") Sarah summons all her inner resources to save her new friend from falling into the jaws of a Mexican insane asylum, despite the inhuman energy and craft of Helena's illness.
(3.) "Two Questions" by Lynda Barry concerns the turmoil of a noted cartoonist. When youthful energy flags, when it is clear one is no longer cutting-edge or part of a "smart set," a middle-aged artist has to really ask, Why go on? Haunted by the questions in question: "Is This Good?" and "Does This Suck?" Barry portrays herself as exiled from the heaven of creative pleasure: "I never draw for fun anymore." Eventually she rescues herself from useless self-criticism ("no memory of having solved this problem before ... no idea she'll have to solve it again and again"). Barry presents her crisis as a lesson to those who have lost their way: "To all the kids who quit drawing ... come back."
(4.) David Heatley's "Portrait of My Dad" seems influenced by Chris Ware's (Bazooka) Jove's-eye method of letting dozens of microcomics form a mosaic portrait. Heatley presents 28 stories about his old dad: a devout Catholic, an eccentric, a fallible mortal, a funny man: "Hi Dad, I've decided to move to San Francisco." "(Sigh) Hopefully, Jesus will come back and end the world before that happens."
(5.) Robert Crumb's memoir "Walkin' the Streets" took him 12 years to finish. Now it's clear that the strife between the sage Mr. Natural and the wretched Flakey was, in cartoon form, the vaudeville brother act between the tormented Charles Crumb and Robert. On one hand, the desperate horny Robert; on the other, faux-debonair Charles, who tried to keep things abstract, getting drunk and quoting Shakespeare until the vomiting started. Here are Crumb's most searing drawings of the worse-than-Strindberg fury between his mother and his father. Before Crumb describes how he found his way out, he finishes on the miserable moment of staring into a motel swimming pool, realizing he didn't have the willpower to drown himself.
Sarah learns what hideous strength it takes to become even a surrogate mother. Linda Barry learns to retrieve the childish sense of play; Crumb, Reklaw and Heatley recall their separate youths in their own separate ways. All our popular arts are enamored with stories of lost childhoods and inner children. Still these artists transcend the commonplace, with sensitivity and absolute honesty.
Pekar says that this anthology "lends comics legitimacy" during the medium's leap from newsstand to bookstore. That is maybe an understatement. So here is maybe an overstatement: If it is continued annually at these high standards, this anthology will strengthen the art of comics immeasurably.
The Best American Comics 2006, edited by Harvey Pekar and Anne Elizabeth Moore; Houghton Mifflin; 320 pages; $22 cloth.
Send a letter to the editor about this story.