October 25-31, 2006
home | metro silicon valley index | movies | current reviews | film review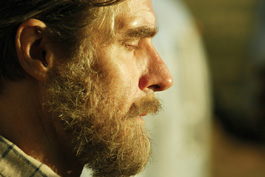 Vagabond days: Neale Walsch (Henry Czerny) before he went from bum to big-bucks author in 'Conversations With God.'
Kneel, Neale
'Conversations With God': Because, in your heart, you know He's right
By Richard von Busack
ARE YOU THERE, God? It's me, Richard. I know You're busy stirring up hurricanes and goosing the stock market, but I wanted to talk with You again. You've done so much for me: given me a good life in the best country on earth, and You grew all this luxurious hair on my shoulders, in Your own image—and I'm seriously not complaining, because I know there are babies born without shoulders every day. But sometimes I wonder why there has to be so much suffering at the movie theaters. You're all-powerful: Maybe You could just remember where You misplaced the uncut version of The Magnificent Ambersons.
I guess what I'm getting at is that I really sat through Conversations With God, truly I did—the movie about all the revelations You delivered to Neale Walsch, who went from a homeless camp to a $1.5 million sale to Putnam. Like anyone in the New Age preaching business, Walsch has a man-size tale of redemption. We see him as he is now—jetting around the globe, shaking hands and uplifting the thousands of people whom he inspired with his words. On his way to an engagement in Russia, Walsch suddenly flashbacks: he seems himself as he once was. Henry Czerny, with a fake beard, plays Walsch in both roles, before and after he made the ultimate Influential Friend.
T-boned in a car accident, he broke his neck and lost his job and was evicted. At last, he became a homeless vagabond living in an encampment near Medford, Ore. Through divine providence, Walsch finds a job at a small-town radio station and is able to get a house for himself. But then trouble strikes again; the radio station goes out of business. Alone, bereft, forlorn in the night, Walsch throws some painful questions to the void—and God answers. I always thought You were a little more well-spoken, but the way Walsch hears You, You sound ever so much like someone from Plan 9 From Outer Space: "Is it fear, then, you have to have, to be, do, and have what is intrinsically right?"
In Your wisdom, You provided Stephen Simon's film a very skilled photographer in the form of Jão Fernandes. Fernandes has been around the block, having done everything from Golan-Globus to porn (if the IMDb isn't being libelous). Moreover, You inspired a passage of a crowd forming and waiting silently for a Christmas parade. That wasn't terrible. In a small, small way, the sequence made up for the Capraesque mannerisms of the little-theater actors any made-in-Oregon film must recruit by the dozen. The acting of the mourning mother who tests Walsch's faith by upstaging him at a reading ("A drunk driver killed my Jimmy!") was, I thought, a gift from You, God, to give me, Your servant, a horse-chortle.
Love, says this movie. Feel. Loving movies, I feel Conversations With God is a must-avoid. As I understand it, You, God, want us fat and sassy, and "suffering has nothing to do with events, but with our own reaction to them." Aaaah, tell it to Darfur! "You are my product," God tells Walsch. "You are my market," Conversations With God tells us.

Conversations With God (PG; 109 min.), directed by Stephen Simon, written by Eric DelaBarre, based on the books by Neale Donald Walsch, photographed by Jão Fernandes and starring Henry Czerny, opens Oct. 27 at Camera 12 in San Jose.
Send a letter to the editor about this story.