October 25-31, 2006
home | metro silicon valley index | silicon valley restaurants | review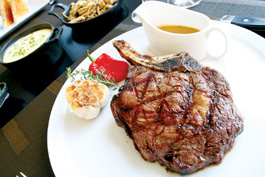 Photograph by Felipe Buitrago
High-steaks dining: Arcadia's cowboy ribeye steak with peppercorn sauce is the Hummer of Arcadia's extensive meat menu.
Arcadia: Take Two
Michael Mina retools his San Jose destination as a steakhouse, with impressive results
By Stett Holbrook
WHEN celebrity chef Michael Mina opened Arcadia in downtown San Jose in the spring of 2003, it was heralded as the long overdue arrival of top-notch dining for a culinarily challenged city.
Mina, who made a name for himself at Aqua restaurant in San Francisco, now runs several restaurants in California and Las Vegas. His eponymous restaurant in San Francisco just earned two Michelin stars.
The menu at Arcadia featured whimsical, upscale versions of comfort food like lobster pot pie and Kobe beef chicken-fried steak. But in spite of Mina's pedigree, the ambitious menu and sumptuous surroundings in the Marriott hotel, Arcadia never took off, and the dining room was often eerily empty. The execution of some dishes was flawed, and the highbrow lowbrow menu seemed too cute for its own good. The restaurant attracted hotel guests and conventioneers from the nearby San Jose Convention Center, but never connected with local folks.
But that's changing. This summer Mina reworked the menu, and the restaurant has been reborn as a steakhouse. It seems as if every big name chef has to have a steakhouse to call his own and Mina is no exception. (He's planning to open another, Strip Steak, in Las Vegas this fall.) The menu's "Arcadia classics" include items from the old menu like fried chicken for two ($26 per person) and lobster pot pie (market price), but the thrust of the menu is big cuts of meat and fish.
As good as some of the steaks are, the most exciting part of the menu is the appetizers. The watermelon salad ($11) probably won't be on the menu much longer as we move into winter, but it's worth seeking out while it's available. Juicy cubes of chilled red and golden melon are tossed with a balsamic vinaigrette, creamy feta and fine ribbons of mint. It's a simple salad that bursts with wonderfully contrasting sweet and salty flavors. Steak tartare is a showstopper ($15). Prepared tableside with a quail egg, black pepper, mustard, salt and other seasonings, the rich, glistening raw beef is spooned into an iced goblet. Scooped onto pita chips, it has clean, steely flavor that's surprisingly light and refreshing. The stout Dungeness crab cakes ($14) are fried golden outside and packed with sweet crab inside. And don't miss the creamy, Pernod-enlivened oysters Rockefeller ($21). The only disappointment was the lobster corn dogs $12). The thick corn meal was too heavy and overpowered the sweet lobster meat.
The selection and quality of steaks at Arcadia is quite good. Pick your steak and choose from six different sauces. Skirt steak is one of my favorites and Arcadia takes it one step further by serving Kobe-style skirt steak ($29). Like adding butter to cream, the steak is wonderfully decadent and delicious. The pinot noir bordelaise is the perfect, artery-constricting sauce to go with it.
At 20 ounces, the aged "cowboy" ribeye ($39) is the Hummer of the steak lineup. Some of that weight is the ample bone, but any way you slice it, it's a huge cut of meat. Good thing the kitchen treats it so well. Insert any steak adjective you like—tender, juicy, beefy—it's a great hunk of meat. Just as good are the Colorado lamb T-bone steaks ($34). The three, well-charred steaks yield mild-flavored yet robustly seasoned lamb. They're great with the Worcestershire vinaigrette. I was hoping the fish steaks would arrive with big bones still attached. In meaty fish like halibut, salmon and tuna, the meat around the bone is fatty and delicious and would have fit right in with Arcadia's carnivore-centric menu. As it was, the boneless tuna ($32) and Hawaiian swordfish ($28) were good, but nothing special.
From the list of "Arcadia classics" (3 years old and they've already got classic dishes?), I tried the day boat scallops ($32). Just because it's seafood instead of a steak doesn't mean it's not filling. Four hulking mollusks wobbled atop thin potato-shallot cakes and melted leeks. The scallops, topped with an obsidian-black clutch of American caviar, are exquisitely tender and rich and probably too much for a mere mortal to finish unassisted.
Entrees are all served a la carte. While it makes for a more expensive bill, there are a number of excellent side dishes to round things out. The roasted wild mushrooms ($9) are a great, autumnal side dish and pair perfectly with grilled meat. In case your arteries haven't totally clogged up, the delicious bacon creamed spinach ($7) will finish the job. For something a little more overtly vegetal, the sautéed broccoli rabe ($6) and citrus-glazed carrots ($6) offer a respite from the meat. And you've got to order the duck fat fries ($6). They didn't taste a lot different than regular oil-fried fries to me, but Arcadia is about culinary indulgence and the duck fat fries are certainly indulgent.
The dessert list is predictable, but the root beer float ($8) stands out. Made with sassafras ice cream and root beer sorbet, it's a clever riff on the original. Blueberry-almond cake ($8) was really just mediocre pound cake. It seems every restaurant in America has crème brûlée and Arcadia does, too, but theirs is one of the worst I've had. Flavored with champagne, the dessert has a boozy, sinus-stinging quality that forced me to push it away after two bites. The build-your-own sundae ($8) looks fun, but the same thing is available at any Baskin-Robbins.
While most of the new menu is strong, the service needs help. Servers are friendly and well versed in the menu, but there were too many missteps in a restaurant where entrees reach $42. When we walked from the bar to our table, no one offered to carry our drinks. Later, those same drinks sat at the table long after there were empty. So did dirty plates. Entrees followed too closely on the heels of appetizers, yet there was a long wait for dessert. When our orders arrived, servers placed them before the wrong person. On their own these are little things. But cumulatively they add up to a sloppy, poorly trained staff.
Still, the new Arcadia is an improve-ment. Maybe it was a particularly hungry bunch of convention-goers, but during my last visit the place was hopping like I'd never seen it before. It sounded like a lively restaurant instead of a hushed funeral parlor. Arcadia has come alive and San Jose ought to claim the restaurant as its own. The food is too good for just out-of-town visitors. While it's not without its flaws, the new and improved Arcadia is downtown's leader for high-caliber dining.
---
Arcadia
Address: 301 S. Market St., San Jose.
Phone: 408.278.4555.
Hours: Lunch 11:30am-2pm Mon-Fri and dinner 5:30-10pm Sun-Thu, 5:30-11pm Fri-Sat.
Cuisine: Contemporary steakhouse.
Price Range: $16-$42.
Send a letter to the editor about this story.