October 25-31, 2006
home | metro silicon valley index | the arts | books | review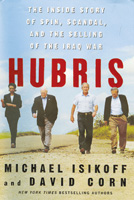 Hubris: The Inside Story of Spin, Scandal and the Selling of the Iraq War
(By Michael Isikoff and David Corn; Crown Publishers; 463 pages; $25.95 cloth)

Reporters Michael Isikoff (Newsweek) and David Corn (The Nation) tell a familiar tale in admirably organized style as they track the hawking of the Iraq invasion. From the beginning, the neocons wanted to invade Iraq; they just needed an excuse. Weapons of Mass Destruction and a Saddam-Osama link proved to be the most effective hook. As the authors write, "Bush and his aides were looking for intelligence not to guide their policy on Iraq but to market it." To that end, the administration inflated the value of those aluminum tubes; relied on the discredited informant known as Curveball; clung to the fiction that 9/11 terrorist Mohamed Atta met an Iraqi agent in Prague—well, the hits just kept coming until we learned that the WMDs simply didn't exist. One not-so-well-known subplot was the administration's fascination with "eccentric academic" Laurie Mylroie, who promoted a theory that connected Saddam to "much of the world's terrorism." The authors note, "It ultimately wouldn't matter whether [Paul] Wolfowitz and [former CIA director] James Woolsey could find information to confirm her ideas. They and others had already accepted them and would act accordingly." Isikoff and Corn point out the sorry fact that with the exception of Scooter Libby, no one has been held accountable for their mistakes. "Bush fired no one. Nobody resigned in disgrace. There were no consequences."
Review by Michael S. Gant
Send a letter to the editor about this story.