October 25-31, 2006
home | metro silicon valley index | the arts | stage | review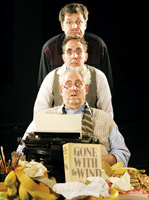 Hollywood pyramid: Victor Fleming (John Procaccino, top), David O. Selznick (Tom Beckett, middle) and Ben Hecht (Peter Van Norden) sweat out the details of 'Gone With the Wind.'
Seeing Scarlett
San Jose Rep goes behind the scenes of 'Gone With the Wind' in 'Moonlight and Magnolias'
By Marianne Messina
THERE'S NOTHING like natural comedy in which the humor falls out as a result of inherent tension between characters. And in San Jose Repertory Theatre Company's hilarious season opener, Moonlight and Magnolias, tension clambers at the door of producer David O. Selznick's penthouse office. Based on documents and accounts about the making of Gone With the Wind, the 1930s-era story zeros in on a five-day lock-in scriptwriting session Selznick (Tom Beckett) conducted with his screenwriter and director.
Selznick has hired (at considerable expense) his favorite script doctor, Ben Hecht (Peter Van Norden), and pulled his director of choice, Victor Fleming (John Procaccino), off The Wizard of Oz (by calling in favors). Though they have piles of earlier script drafts, Hecht hasn't read the book. As it turns out, a room full of competing egos with conflicting goals makes for funny shtick (Hecht and Fleming hurling insults like schoolboys), brilliant lines ("He's got a heroine who hasn't enough sense to be a hooker") and, by the second sleep-deprived day, lots of slapstick.
In a dumb-show interlude between scenes, shadowy lighting and manic symphonic music accompany the proverbial wrecking of The Hesperus, as crumpled script pages fly and slept-in hair gets frizzled. Selznick's cheery, strong-hearted secretary, Miss Poppenghul (Sarah Nealis in candy-apple-red lipstick), dances through the shadows tossing banana peels and peanuts over the floor as the actors mime the time-elapsed descent of order into chaos. This clever set-change device, added by director Timothy Near, is all the more funny thanks to quick, seamless execution.
Overall, the performances are well-grounded. Miss Poppenghul's "Yes, Mr. Selznick" never sounds obsequious. Beckett convinces us that Selznick's devotion to Tara and O'Hara comes from the gut, a kind of blind conviction that dwarfs his stated motivations of money/power and fear of failure. As the sharp-tongued Hecht, Van Norden's frumpy, jaded character creates a delicious anticipation for the next time he opens his mouth. Procaccino brings his Judy Garland-slapping persona up a few notches to an appealing mix of pragmatic and agreeable.
The men argue incessantly over the importance of their contributions to the project; each represents a key component of the creative process. "In the beginning was the word," Hecht pronounces, to which Selznick counters, "In the beginning was the deal." In a rare balance, the play engages serious discussion without sacrificing either humor or respect for the issues. Hecht tries to get Selznick to cut the scene in which Scarlett slaps her young house slave. "Your two-timing ... heroine is now going to add child abuse to her résumé," snaps Hecht. He argues that as a Jew, Selznick shouldn't elegize racial insensitivity.
Scenic designer Matthew Smucker and costume designer Elizabeth Hope Clancy create the period with detailed flourish, stuffy rounded furniture, tubular, smoked glass sconces that would have passed for "modern décor," seams down the backs of Miss Poppenghul's nylons. A mammoth desk in front of a large picture window leading to the classical cornice work of a high ceiling reflects the extravagance of a movie mogul in the golden age of film. Thankfully, this is a co-production with Seattle (Near directed the play there before importing it here), so we're spared the worry over all the pretty pennies that went into set production.
As Selznick's team struggles to balance competing pressures—conscience against vision, artistic imperatives vs. public (all the "Joe Blows and Jane Does") taste, faithfulness to the text, to the bottom line—parallels to recent discussions of the Repertory's fiscal health can't be avoided. Let's just hope the similarities take the Rep to the equivalent of nine Oscars.
Moonlight and Magnolias, a San Jose Repertory Theatre production, plays Tuesday at 7:30pm, Wednesday-Friday at 8pm, Saturday at 3 and 8pm and Sunday at 2 and 7pm through Nov. 12 at the Rep, 101 Paseo de San Antonio, San Jose. Tickets are $14-$56. (408.367.7255)
Send a letter to the editor about this story.