October 25-31, 2006
home | metro silicon valley index | music & nightlife | band review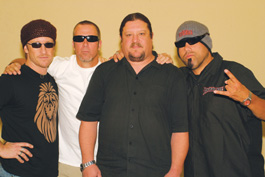 Rock heavies: The members of Otto are all veterans of the Bay Area scene.
Otto Pilot
Local rockers Otto feed on intensity like a drug
By Ryan Osterbeck
LOCAL BOYS Otto kick straight to the gut when the first chord drops from Sean Julian's bass and the pounding drums of Jeff Cayton lay the driving foundation. Then frontman Tony Cantu's controlled aggression rips into your head and guitarist Randy gets behind the wheels of this insanely energetic outfit.
Many bands can easily describe their sound or spit out a laundry list of who they sound like, but Cantu refers to what another local amp junkie, Drew, lead singer and bassist for venerable San Jose ska-funk rockers FTB, said: "They're the heaviest, heavy of heavy hard rock"—a judgment that, after listening to one song, totally makes perfect sense.
Although Otto has only been playing together for about four years, its members are all veterans of the Bay Area music scene, having kicked around with various other groups before coalescing as Otto. Now, none of them can think about playing with anyone else, and that tightness shows in every guitar lick, in every bass line that gives Cantu a vehicle for his focused vocal chops.
"It's Otto for life. When we got together that just stuck in my head ... and in my skin," says Cantu, while revealing the band's trademark emblazoned on his skin in deep red ink.
For a band as intense as Otto, the energy is sometimes lost either in the studio cuts or even onstage, but Otto has harnessed both. When I asked him if it is difficult to maintain that same potent continuity and direction onstage, Cantu reflects on the idea of perpetual energy: "It doesn't matter if it's two people or 2,000, that stage is mine, that floor is mine. There's no trouble with the intensity; that's our drug."
Otto is convinced that the local music scene in San Jose is going to make a comeback. "There's a lot of good bands in the Bay Area making a lot of sick music," says Cantu. Even in a scene dominated by DJs, bands like Otto figure it's only a matter of time before live music again gets its due.
"The venues shut the coffin lid; the DJ threw the lock on it and dropped it in the fucking drink—the bands have to be the draw, not the venue," Cantu insists.
So the scene had to go somewhat underground according to Otto. Cantu admits that part of the problem was probably due to wannabe rock stars thinking that they were bigger than everything. Now, according to Otto, bands are starting to reclaim what is rightfully theirs in the San Jose live-music arena.
Otto says that it performs at something like 60 shows a year, almost all of them local and almost all of them at bars that you wouldn't want your mother to know you drink in, but that's the simple chaotic beauty of it all.
Otto will be tearing it up Saturday at the all-ages free music festival at San Jose City College. The show also features NVS plugging in full throttle from the dystopian suburban-scape and laying down the alt-punk-rock along with rockers Europa, S.A.D.F.I.S.H. and FTB bringing their undeniable rocking dub musical chops to the table.
Solo acoustic guitar slinger the Red Eye Jedi, who put the whole shindig together, will throw down a set along with the Lone Gunsman and a completely ear-worthy slate of local San Jose bands that you probably won't hear on the dangerously confined airwaves of the radio.
Otto and others perform Saturday (Oct. 28), noon-8pm, at San Jose City College, 2100 Moorpark Ave., San Jose. Admission is free and all-ages.
Send a letter to the editor about this story.